/ Source: NBC, msnbc.com and news services
Hundreds of protesters, emboldened by the growing national outcry against what they see as the greed of Wall Street, streamed past the homes of some of the country's richest residents Tuesday in a "Millionaires March."
Members of the Occupy Wall Street movement walked up the sidewalks of Manhattan's East Side, along world-famous streets like Fifth Avenue and Park Avenue, stopping to jeer "Tax the rich!" and "Where's my bailout?"
They paused outside buildings where they said media mogul Rupert Murdoch, banker Jamie Dimon and oil tycoon David Koch had homes and expressed concern about how much less the wealthy will pay — and who would be harmed because of those lowered tax revenues — when New York's 2 percent "millionaires' tax" expires in December.
"I have nothing against these people personally; I just think they should pay their fair share of taxes," said Michael Pollack, 52, an office worker in a law firm.
He held up a sign with a saying attributed to department store founder Edward Filene: "Why shouldn't the American people take half my money from me? I took all of it from them."
"It's time for a new New Deal," Pollack said.
'Where's our bailout?'
The march was the first in the weeks since the protest began that identified specific people as being part of the 1 percent of the wealthiest Americans the demonstrators say are enriching themselves at the expense of others, through the influence of corporations and corporate culture on American society.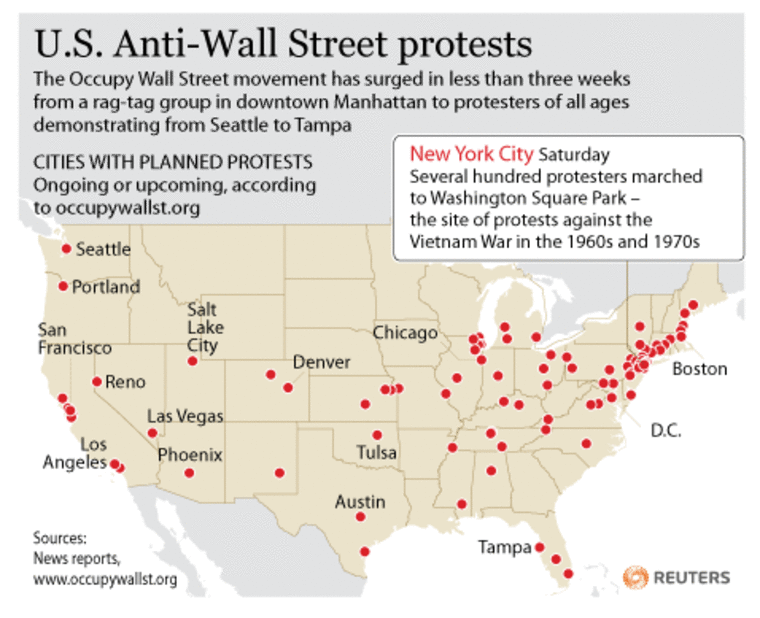 At one point, protesters stopped in front of a building where they said Dimon, JPMorgan Chase chairman and CEO, has an apartment.
"Where's our bailout?" they screamed. "How do we end this deficit? End the war, tax the rich!"
JPMorgan was among the banks that received federal bailout funds, and has since paid them back.
Dimon got supportive words Monday from Mayor Michael Bloomberg, who said, "He's brought more business to this city than maybe any other banker in (the) modern day. ... To go and picket him, I don't know what that achieves. Jamie Dimon's an honorable person working very hard. He pays his taxes."
Marcher Bahran Admadi, a former taxi driver and art dealer who is now unemployed, said it wasn't a personal attack against the rich.
"As human beings we are all the same, but some of them take people's blood," he said. "Everything goes up the ladder while we work harder and harder."
A Facebook page created by "Beyond May 12" described the tour: "Wanna 'see how the 1% lives'? Then join us on a walking tour of the homes of some of the bank and corporate executives that don't pay taxes, cut jobs, engaged in mortgage fraud, tanked our economy.....all while giving themselves record setting bonuses!"
Protesters have been camped out for weeks in lower Manhattan's Zuccotti Park, near Wall Street, saying they're fighting for the "99 percent," or the vast majority of Americans who do not fall into the wealthiest 1 percent of the population.
Their causes range from bringing down Wall Street to fighting global warming. The movement gained traction through social media, and protests have taken place in several other cities nationwide.
Tuesday's march is organized by UnitedNY, the Strong Economy for All Coalition, the Working Families Party and New York Communities for Change, according to CNNMoney.com.
Protests in Boston
In Boston, hundreds of college students marched through downtown Boston on Monday and gathered on Boston Common, holding signs that read "Fund education, not corporations."
The protesters are angry with an education system they say mimics "irresponsible, unaccountable, and unethical financial practices" of Wall Street.
About 100 protesters in Boston were arrested overnight after they ignored warnings to move from a downtown greenway near where they have been camped out for more than a week, police said.
Several hundred protesters were arrested in New York more than a week ago after police said they ignored warnings not to block traffic on the Brooklyn Bridge. There was no immediate word on any arrests Tuesday.
The protest comes as New York Comptroller Thomas DiNapoli released a report showing that Wall Street is again losing jobs because of global economic woes, threatening tax revenue for a city and state heavily reliant on the financial industry.
"Excessive risk-taking on Wall Street was a major factor leading to the financial crisis and the recession," DiNapoli said. "Regulatory changes that reduce risk and focus attention on long-term profitability rather than short-term gains will enhance stability."
Christopher Guerra, a 27-year-old artist and Occupy Wall Street protester from Newark, N.J., said he thought the job losses weren't necessarily bad.
"That means more people on our side," said Guerra, who calls himself an Eisenhower Republican but says he's opposed to today's corporate behavior. "The companies are destroying this country by helping themselves, not the people, and pushing jobs out of America.
"If they get shafted, they will realize that what we are saying is true."
Arrests in Washington, D.C.
Capitol police swooped in on protesters unfurling banners at a U.S. Senate office building in Washington on Tuesday as part of the Occupy DC movement, arresting at least six, NBC reported.
Demonstrators stormed the Hart building's atrium and dropped large banners, one which said "End War Now," the other "People for the People." As soon as they displayed their signs, Capitol police arrested them, NBCWashington.com said. Dozens of others ran through the building — which holds the offices of Democratic Sens. Dianne Feinstein and Harry Reid as well as Republican Marco Rubio — with smaller signs, according to NBC.
The arrests in Washington come during the second week of Occupy DC demonstrations, part of a movement that began in New York last month to protest against perceived Wall Street excesses and other social issues and has spread to cities across the nation. Tuesday's Washington arrests followed a rash of police activity in an Occupy Boston event overnight, in which about 100 protesters were arrested after they refused to leave a park in the city, police reportedly said.

The Associated Press, msnbc.com staff and Reuters contributed to this report.