As soon as 62-year-old William Johnsen finished his intravenous drip, he waited for the nurse to apply a Band-Aid, said goodbye to the other patients and then left the veteran's hospital for the spot where he has been spending his days for the last 3-and-a-half weeks — the "Occupy Wall Street" protest.
Johnsen, a disabled Vietnam combat veteran who suffered a heart attack in December, can't sleep outside overnight like the young protesters due to his health issues — he has a genetic condition that has triggered emphysema and liver disease. But though the disease tires him out, the animated New York native isn't about to sit out the crusade, which he says has given him a new sense of purpose.
"We are awakening, we're waking up to the fact that it's up to us," Johnsen said Tuesday at the camp in Zuccotti Park, not long after finishing his treatment at the hospital. "Government and our other institutions of authority are so corrupt that we cannot trust them anymore. There is a rebirth of realization that it's in our hands."
"As somebody who has walked thousands of miles for jobs, democracy and justice, this is the type of spirit that was lacking in so many of my walks that I've done alone reaching out to people," he added.
Older activists like Johnsen — some hobbling along on canes and leg braces — are quickly becoming a presence at "Occupy" protests across the country. And the veterans of the civil rights movement, anti-Vietnam war protests and anti-nuclear proliferation demonstrations appear to be relishing being back in the struggle, supporting the "kids" and mobilizing other seniors to join in.
See a 360 degree view of the Occupy Wall Street encampment
Some, like Johnson, have played key roles in getting the "Occupy" cause off the ground. He participated in the early planning stages of the "Occupy Wall Street" protest months before the encampment was created on Sept. 17.
In Philadelphia, Diane Laison, a 73-year-old retired mathematics professor, has been emailing and phoning activists to encourage them to join the "Occupy" protest there. She and husband, Gary, 74, a mathematics professor, also have donated money and food, and Diane, who is partially disabled, has attended the "Occupy Philadelphia" gathering.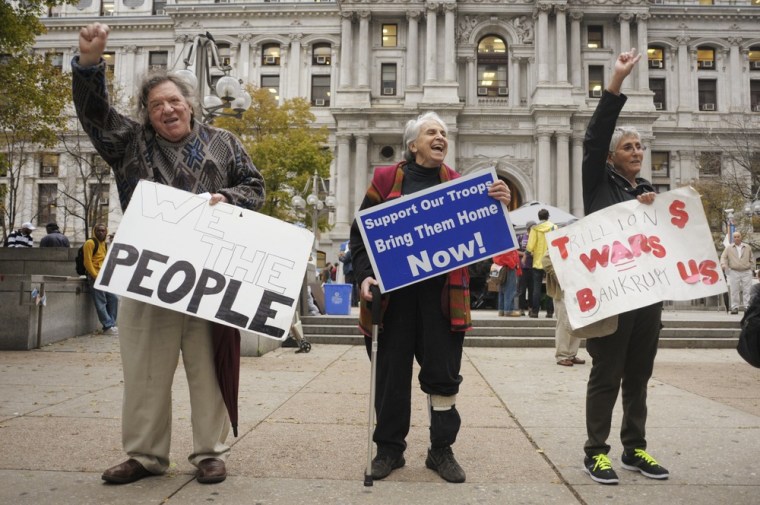 They've been activists for 50 years, with Diane participating in the 1965 Selma to Montgomery march and Gary attending prayer meetings held by Dr. Martin Luther King. They've continued to get involved in causes that stir their dissenting nature, most recently opposing the execution of Troy Davis in Georgia.
"I think the kids like seeing older people there," Gary said of the "Occupy" protesters. "I think the sense (that) they are not alone, that they are a part of this span of generations is important to them, and an important part of the whole process."
"I think that's true. I think that … there is a very, very special welcoming," Diane chimed in. "I think they definitely appreciate our being there and I think it shows the continuity of struggle."
Deana Rohlinger, associate professor of sociology at Florida State University, said the "Occupy" movement has indeed provided an "incredible political moment where you see this bridge between younger and older." But she cautioned that the initial synergy could be disrupted by intergenerational conflict.
"It requires a lot of negotiation," she said. "So for the seasoned activist, what they have to recognize is, 'OK, here is youth and energy and what they're experiencing is very different than what my experiences have been,'" she said. Both sides need "to create a space where they can respect one another's visions and experiences and move forward, and that is incredibly hard to do."
So far, though, things seem to be working well at "Occupy Wall Street."
Johnsen, who started meeting with other protesters in July to focus on the movement's structure and how they would bring about "participatory democracy," said he and other older activists bring "discipline, focus, respect for what has gone in the past."
Among other things, he said, they teach the younger demonstrators that they "can't just doodle and Google on the computer" and have to engage in real, face-to-face chats to "share that intimate meeting of the minds that the computer only gives you in words."
But he has also told them that this is their protest.
"I tell them, 'This is your thing. We were organizing an upheaval of society back in the Vietnam days, this is something you guys have started and this is your thing. We are here to be a part of it and give whatever experience and ideas we can,'" he said, as nearby protesters ate, read books from a makeshift library or prepared to march.
In fact the old guard, while offering strategies on nonviolence and how to behave around the police, has learned a lot from the kids, said Mike Ferner, acting director of Veterans for Peace.
"They bring some real different approaches to this … a lot of different technology," particularly social media, said Ferner, whose group whose group helped plan the first occupy Washington, D.C., protest for Oct. 6 — the tenth anniversary of the war in Afghanistan.
"One of the things that we're learning from them is how to facilitate large meetings of people in a really democratic fashion. And it's a real pain," he said with a chuckle, referring to the "Occupy" movement's "general assemblies." "It's really lengthy, but what we've seen at the occupation in Washington and a few other places that our members have been involved, the young people are really pretty expert at being able to do that and that's a real skill."
The respect is mutual. Cara Hartley, 27, a New York restaurant hostess involved in outreach for the "Occupy" movement, said the older activists brought skills and experience in keeping a large group of people safe and peaceful.
Another aspect was "just showing solidarity with this sort of youthful movement and showing the world it's not just young people who are being affected, but it's people from all walks of life, all generations that are struggling right now," she said. The elders' presence also gives "the sense that we can accomplish things. Like, we've done this before … we can make this work," she said.
Older activists also may be drawn to the "Occupy" protests in hopes of achieving what they set out to do in the 1960s, when the "New Left" was born, said Gary Gerstle, a professor of American history and an expert in social movements at Vanderbilt University, referring to the loosely associated liberal — and sometimes radical — political movements of the period.
"I would imagine they (older activists) feel this affinity between the two movements very strongly and see in this current movement a possibility of returning to the unfulfilled promise of the 1960s," Gerstle said.
Celeste Zappala, 64, is one longtime anti-war protester who said she has been revitalized by the "Occupy" movement.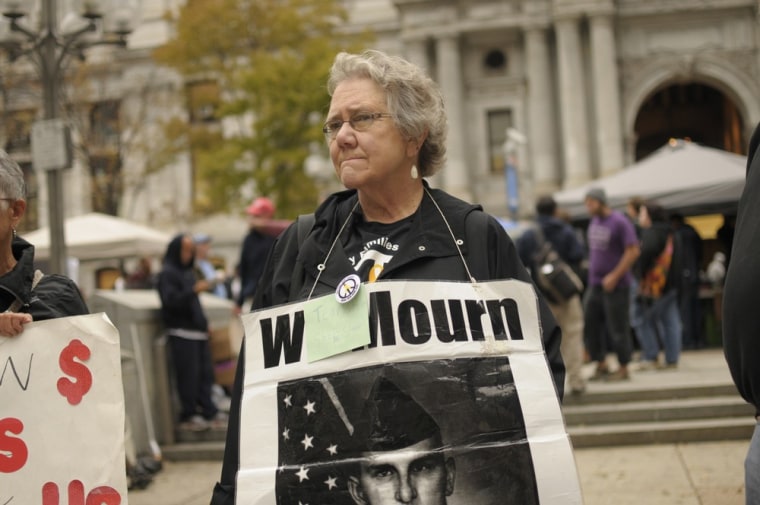 A member of the Students for a Democratic Society who was part of an underground network that helped spirit draft dodgers to Canada in the 1960s, Zappala was more recently involved in protesting against America's involvement in Afghanistan and Iraq — where her son, Sherwood Baker, died at the age of 30 while serving with the Pennsylvania National Guard in 2004.
After giving two talks on Sept. 11 in Pennsylvania, Zappala thought she had nothing left to give.
"When I left there, I thought that's it, I can't do it anymore. I've said everything I could say, I'm tired of this," she said. "For the longest time, the peace movement had gotten very gray."
But six days later, when Occupy Wall Street began, she realized, "The kids are awake," and jumped back into the fray. She said she joined in on a recent Sunday afternoon in New York, toting the poster bearing a photo of Sherwood that she had carried at many other protests over the last seven years.
She noted that a woman in her 90s was out in the protest recently in Philadelphia and "age doesn't mean that you give up."
"For a lot of people it means, you know, now they have more time to do what they want to do here … and also realize time's running out," she said. "God willing, I have 15 or 20 years to keep pushing this effort. … I gotta make the best of it."