/ Source: NBC, msnbc.com and news services
President Barack Obama on Friday declared an end to the Iraq war, one of the longest and most divisive conflicts in U.S. history, announcing that all U.S. troops would be withdrawn from the country by year's end.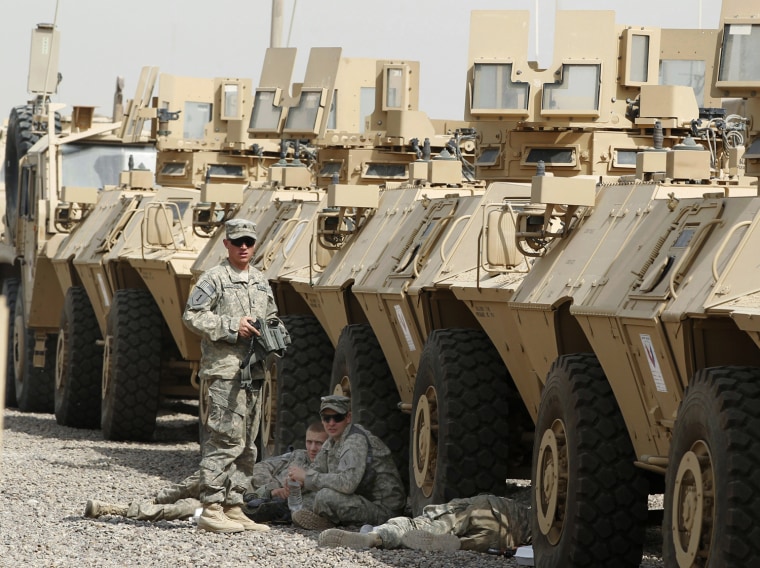 "As promised the rest of our troops in Iraq will come home by the end of the year. After nearly nine years, America's war in Iraq will be over," Obama said.
The withdrawal of American troops marks a major milestone in the war that started in 2003 and resulted in the removal of Saddam Hussein from power in Iraq.
"Today I can say that troops in Iraq will be home for the holidays," the president said.
Obama, eyeing a 2012 re-election campaign likely to be fought over his handling of the U.S. economy, is looking to wind down a decade of war in the Muslim world that did lasting damage to the U.S. image worldwide and stretched its military and budget to the brink.
"Over the next two months, our troops in Iraq, tens of thousands of them, will pack up their gear and board convoys for the journey home,'' Obama said.
"The last American soldier will cross the border out of Iraq with their heads held high, proud of their success, and knowing that the American people stand united in our support for our troops,'' Obama said. "That is how America's military efforts in Iraq will end.''
The U.S. military role in Iraq has been mostly reduced to advising the security forces in a country where levels of violence had declined sharply from a peak of sectarian strife in 2006-2007, but attacks remain a daily occurrence.
The U.S. has been withdrawing about 520 military personnel every day in accordance with the mission set by Obama in early 2009, sources told NBC News.
Denis McDonough, the White House's deputy national security adviser, said that in addition to the standard Marine security detail, the U.S. will also have 4,000 to 5,000 contractors to provide security for U.S. diplomats, including at the U.S. embassy in Baghdad and U.S. consulates in Basra and Erbil.
In Iraq, where the U.S. force peaked at around 190,000 during the height of President George W. Bush's troop surge in 2007, almost 4,500 U.S. soldiers have died and the war has cost U.S. taxpayers over $700 billion in military spending alone.
Even as leaders of Iraq's fragile democracy seek to distance themselves from Washington, Iraq is only slowly getting to its feet after years of ferocious violence that shattered its society and killed tens of thousands of people.
While Washington has hailed Iraq's halting progress, especially as tumult has swept the Middle East, its political system remains gripped by perennial deadlock on issues dividing a religiously and ethnically fractured country.
Violence there is a far cry from the sectarian slaughter of 2006-07, but Iraq still suffers daily attacks from a stubborn insurgency allied with al-Qaida, and from Shi'ite militiamen.
"I wish we had been able to make more progress in resolving the internal differences while our troops are still there," said retired Gen. Brent Scowcroft, who was national security advisor to President George H.W. Bush, and became a prominent Cassandra before the Iraq war.
Shared vision for Iraq?
Obama's announcement in the White House briefing room was freighted with political overtones.
The president, who was an early opponent of the war and campaigned on a promise to end it, repeated his mantra that "The tide of war is receding."
But prominent Republicans criticized the president. Sen. John McCain told Reuters the decision went against the advice of U.S. military commanders, could embolden Iran and likely will be met with alarm by Afghan President Hamid Karzai, who is already concerned about U.S. commitment to his country.
"In retrospect, I don't think the political side of the Obama administration ever had any serious intentions of keeping a residual force there because none of their actions were serious," said McCain, ranking GOP member of the Senate Armed Services Committee.
Obama made his announcement after a video conference with Iraqi Prime Minister Nuri al-Maliki. He said the two leaders agreed to stick to an earlier arrangement to pull the remaining 40,000 U.S. troops by year's end.
About 160 U.S. soldiers will remain behind under State Department authority to train Iraqi forces along with a small contingent of soldiers guarding the U.S. Embassy. There will also likely be a U.S. special operations presence in Iraq.
But the announcement underscores the gaps that remain between U.S. and Iraqi priorities and political realities.
But administration officials said they feel confident that the Iraqi security forces are well prepared to take the lead in their country. McDonough said assessment after assessment of the preparedness of Iraqi forces concluded that "these guys are ready; these guys are capable; these guys are proven; importantly, they're proven because they've been tested in a lot of the kinds of threats that they're going to see going forward.
"So we feel very good about that."
Earlier this week, U.S. Defense Secretary Leon Panetta said American and Iraqi officials were continuing discussions that might permit his soldiers to stay beyond the December 31 deadline.
The prospect of extending the troop presence was very sensitive for Iraq's fractured political elite.
Maliki, heading a tenuous coalition including politicians vehemently opposed to foreign troops, eventually advocated a training presence but rejected any legal immunity for U.S. soldiers. Those terms were deemed unacceptable in Washington and in the end there was no deal to be had.
"This has been inevitable," said David Mack, a former U.S. ambassador in the Middle East.
"National security strategists in both Washington and Baghdad made a strong case for keeping US military forces beyond 2011, but the domestic politics in both countries were against it," he said.
U.S. military role
The U.S. military role in Iraq has been mostly reduced to advising the security forces in a country whose military was rebuilt from scratch following the 2003 invasion.
Lingering weaknesses in Iraq's military capability would have been one reason to keep a larger U.S. troop presence.
Another was Iran. Chronically critical of Iran's nuclear program, Washington is especially sensitive to the prospect of an expansionist Iran following its recent allegations about a foiled Iranian plot to kill the Saudi ambassador in Washington.
"We remain very concerned that Iran is meddling, not just in the affairs of Iraq but of other countries in the region. And that's unacceptable," Pentagon spokesman George Little said this week when discussing a possible extended troop presence.
Brian Katulis, a security expert at the Center for American Progress in Washington, said the specter of Tehran dictating decisions to Baghdad was a red herring.
"Iranian influence is overstated," he said. "And it's not as if a few thousand U.S. troops was going to be a linchpin."
Both sides appeared to leave the door open to revising the arrangement announced on Friday. An Iraqi government advisor said after Obama's remarks that officials from both countries would discuss post-2011 trainers at their next meeting.
Even without soldiers, the U.S. presence will remain substantial. U.S. officials say the embassy in Baghdad, an imposing, fortified complex by the Tigris River in Baghdad's Green Zone, will be the largest in the world.