As President Barack Obama announces plans to ease repayment of student loan debt, some in the "Occupy" protest movement are agitating for a far more radical solution: debt forgiveness or a mass payment stoppage.
While economists say there is little chance that such tactics could succeed, the fact that they are even being talked about — including the recent introduction of a congressional resolution calling for student loan forgiveness — shows the depth of the frustration and anger brewing over what is cumulatively a crushing debt load for U.S. students and graduates.
At a gathering last week in a public atrium a few blocks from the square that is home to the Occupy Wall Street encampment, New York University professor Andrew Ross led a discussion about the burden of student loan debt — now estimated to be between $550 billion and $829 billion — and proposed a radical solution: "A Pledge of Refusal." The idea is that protesters would sign a pledge to stop making payments on their student loans as soon as 1 million had joined in making the pledge.
Ross told the crowd of about 50 people — ranging from current students to long-ago graduates — that while individuals are subject to heavy financial penalties if they stop paying on their student loans, a mass action by 1 million would make the banks take notice.
"There is a lot of talk about student debt, but no one takes any action, and that's what Occupy Wall Street is about," the professor of social and cultural analysis said.
'It's just immoral'
Ross acknowledged the irony of protesting against one of the main sources of his salary but added, "I feel very bad that my salary has actually been financed (by these debts).  … To me it is just heartbreaking to see my students carry so much debt. It's just immoral."
While Ross's effort is in the early stages, the idea of student loan forgiveness has gained a substantial following, based in part on the argument that such a move would have a substantial economic stimulus effect.
Robert Applebaum, a 37-year-old lawyer who graduated from Fordham Law School in New York City in 1998 with about $65,000 in debt, is the creator of ForgiveStudentLoanDebt.com. He said the website grew out of a proposal he first posted on Facebook in 2009 speculating on the economic impact there would be if student loan debtors suddenly had hundreds of dollars a month to spend. Within weeks, the post went viral and he had 300,000 "likes" on Facebook, he said.
Applebaum's idea was born out of painful experience. He said he began championing loan forgiveness after going to work as an assistant district attorney in Brooklyn and realizing he could either pay his rent or make his payments on his student loans.  He said he chose to put his loans in "forbearance" — an agreement between the lender and the borrower that prevents a declaration of default but doesn't prevent the continued accrual of interest — until he left the DA's office in 2004. After making his loan payments every month since then, his debt today stands at $88,000.
"I welcome the Occupy protests," Applebaum said. "I think it's long overdue, and I think it's wonderful that people are finally learning to speak up against the raping and pillaging of our country for the last 30 years. No other issue really highlights how badly that's been done to the middle class than the issue of student debt."
He acknowledges that the proposal to forgive student loan debt is "intentionally provocative and dramatic to focus people on the problem." 
'With you for life'
"Your student loans are with you for life — both federal and private loans," he said. "There is no recourse for student loan borrowers if they run into trouble. The only recourse they have is to put the loans into forbearance, like I had to do, or economic deferment." 
He was referring to the fact that student loans are very difficult to discharge through bankruptcy. And since they are federally guaranteed, a collection agency can take payments directly from paychecks, tax refunds, even Social Security payments. There is no statute of limitations on student loans: The government will get its money back. And the student who defaults has his or her credit ruined and still has to repay the principal, plus interest and fees from the collection agency.
Applebaum's campaign has struck a chord. More than 600,000 people have signed his online petition in support of student loan forgiveness. He also received support from an unlikely corner this summer when Rep. Hansen Clarke, D-Mich., introduced a resolution in the House urging student loan forgiveness as a means of economic stimulus.
Statistics show why the issue has such resonance.
The total student-loan debt in the United States is at a historic high, $550 billion, according to a recent report by the Federal Reserve Bank of New York. The FinAid.org website, which tracks information on financial aid, estimates the figure is even higher — $829.8 billion — and recently passed the amount of credit card debt owed by Americans.
Approximately 65 percent of students graduating after four years with a bachelor's degree in 2007-2008 had some debt, according to FinAid.org. The median cumulative debt for those graduating with a bachelor's degree was about $20,000 in 2007-08 — but up to 10 percent graduated with $40,000 or more in debt, it said.
And given the tough job market, more people are defaulting on those loans. A total of 8.8 percent of all student loan borrowers defaulted on their loans during the 2009 fiscal year, up from 7.0 percent in 2008, according to data released by the Department of Education in September. The problem was particularly bad at for-profit colleges and universities, which tend to serve low-income students. The default rate for for-profits rose sharply from 11.6 percent in 2008 to 15 percent in 2009.
Still, most economists see little chance of the federal government embracing student loan forgiveness at a time when it is wrestling with a debt crisis.
"For the younger age group, this is the equivalent of being underwater on your mortgage," said Isabel V. Sawhill, a senior fellow at the Brookings Institution. "... But the problems with just forgiving are the same is in the case of the mortgage story.
"If some people continue to pay their student loans back and other people don't, the people who are still paying will be very angry and won't feel like that was fair at all. … And where would you draw the line? Would you say, we are going to do it just for people that are this age or in this situation, but not for others?"
She also said that forgiveness would send a shock wave through the banking system, even though the loans are federally guaranteed.
"I realize no one is feeling particularly sympathetic toward financial institutions these days, but … we do have to worry about the systemic effects."
At last week's Occupy Wall Street gathering devoted to student loan debt, few of those engaged in discussing possible demands for reform appeared to be too worried about what the ripple effects might be.
Debate over best approach for reform
The group debated the idea and tossed out alternative solutions like insisting on "reasonable" tuition, abolishing for-profit schools, reforming the current system or even setting up an escrow account for students to pay into until the system is reformed. There was consensus on one issue:  When one person asked if the group considered education to be a "right" or a "privilege," there was a wave of "twinkle" hand gestures from the crowd (an upward wiggling of fingers) to show that they agreed education was a "right."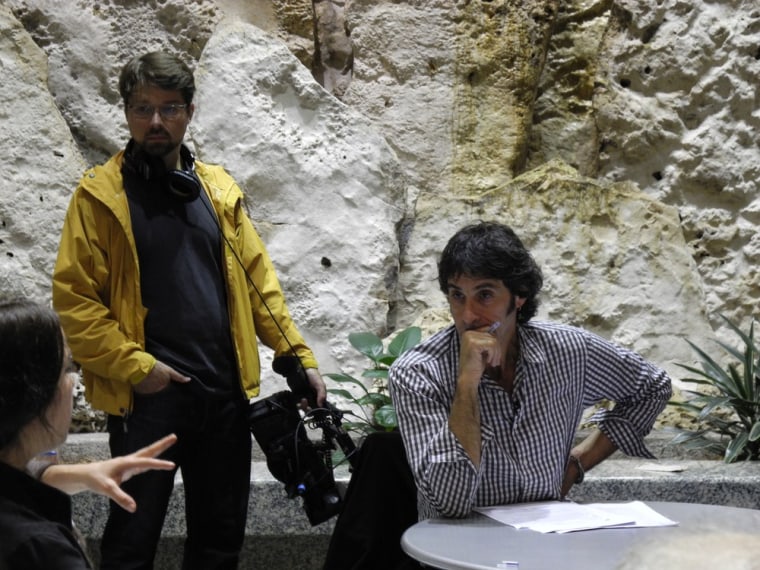 The broad appeal of the movement was illustrated by one passer-by who stopped to listen to the discussion.
"I married someone who had student loan debt, so by default that's become part of my life now," said David Solomon, wearing a button-down shirt and raincoat.
Solomon, a 27-year-old who works in tech support and lives in Sunset Park, Brooklyn, said he and his wife met at New York University, where they both went as undergrads. His tuition was paid for, but his wife took out student loans to pay for school.  They currently pay about $400 a month in loan fees on her $150,000 in debt because they had worked out some deferments, but he said that will rise to approximately $1,100 a month by September 2012.

"She had been interested in getting a house and we looked at the numbers," said Solomon. "But that's just not going to happen — not anytime soon, at least."
Solomon indicated he wasn't ready to take to the streets just yet, but he believes the "Occupy" protest has seized upon an issue that has not been taken seriously, despite the adverse impact it is having on so many lives.

"I haven't been to any of the Wall Street stuff yet, (but) this seems very interesting," he said. "The portrayal I've seen so far in the media, to be honest, is that it's just a bunch of dirty hippies who don't know anything. That is obviously not the case. There are people here having an intelligent discussion about a problem, and they know what they are talking about."