/ Source: msnbc.com staff and news service reports
Residents along Alaska's remote west coast were preparing for a second, and stronger, surge of water Wednesday night after a massive storm with hurricane-force winds blew through towns the night before, tearing roofs off buildings, eroding beachfronts and blocking roads.
Water levels were expected to rise "from Norton Sound, Kotzebue Sound, and up to Point Hope," the National Weather Service stated Wednesday. "Indications are the peak will occur before midnight in most locations.
"The peak water level that occurred last night in the northern portion of Norton Sound will be matched or exceeded by a foot or two. We expect a lull in the water levels overnight tonight, however another peak in water levels is expected Thursday."
In Nome, which sits along Norton Sound and is the largest town with 3,600 residents, the main street was closed Wednesday due to rock and log debris. Residents were told to stay off streets due to live wires from downed power lines, and a highway was feared cut by beach erosion.
Roofs were also blown away Tuesday night, when the height of snow and hurricane-force winds hit at about 2 a.m.
"Waves were hitting Front Street since after 1 a.m.," Nome resident Penny Frieda Olanna posted on Facebook. "We could see the waves flying and our window is covered in sleet, the waves are splashing high."
A voluntary evacuation earlier moved some residents from beachfront businesses and homes to shelters at a community center and a church.
"I think this would probably be about a Category 3-type hurricane if we were to do some sort of a similar comparison," said Jeff Osiensky, a meteorologist and regional warning coordinator for the National Weather Service. "It's on the line of a pretty destructive hurricane."
Category 3 hurricanes on the Saffir-Simpson scale, which have sustained winds exceeding 111 miles per hour, can cause devastating damage to homes, buildings and utilities.
The last time Alaska's northwest coast saw something similar was in November 1974, when Nome also took the brunt of the storm. That sea surge measured more than 13 feet, pushing beach driftwood above the level of the previous storm of its strength, which occurred in 1913.
In this storm, a second surge is expected to top 7 feet in Nome. By early afternoon, water was already rising along the coast.
Osiensky said that by Wednesday evening wind speeds were diminishing but water levels would remain high and new surges of floodwaters were expected.
"It's still really nasty. It's not over yet," Bob Fischer of the National Weather Service told alaskadispatch.com. "There's a lot of time remaining for more flooding and damage to occur."
Officials are also concerned for Alaska Natives in the 18 villages in the region, where communications were disrupted.
Communities vulnerable to storm erosion were of particular concern, especially the village of Kivalina, already one of the state's most threatened communities because of erosion.
Kivalina spokeswoman Colleen Swan told msnbc.com that blizzard conditions continued Wednesday afternoon ahead of a storm surge predicted to be six feet.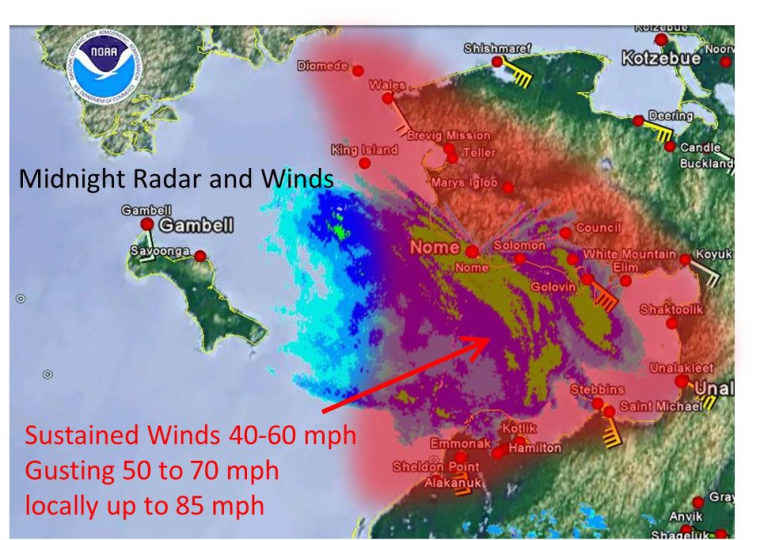 "We're about to declare a disaster because it's supposed to get worse," she said Wednesday afternoon. "More people are starting to move to the school," which was set up as an evacation center.
Swan credited a barrier built in 2008 for protecting most of the exposed town from the worst of the storm.
Point Hope, which has no barrier protection, lost power, and nearly all residents had taken shelter at its school, Swan added.
Sitting on the tip of a peninsula with the Arctic Ocean on one side and the Bering Sea on the other, Point Hope has no evacuation road.
Overnight, blizzard conditions prevailed in quite a few places with sustained winds of 60 mph and gusts to 85 mph.

Big low-pressure systems hit Alaska often, but this one is different because of the track it took and because ice hasn't formed yet to protect the shore, said meteorologist Scott Berg at the National Weather Service in Fairbanks.

"Because we don't have shore-fast ice this time of year, that's what's significant," he said. "Just hasn't got cold enough yet. We have open water generally until the first of December."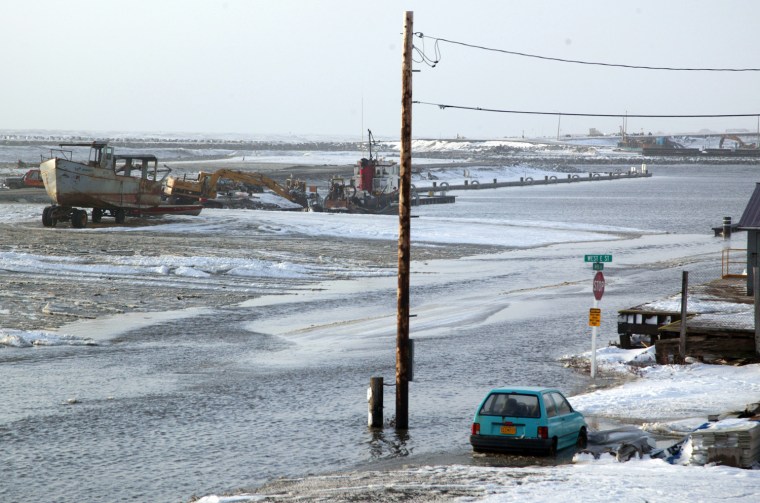 Arctic sea ice this year reached the second-lowest coverage since satellite records began in 1979, and current ice coverage in Norton Sound and Kotzebue Sound off Alaska's western coast is sparse compared to past years at this time, according to the National Snow and Ice Data Center in Boulder, Colo.


"Forty years ago, a big storm like this would come through and the sea ice would act as sort of a buffer," said Mark Serreze, director of the Snow and Ice Data Center.

"The Bering Sea has and always will have these strong storms. What is different now is their potential destructiveness as you lose the sea ice cover," he added.

The unusual storm had western Alaska bracing Tuesday, when the National Weather Service issued a special warning that "this will be an extremely dangerous and life-threatening storm of an epic magnitude rarely experienced."