/ Source: msnbc.com news services
Tens of thousands of Egyptians demanding an end to military rule converged on Cairo's Tahrir square Friday, while the White House hardened its rhetoric, urging Egypt's military to give way "as soon as possible" to full civilian rule.

"Full transfer of power to a civilian government must take place in a just and inclusive manner that responds to the legitimate aspirations of the Egyptian people, as soon as possible," said White House press secretary Jay Carney.

The military men who took over after people power toppled President Hosni Mubarak on February 11 are themselves under fire from protesters who accuse them of clinging to power, leading to street battles that look like a replay of February's unrest.
The ruling army council named Kamal el-Ganzouri, 78, who served as prime minister under Mubarak from 1996 to 1999, to head a national salvation government. Prime Minister Essam Sharaf's cabinet resigned earlier this week amid the protests.
El-Ganzouri said the military has given him greater powers than his predecessor and that military ruler Field Marshal Hussein Tantawi has no intention of staying in power.
'Illegitimate'
In a televised new conference, the 78-year-old prime minister looked uncomfortable, grasping for words and repeatedly pausing.
"Illegitimate, illegitimate!" chanted the crowds at Cairo's Tahrir Square on hearing news of el-Ganzouri's appointment late on Thursday.
"Not only was he prime minister under Mubarak, but also part of the old regime for a total of 18 years," said protester Mohammed el-Fayoumi, 29. "Why did we have a revolution then?"
The United States, long a bedrock supporter of Egypt's military, earlier called on the generals to step aside "as soon as possible" and give real power to the new cabinet "immediately."
The military rulers say they are working on a transition of power, including parliamentary elections set for Monday, which could be overshadowed if violence continues. Some protesters say the army cannot be trusted to hold a clean vote.
Protesters chanted "leave, leave!" as they gathered in Tahrir Square on Friday.
The rally is dubbed by organizers as "The Last Chance Million-Man Protest," and comes one day after the military offered an apology for the killing of nearly 40 protesters in clashes on side streets near Tahrir over the last week.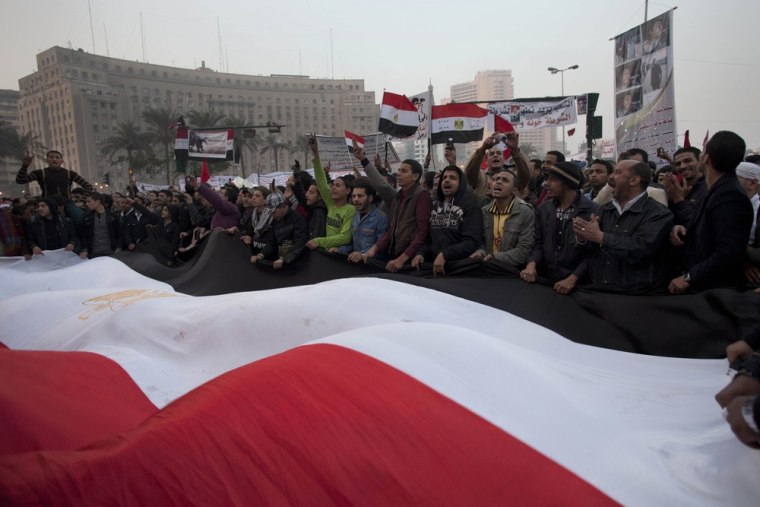 Pro-reform leader and Nobel peace laureate Mohamed ElBaradei was among those in the square.
"He is here to support the revolutionaries," said protester Ahmed Awad, 35. "He came to see for himself the tragedy caused by the military."
Swelling crowds of demonstrators chanted, "The people want to bring down the marshal", in reference to Tantawi, who took over the reins of power from Mubarak.
A truce between security forces and hard-line protesters brought a nervous calm to the streets near Tahrir on Thursday after five days of clashes that turned part of the capital into a battle zone and left residents choking in clouds of tear gas.
The army council said it was doing all it could to prevent more violence, offered condolences and compensation to families of the dead and a swift enquiry into who caused the unrest.
But reports of unjustified police brutality that have swollen the ranks of protesters continue to filter out in the media.
American students freed, leaving Egypt Also Friday, three American students arrested during a protest in Cairo were released and two were on their way home by early Saturday morning.
They were arrested on the roof of a university building near Cairo's iconic Tahrir Square last Sunday. Officials accused them of throwing firebombs at security forces fighting with protesters.
Luke Gates left Cairo early Saturday morning on a flight to Frankfurt, Germany, an airport official said in Cairo. Gates, 21, is a student at Indiana University.
"I am pleased and thankful to report that Gregory Porter is in the air. He has departed Egyptian airspace and is on his way home," Porter's attorney, Theodore Simon, said Friday. Simon did not give an estimate of when Porter, a student at Drexel University in Philadelphia, would arrive in the U.S.
The third, Derrik Sweeney, was expected to depart by later Saturday morning, the airport official said. He spoke on condition of anonymity because he was not authorized to brief reporters.
Joy Sweeney told the AP her son, a 19-year-old Georgetown University student from Jefferson City, Mo., would fly from Frankfurt to Washington, then on to St. Louis. She said family will meet him when he arrives late Saturday.
"I am ecstatic," Sweeney said Friday. "I can't wait for him to get home tomorrow night. I can't believe he's actually going to get on a plane. It is so wonderful."