For Harley-Davidson, Michael Adams is a godsend.
When the 22-year-old college senior showed up for a $25 rider training class at a community college last year in Michigan, his aspiration was to someday buy his ultimate American icon: a Harley.
But he quickly found he was in enemy territory.
"Everyone my age was talking about buying a 'crotch rocket'" Adams said. "They wanted a Ducati or Yamaha or some other kind of import; but I never heard any other talk about a Harley."
Undeterred, Adams soon abandoned his Honda motorcycle, and paid cash for a brand new $14,000 Harley-Davidson Dark Custom Street Bob, using money he'd earned at a variety of jobs, from operating a forklift to working an internship at a Kentucky newspaper.
For the past decade, the Milwaukee, Wisconsin, Harley-Davidson Inc had largely been stymied in its attempt to reach a younger audience.
As it poured resources into entirely new lines of bikes, often designed to lure the 20 and 30-something crowd, or used advocates like a Victoria Secret supermodel to encourage younger buyers to feel it's cool to own a bike — Harley's core customer base of well-heeled baby boomers only got older.
But the effort is finally gaining traction under Chief Executive Keith Wandell, who took Harley's helm in 2009. He immediately began modernizing the company, from the assembly line to the dealership floor, even if it meant offending loyalists.
Talking to analysts at a motorcycle plant in Pennsylvania two weeks ago, Wandell said he is now squarely focused on diversifying the buyer base by "extending the reach of the brand beyond our core customers." But, he admitted "that's a touchy situation ... our core customers have allowed our company to be successful — so there's a certain amount of jealousy, if you will, around the brand."
Some of the old timers already are pushing back on the company when they see new bare-bones retro bikes that make up the hot selling Dark Custom lineup and are aimed largely at youth, said Joe Fredo, sales manager of Harley-Davidson of New York City.
"They're like, ugh, that's not a real Harley," he said.
The effort to get younger has consumed millions of dollars worth of investment in design changes, aggressive marketing of lower-priced bikes, and a massive effort to teach thousands of aspiring bikers to operate a motorcycle.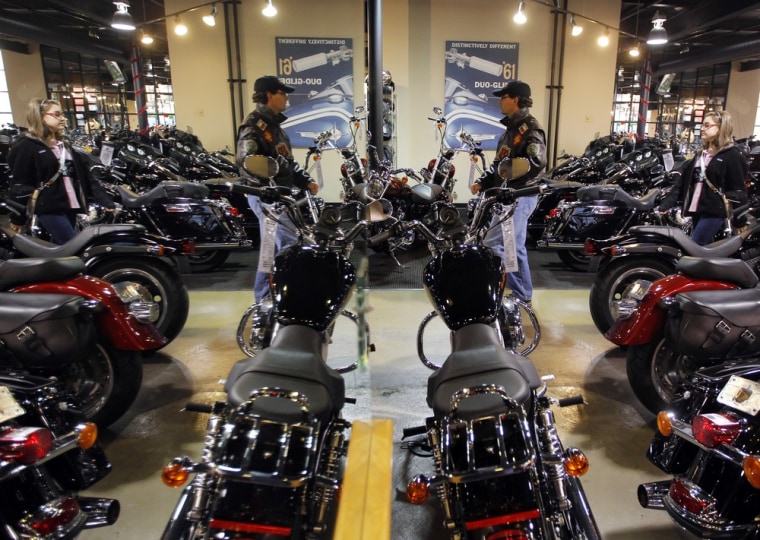 "Our goal really was to be the No.1 seller of motorcycles to young adults in the United States," Chief Marketing Officer Mark-Hans Richer said. "We are now."
Since Wandell took over, the company has increased its share of the heavy-bike market under the age of 35 by more than a third. It now owns 48.6 percent of that market, according to R.L. Polk & Co. registration data, quadruple the share of its closest competitors in the segment.
Honda Motor Co., Suzuki Motor Corp, Yamaha Motor Corp, Kawasaki Motors Corp and Ducati Motor Holdings SpA compete head on with Harley for young buyers.
The move may come just in time for Harley, which is seeing its youth market share rise as the size of the entire market — including sales to boomers — has been slipping in the face of economic turmoil in recent years.
In 2008, 16.6 percent of new Harley buyers were estimated to be under the age of 35, according to company filings and J.D. Power and Associates data. By 2010, that number had increased to about 21 percent and it is expected to have remained steady in 2011.
The 108-year-old Harley-Davidson does not disclose its sales by demographic, but Richer says the company now sells more bikes to people born after Jimmy Carter was president than it sold to their parents' generation when they were the same age.
But there is still plenty of work to do.
At the Pennsylvania analyst meeting, Richer — one of a handful of 40-something executives serving as Wandell's lieutenants — followed the CEO's presentation by showing a slide that indicates the company's average buyers are still too old.
It showed a bell curve related to the current age of the company's buyer base, with the peak of the curve sitting squarely at about age 55. "It's not a war between this end and that end ... but our job is to broaden the customer base," he said.
One of Richer's key moves was to shatter the misconception that Hogs were expensive so-called Geezer Glides, or large touring bikes more for comfort and road trips than for sex appeal and drag strips.
"A lot of young adults would tell us, "hey I like Harley, but Harley's are like $20,000 (and) I don't have that kind of coin right now," said Richer, who joined Harley from General Motors in 2008.
To do this, Richer launched an ad campaign marketing a bare-bones retro bike called the Iron 883 for the price of $8,000, the equivalent of $6 per day with certain financing packages. In one ad, equating the bike's operating cost to "about six bucks a day," the company said the 883's daily cost was "cheaper than your smokes, a six-pack, a lap dance, a bar tab, another tattoo, a parking ticket, a gas station burrito, bail, cheap sunglasses (or) more black T-shirts."
Other changes forced designers and dealers to rethink the way they make and sell bikes.
The key example of this is the new Dark Custom trim line of bikes, such as the Street Bob that Adams, the student, spent his savings on. They reflect a more old-school and sporty design and carry a softer finish thanks to matte-black paint schemes.
"Among the young people, they just love the look of it. It's kind of that rockabilly, rock-and-roll, urban, cool cruiser look," said Kenn Hartmann, a salesman at Harley-Davidson in Berwyn, Illinois.
Richer, speaking to the analysts, showed a slide that indicates two of every three Dark Custom buyers are new to the brand — which doubles the conquest rate of all other bikes the company sells.
Another tactic is getting dealers to help train aspiring bikers how to operate a powerful motorcycle through various learn-to-ride programs, such as Rider's Edge and Motorcycle Boot Camp.
Motor City Harley-Davidson in Farmington Hills, Michigan, is one of several dealers to jump head-first into the initiative. Marketing manager Jennifer Loberman said one-third of all participants in this program since 2007, or about 500 prospective buyers, were under the age of 35. A quarter of them bought a bike within 12 months.
Danny Solis, a 29-year-old living in Chicago, decided earlier this year that he finally had enough money to buy a motorcycle. In mid-summer, shortly after attending Rider's Edge at the Berwyn dealership, he bought a new Harley-Davidson.
"At first I really didn't want a Harley," he said, citing a competitor's bike he found more alluring. But after considering the cost of his first choice, and realizing used Harley's were typically as expensive as new ones, he bought an orange Forty-Eight for about $11,000.
Pricing has definitely been a key part of the equation, but the promise of a cheap bike isn't fueling the brand's entire drive toward a younger demographic.
In fact, the highest-selling model among young buyers is the $19,000 Street Glide, a touring bike that looks much like the meatier gliders that have become a preferred option among boomers. And, J.D. Power said that buyers between the ages of 30 and 40 year spent nearly $1,900 on gear, parts and service for motorcycles in 2010, or $300 more than they did in 2008.
But the bike with the most momentum is the Iron 883, which anchors the brand's Sportster family and is available in the Dark Custom trim package.
"Our bestseller is our cheapest bike," said Fredo, from the New York dealer. "I can't hardly keep them in stock."
Due to popularity in a variety of markets, the lower-priced Sportsters are growing twice as fast as Harley-Davidson's other motorcycle segments. But this comes at a time when margins are under pressure due to restructuring initiatives and other factors.
In 2008, right before Wandell arrived, Harley-Davidson's average operating profit on a new bike was about $3,184. Through the first nine months of 2011, that number has fallen by $30 per bike, though the decline is significantly greater (as much as $350 per bike) if measured at the retail rather than production end of the supply chain. This includes profit from parts and accessories, but not income from bike financing.
Richer signaled a willingness to take a short-term hit, if necessary, to win young buyers that Harley estimates have a 93 percent loyalty rate.
"There's no question a person buying a first Harley may not be as short term financially beneficial as a boomer. But the customer's value over a lifetime is pretty easy to get excited about."