/ Source: InnovationNewsDaily.com
Science fair projects have become much cooler since the days of growing lima beans under different-colored light filters. This year's winners of America's top science honors for high school students used nanotechnology to destroy cancer stem cells and turned Microsoft's Kinect gaming sensor into a design tool for prosthetic limbs. Their reward: $100,000 scholarships for college.
A $100,000 individual grand prize went to Angela Zhang, a senior at Monta Vista High School in Cupertino, Calif., whose nanoparticle system not only allows for noninvasive imaging of tumors, but also delivers drugs to attack cancer cells. Another $100,000 team grand prize was shared by Ziyuan Liu and Cassee Cain, seniors at Oak Ridge High School in Oak Ridge, Tenn., who hacked an Xbox 360 Kinect sensor to analyze the walking patterns of people wearing prosthetics.
The winners announced Monday had competed against 2,436 fellow students who submitted 1,541 projects to the 2011 Siemens Competition in Math, Science & Technology.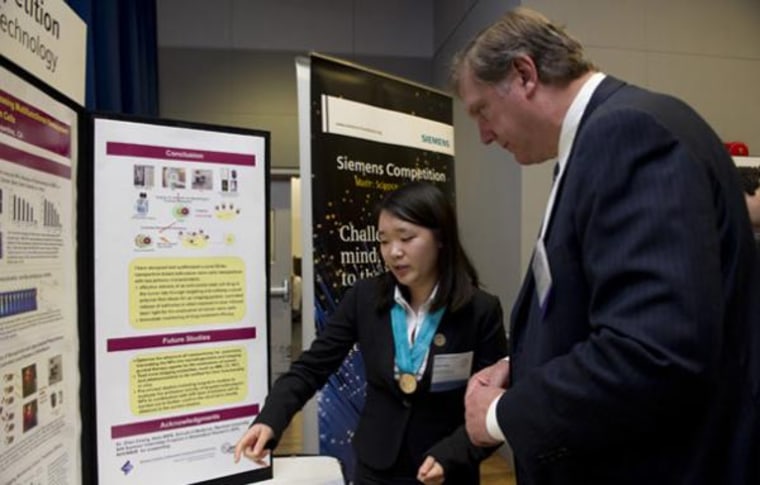 "It is a remarkable day for American innovation when our high school students do science research at this level," said Jeniffer Harper-Taylor, president of the Siemens Foundation. "These young innovators are poised to drive the next generation of advances in science and technology."
Such projects represent the latest trends in modern science and technology. Zhang's work reflects the growing use of nanotechnology to treat diseases of the human body on the smallest scales. She used gold and iron oxide-based nanoparticles that could act as markers for MRI and photoacoustic imaging, even as it delivered the drug salinomycin to attack cancer tumors.
"Angela created a nanoparticle that is like a Swiss army knife of cancer treatment," said Tejal Desai, a bioengineer at the University of California, San Francisco, and a competition judge. "She showed great creativity and initiative in designing a nanoparticle system that can be triggered to release drugs at the site of the tumor while also allowing for noninvasive imaging."
The team of Liu and Cain pushed the boundaries of medicine in a different way. They used Microsoft's Kinect sensor — originally designed for motion tracking in video games — as a cheap but powerful sensor to track the motions of amputees or people with joint replacements.
By combining the Kinect with computer vision algorithms, the team's project aims to help prosthetic makers design more efficient body replacements.
"When further developed, their system could open avenues to bring personalized rehabilitation to the home," said Sudeep Sarkar, a computer engineer at the University of South Florida and a competition judge. "This could potentially reduce medical costs, allowing clinicians to monitor a patient's progress from a remote site."
Besides the grand prizes, smaller college scholarships ranging from $50,000 to $10,000 were also given to the six individuals and six teams in the Siemens Competition National Finals. If such early work is any indication, this won't be the last time such students make the news as U.S. scientists, innovators and entrepreneurs.
Follow InnovationNewsDaily on Twitter @ News_Innovation, or on Facebook.