/ Source: msnbc.com staff and news service reports
London welcomed a new open-backed double-decker bus on Friday, six years after the much-loved but ageing fleet of world-recognized "Routemaster" vehicles was removed from the streets.
The distinctive snub-nosed red Routemasters, popular with tourists and locals alike and as synonymous with London as Big Ben and Buckingham Palace, were almost totally withdrawn in 2005 because they were regarded as expensive relics of the past. A few still run a tourist vehicles.

The sleek modern bus, which also features a conductor and the distinctive open rear boarding platform to allow people to jump on and off, was unveiled for the first time on Friday, gliding through busy traffic on its first trip through London.

Beaming London Mayor Boris Johnson, who had promised a modern Routemaster in his 2008 election manifesto, said he believed the new design would become as resonant worldwide as its predecessor.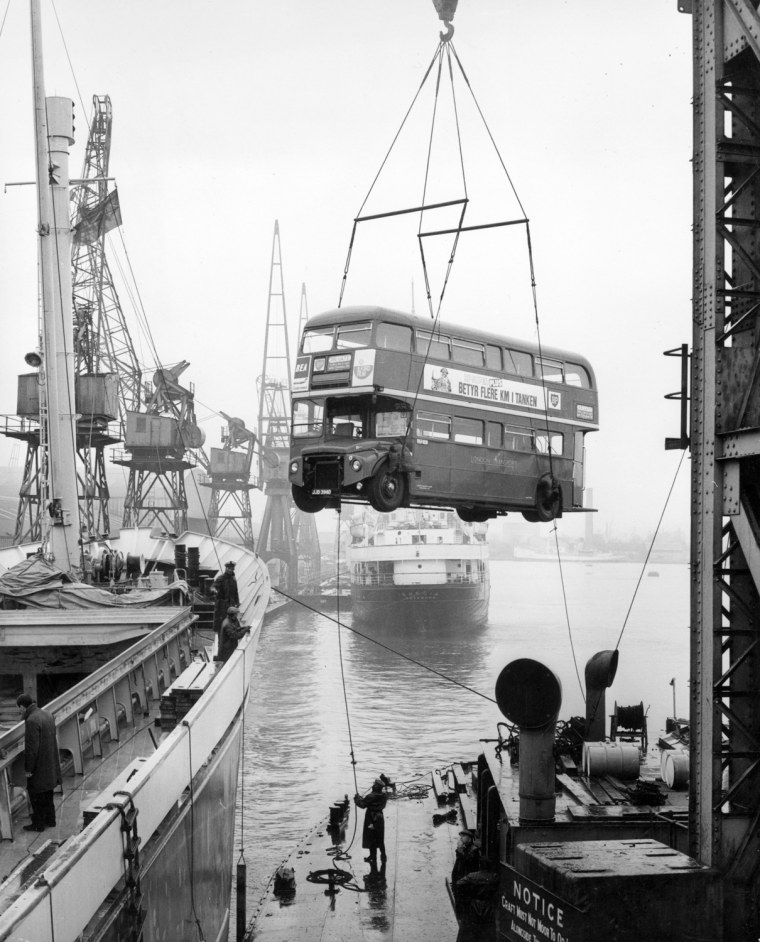 Such is the international attraction of the bus that reporters from across the globe gathered in a chilly Trafalgar Square to see Johnson show off the gleaming "Boris Bus," as it has been dubbed.

"I think the magic thing about this bus is that domed appearance that it has," he told reporters, before launching into the flowery prose for which he is renowned.

"It reminds everybody of all those things that are iconic of London — the design of an old taxi, or the design of a bowler hat, or the noble domed brow of a battle elephant.

"That's the thing that says London to loads of people. Just going along the streets just now it's been obvious how many people like it and what an eye-catching thing it is."

The original Routemasters were introduced in the capital in 1956 and produced until 1968. Some 2,760 of the famously tough vehicles trundled through London at their peak, and featured in countless films, such as the 1963 Cliff Richard film "Summer Holiday."

The first eight new prototypes, designed and built in the United Kingdom, will operate from next February on a route between Victoria rail station and Hackney in east London.

Hundreds more are expected to be brought in if the trial is deemed successful, many of them replacing unpopular German-built single-decker articulated vehicles dubbed "bendy buses."

'Vanity project'
However, not everyone is delighted to see the new-look Routemasters, with Labour Party opponents saying Londoners would pay for Conservative Johnson's "shiny vanity project."

They argued it was wrong to spend on the buses, which the BBC said cost $2 million each, when fares were rising and money was tight amid Britain's economic difficulties.

The cost of a conductor alone would add 72,000 pounds (about $120,000) per bus every year, they said.

Johnson was unbowed. "People who reject this bus ... have to answer a very simple question: Do they want a bus that is cleaner and greener ... that is built in Britain and delivers British jobs?" he said.

"Or do they want to go back to a German-made bus that is not suitable for the streets of our city."

As a prominent Euroskeptic, Johnson could also not resist a swipe at the European Union as the new bus will be the only one in Europe to feature the hop on/hop off platform, according to London transport officials. European officials had expressed safety concerns over the buses' open-platform design.

"This is not an anti-EU bus," Johnson said with a smile. "It is important we have been able to restore the open platform in defiance of a lot of skepticism. Obviously there was lots of eyebrows raised in Brussels but we were able to persuade them."
Reuters contributed to this report