/ Source: msnbc.com news services
Southern Chinese authorities have given in to key demands of protesting villagers after a nearly two-week standoff with police, agreeing in a rare compromise to release detainees and return some confiscated land to farmers.
Guangdong's deputy Communist Party secretary Zhu Mingguo told Wukan village protest leader Yang Semao Wednesday that four villagers being held by police would be released over the next few days, Yang told The Associated Press.
"Because this matter has been achieved, we won't persist in making noise," Yang told an assembly hall of village representatives and reporters, referring to the protests.
"They've agreed to our initial requests," Yang told Reuters. But he added a caveat: "If the government doesn't meet its commitments, we'll protest again."
The significance of the authorities' unusual concession in Wukan depends on how the details are played out, but it could affect the way other protests are handled, particularly in this corner of coastal southern China that has seen periodic unrest over the last few years.
To Wukan's northeast, the coastal town of Haimen saw a second day of protests Wednesday over a planned coal-fired power plant.
Conflicts over land disputes and other issues in much of Guangdong province have been intense because the area is among China's most economically developed, pushing up land prices.
In Wukan, Zhu, the provincial official, also told Yang and another village representative that the government would buy back 66 acres of farmland that had been sold to a developer and return the land to the villagers, Yang told The Associated Press.
There is more farmland in Wukan that has been sold and not yet accounted for, Yang said, but he added that he thought the issue would be fairly addressed by higher authorities.
"I believe that the central government is attaching great importance to this incident and they won't let us down and they won't tolerate the lower-level officials' irresponsibility," Yang said.

Wang Yang, the Communist Party chief of Guangdong, obliquely acknowledged that the villagers had cause to complain, in comments published on Wednesday in the Southern Daily, the official province newspaper.
"There was something accidental about the Wukan incident, but also something inevitable," Wang said, according to the report.
"This is the outcome of conflicts that accumulated over a long time in the course of economic and social development," said Wang, who is seen by many analysts as nursing hopes of a spot in China's next central leadership.
On Wednesday morning, about 300 villagers had lined the sides of a road into the village, preparing to welcome, Zhu Mingguo, the main official negotiating with them.
A man holding a Chinese flag on a pole told the villagers over loudspeaker: "Everyone welcome the Communist Party's work team."
Villagers unfurled a banner welcoming officials to come and help "solve the Wukan matter."
Wukan, a village of nearly 20,000, has for months been the site of simmering protests by locals who say officials sold farmland to developers without their consent.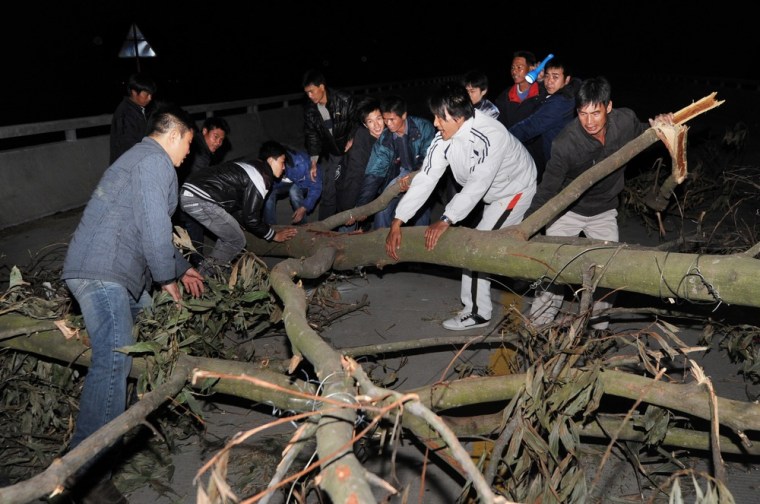 Villagers drove out local officials and police almost two weeks ago after key village representatives were taken away. One of the detainees later died in police custody, further angering villagers, who believe he was beaten. Authorities say he died of cardiac failure.
Police withdrew Tuesday night from road checkpoints they had set up, while villagers removed the tree trunks that they had used to block the road, Yang said.
However, in the town of Haimen, a large group of protesters blocked a highway and set trees on both sides of the road on fire on Wednesday to demand a response from the government to their demands to stop the construction of a coal-fired power plant, said one of the protesters, a man surnamed Yu.
Riot police, paramilitary police and firefighters were deployed to break up the protest on the highway, Yu said.
Related stories: