/ Source: The Associated Press
In a normal year, Della and Biondo Antonello would have decked their once-immaculate home with strings of festive Christmas lights and trimmed their tree with ornaments collected from around the globe.
This holiday season, they didn't so much as hang a wreath on the door. That's because they have no wreath, no ornaments, no light strings or, for that matter, a whole lot of Christmas cheer.
More than three months after record flooding from the remnants of Hurricane Irene and Tropical Storm Lee ruined tens of thousands of homes and businesses, the pace of recovery remains frustratingly slow for Northeast disaster victims, an untold number of whom will be out of their homes for Christmas — or who, like the Antonellos, are marking the season in half-finished construction zones.
The culprit, in some cases, is red tape.
Thousands of flood insurance claims have yet to be processed, leaving many homeowners without the means to pay for extensive repairs. Moreover, grants distributed by the Federal Emergency Management Agency often don't begin to cover the damage to homes whose first floors were submerged. Some residents complain of lowball damage estimates by FEMA inspectors; others say their disaster applications were inexplicably rejected, forcing them into an appeals process.
The result is that cash-strapped flood victims are buying materials when they can and doing much of the renovation work themselves, with the help of friends and donated or discounted labor from electricians, plumbers and other contractors.
"There's not a drop of Christmas spirit to be found in any of us right now," said Freeman White, a West Pittston resident who has been unable to return to the home he shared with his wife, their four children, and his mother and brother, before Lee's remnants flooded parts of Pennsylvania in September.
In Vermont, only about 500 of the 1,400 households displaced by Irene's flash flooding in late August have been able to return, said Jennifer Hollar, deputy commissioner of the state Department of Housing. An additional 750 are living in apartments or hotels with help from FEMA.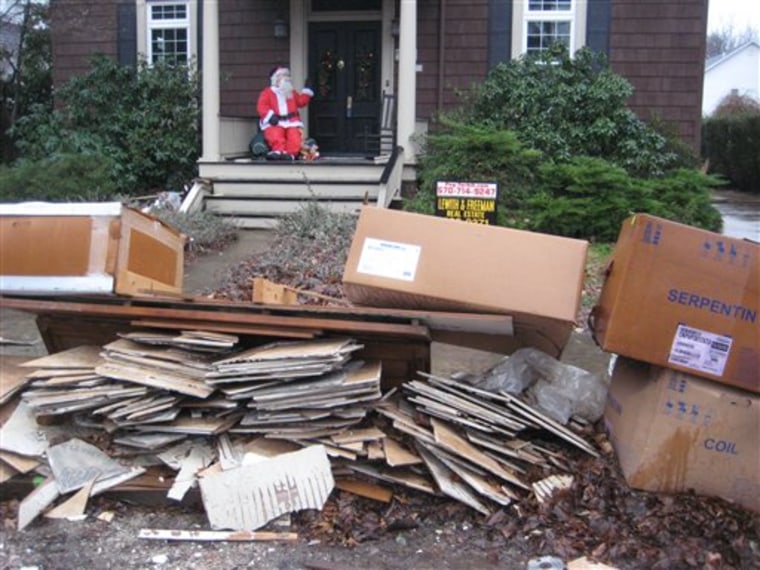 "People are not turning to emergency (homeless) shelters, but we do know that some of the temporary situations that people are in are not sustainable," she said. "There are definitely people who are struggling and not sure what their next steps are. They're doubling up or still in motels."
FEMA statistics for Pennsylvania show the extent to which flooded residents are still waiting for disaster relief or who have been getting by on modest FEMA grants:
— As of Wednesday, about 2,400 flood insurance claims had yet to be settled, a quarter of the total.
— Though residents can qualify for a maximum FEMA grant of $30,200, the average award has been much smaller — $3,132.
— FEMA rejected about 51,000 applications for disaster assistance, more than half the total of 94,000.
FEMA spokeswoman Josie Pritchard said many applicants were declared ineligible because they already had flood insurance, were found to have no damage or were unable to verify the home as their primary residence. FEMA does not pay out on second homes.
Some flood victims, though, say they were rejected for FEMA grants for which they should have qualified.
In West Pittston, a town between the northeastern Pennsylvania cities of Scranton and Wilkes-Barre, flooding ruined the finished basement and first floor of the White family's modest frame home.
Freeman and Vikki White, who paid rent to his mother and lost nearly everything to the flood, said they were stunned when FEMA refused to give them anything for their belongings. Freeman White said his mother got a modest amount, $16,000, to fix damage that one contractor estimated at $60,000.
White, 42, a professional musician who was laid off from his job with the state prison system last year, expected to be back home by Thanksgiving. Instead, the family remains dispersed in homes and apartments throughout the region while they chip away at repairs.
They've tried to keep up appearances while getting the house back into shape. A sign taped next to the door says: "It's been a long, hard road, and I won't lose hope. This is still the place that we all call HOME." A string of Christmas lights droops over the debris-filled front porch.
But Christmas doesn't seem so joyful this year.
"I can't wait till it's over so the stress goes away," White said.
A few blocks away, the Antonellos, who are in their early 70s, have waited months for an insurance payout that still hasn't arrived. They were forced to dip into their life savings to pay for partial repairs. Earlier this week, Della made the decision to halt work until they get the insurance money.
So, for now, a piece of plywood serves as their kitchen counter; a single floor lamp, sans shade, illuminates a living room devoid of furniture. They live on the second floor and venture downstairs to microwave dinner, brew coffee or receive friends.
The couple, who faithfully paid their flood insurance premium for nearly four decades, say they can't understand why it's taking so long to get the money to which they're entitled.
"What are you supposed to do, leave your house rot away for three or four months?" said Biondo, a retired auto mechanic. "You pay your insurance every year. Why do you have to fight these people?"
Sen. Robert Casey, D-Pa., sent a letter this week to the Insurance Federation of Pennsylvania, urging insurers to redouble efforts to process claims. "With winter storms approaching, it is critical that these outstanding flood insurance claims be given the highest priority," he wrote.
Jonathan Greer, the trade group's vice president, said his members are eager to resolve any problems. But he noted they have received few complaints and said the holdup may have more to do with the federal government, which underwrites flood losses.
"I would caution everyone not to rush to judgment that it's the private insurance industry's problem in light of the fact that for any other homeowner's claim, we're there, pronto," Greer said Thursday. "Flood insurance is a different animal because you have the involvement of private industry, and the involvement of the federal government."
Told of Greer's response, Casey said: "I'm not too concerned about who's at fault. ... People have worked night and day to rebuild their lives, and they are waiting and waiting. Someone needs to shake this up."
In Duryea, a few miles from West Pittston, Scott Moscatelli has been living on the second floor of his home while gutting and renovating the first floor, which took on nearly 4 feet of water when the Lackawanna River topped a levee and flooded hundreds of homes.
Even doing the work himself — with help from friends — his FEMA grant hasn't taken him very far. The computer systems analyst figures he'll spend $15,000 of his own money by the time the house is finished.
"People think people are getting 'FEMA rich.' That's not the case," said Moscatelli, who, until a new furnace arrived a few weeks ago, had been using borrowed space heaters to stay warm.
Moscatelli lives on Chittenden Street, where Vice President Joe Biden toured heavily damaged homes a week after the flood. Biden told residents not to give up hope, promising that federal aid would help get them back on their feet.
A few days before Christmas, though, the neighborhood is nearly deserted.
"The street's a ghost town," Moscatelli said. "It's pretty surreal."
___
Associated Press writer Dave Gram in Montpelier, Vt., contributed to this report.