/ Source: The Associated Press
Egypt has unveiled the restored sarcophagus of Pharaoh Ramses VI and a statue of Queen Tiye, one of the few well-known female rulers of the ancient world.
The sarcophagus was pieced together from 250 fragments likely broken and scattered in the pharaoh's tomb by ancient tomb robbers, reconstruction experts said.
The tomb of Ramses VI is one of the largest in the Valley of the Kings, the ancient royal burial ground for Egypt's pharaohs. Ramses VI ruled about 3,100 years ago.
All but the face is original
The sarcophagus, carved in the shape of a mummy from a single block of green conglomerate, went on display Sunday in the pharaoh's tomb.
The restored lid shows a face with wide-set eyes and full lips, and crossed hands holding royal scepters. Much of the lid is missing, and some fragments on the sides are supported with steel rods.
Only the face is a replica. The original face is on display at the British Museum. Zahi Hawass, head of the Supreme Council of Antiquities, said he hoped it would be returned to complete the sarcophagus.
Amenhotep III and Tiye
Hawass also revealed the statues of Amenhotep III, who ruled around 1372 B.C., and his wife, Queen Tiye. The statues were partly buried in Nile silt and a pool of water near the Temple of Memnon outside Luxor, about 310 miles (500 kilometers) south of Cairo.
The 10-foot (3-meter) statue of Queen Tiye shows her wearing a wig and a long dress and holding a floral whisk and papyrus, which were royal symbols.
"I have never seen such a beautiful and magnificent statue," Hawass said. "It shows all the details of a strong and mighty woman."
The find highlights the "golden age of art and prosperity" under Amenhotep, he said.
Two years of work
Chip Vincent, director of the Egypt project at the American Research Center in Cairo, said 10 American, Canadian and Egyptian experts worked for two years on the sarcophagus reconstruction. The work was funded by the U.S. Agency for International Development.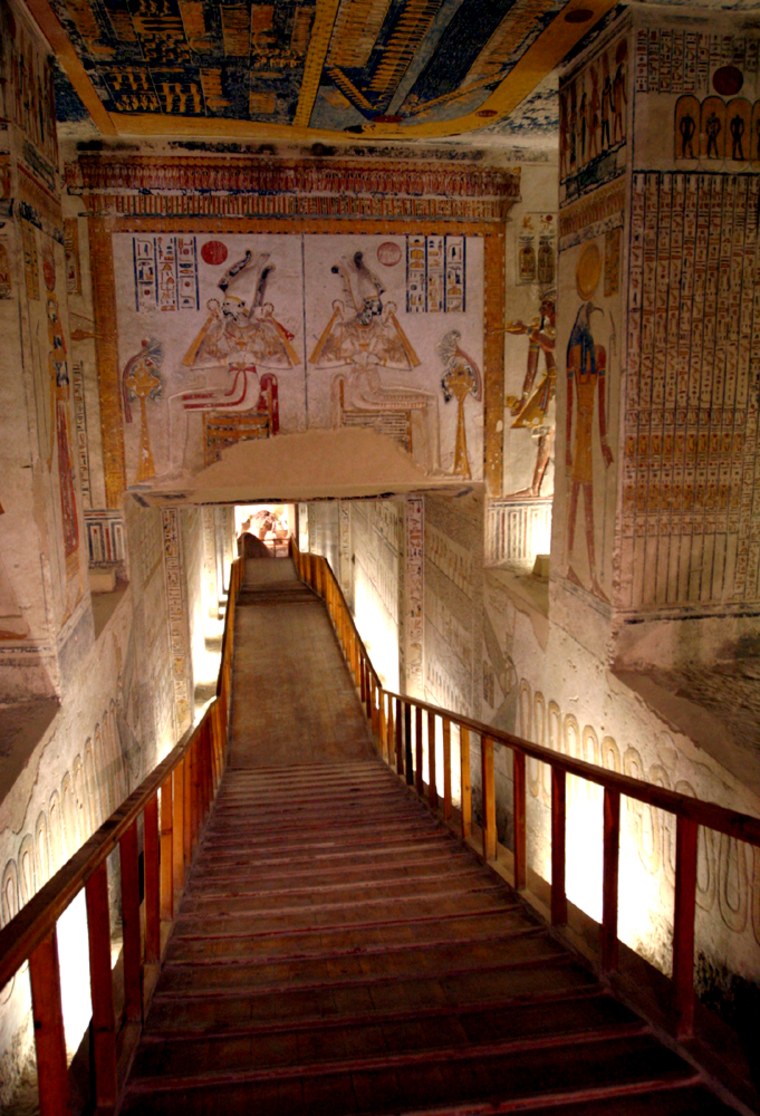 "In the past, visitors to the tomb would only see the broken pieces of the sarcophagus," Vincent said. "Now they have the experience to see the head and the face of the pharaoh."
Also unveiled Sunday was a 4-foot-tall (1.2-meter-tall) white, headless hippopotamus found by German archaeologists excavating the Temple of Memnon site.
Previously, hippopotamus representations were restricted to wall scenes and small models.
Egyptian and German archaeologists also showed newly excavated sites of a mortuary temple of Seti I in Qurna, on the west bank of the Nile.
The temple, from about 1250 B.C., was dedicated to the god Amun-Re. It was built for Seti's father, Ramses I, who ruled for only two years. The temple was completed by Seti's son, Ramses II.