/ Source: msnbc.com news services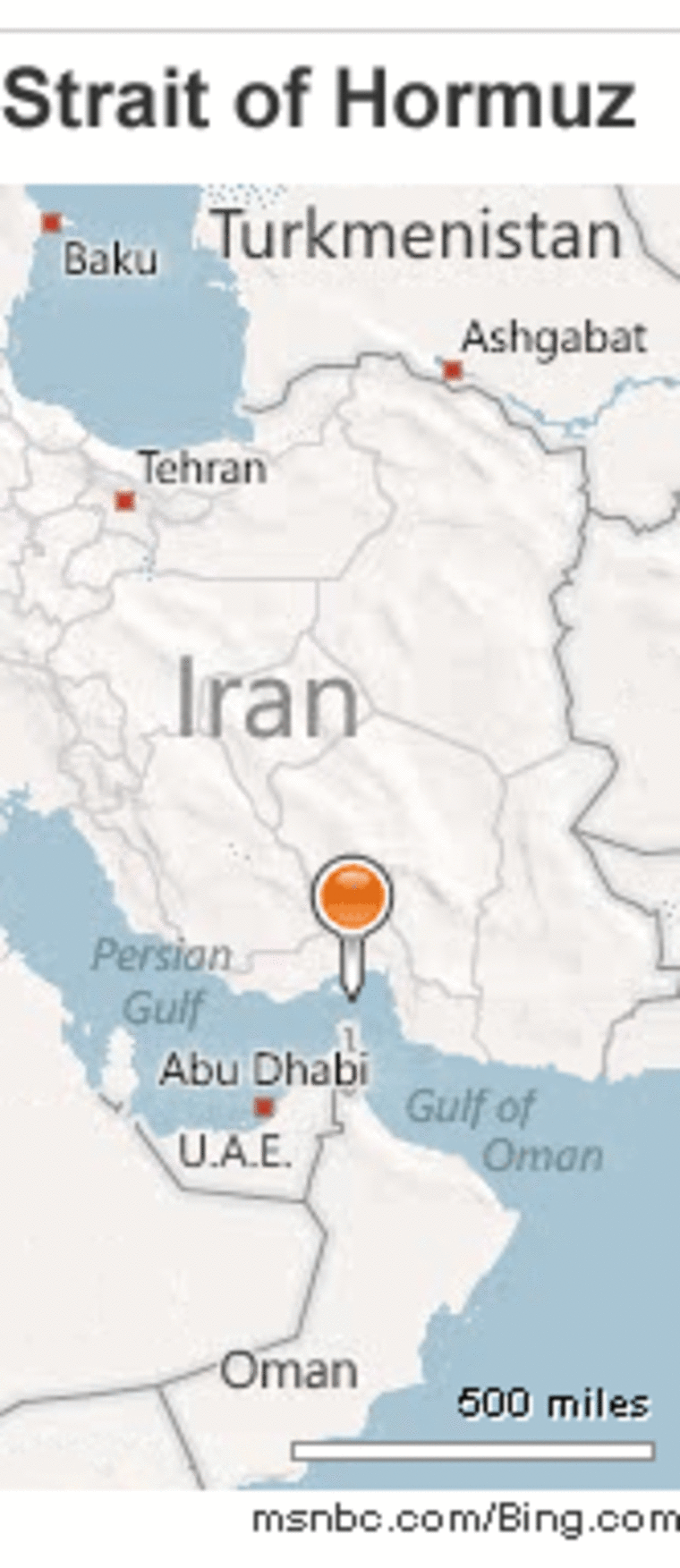 The U.S. Navy's 5th fleet Wednesday warned Iran that any disruption of traffic flowing through the vital Strait of Hormuz oil route "will not be tolerated."
The warning came after Iran's navy chief Habibollah Sayyari told Iran's English language Press TV that "closing the Strait of Hormuz for Iran's armed forces is really easy ... or as Iranians say it will be easier than drinking a glass of water."
"But right now, we don't need to shut it as we have the Sea of Oman under control and we can control the transit," said Sayyari, who is leading 10 days of exercises in the Strait. His reference to control was unclear.
In response, 5th Fleet spokeswoman Lt. Rebecca Rebarich said, "Anyone who threatens to disrupt freedom of navigation in an international strait is clearly outside the community of nations; any disruption will not be tolerated." 
The U.S. Navy is "always ready to counter malevolent actions to ensure freedom of navigation," she said.
Rebarich declined to say whether the U.S. force had adjusted its presence or readiness in the Gulf in response to Iran's comments, but said the Navy "maintains a robust presence in the region to deter or counter destabilizing activities, while safeguarding the region's vital links to the international community."
At the Pentagon, Press Secretary George Little also said that Iranian interference with passage of vessels through the strategic waterway "will not be tolerated," NBC News reported.
Little said that blocking naval traffic through the Strait represents "an important issue for security and stability in the region," and called the Strait "an economic lifeline."
Iran's fears
Sayyari's warning underline Iranian concern that the West is about to impose new sanctions that could target Tehran's vital oil industry and exports.
Western nations are growing increasingly impatient with Iran over its nuclear program. The U.S. and its allies have accused Iran of using its civilian nuclear program as a cover to develop nuclear weapons. Iran has denied the charges, saying its program is geared toward generating electricity and producing medical radioisotopes to treat cancer patients.
The U.S. Congress has passed a bill banning dealings with the Iran Central Bank, and President Barack Obama has said he will sign it despite his misgivings. Critics warn it could impose hardships on U.S. allies and drive up oil prices.
The bill could impose penalties on foreign firms that do business with Iran's central bank. European and Asian nations import Iranian oil and use its central bank for the transactions.
Iran is the world's fourth-largest oil producer, with an output of about 4 million barrels of oil a day. It relies on oil exports for about 80 percent of its public revenues.
Iran has adopted an aggressive military posture in recent months in response to increasing threats from the U.S. and Israel that they may take military action to stop Iran's nuclear program.
Iran's navy is in the midst of a 10-day drill in international waters near the strategic oil route. The exercises began Saturday and involve submarines, missile drills, torpedoes and drones. The war games cover a 1,250-mile (2,000-kilometer) stretch of sea off the Strait of Hormuz, northern parts of the Indian Ocean and into the Gulf of Aden near the entrance to the Red Sea as a show of strength and could bring Iranian ships into proximity with U.S. Navy vessels in the area.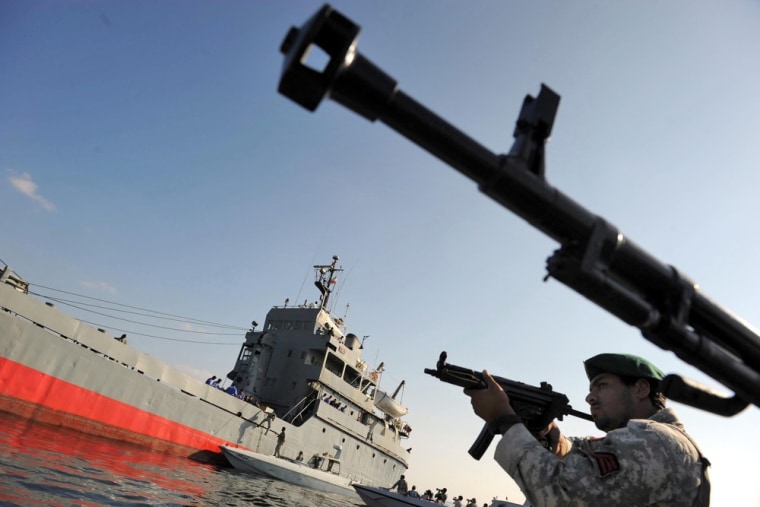 Iranian media are describing how Iran could move to close the strait, saying the country would use a combination of warships, submarines, speed boats, anti-ship cruise missiles, torpedoes, surface-to-sea missiles and drones to stop ships from sailing through the narrow waterway.
Iran's navy claims it has sonar-evading submarines designed for shallow waters of the Persian Gulf, enabling it to hit passing enemy vessels.
The Fifth Fleet consists of 20-plus ships supported by combat aircraft, with 15,000 people afloat and another 1,000 ashore.
A closure of the strait could temporarily cut off some oil supplies and force shippers to take longer, more expensive routes that would drive oil prices higher. It also potentially opens the door for a military confrontation that would further rattle global oil markets.
Iran claimed a victory this month when it captured an American surveillance drone almost intact. It went public with its possession of the RQ-170 Sentinel to trumpet the downing as a feat of Iran's military in a complicated technological and intelligence battle with the U.S.
American officials have said that U.S. intelligence assessments indicate the drone malfunctioned.
About the Strait of Hormuz:
Location: The most important oil transit channel in the world is a narrow bend of water separating Oman and Iran. It connects the biggest Gulf oil producers, such as Saudi Arabia, with the Gulf of Oman and the Arabian Sea. At its narrowest point, the strait is only 21 miles across and consists of 2-mile-wide navigable channels for inbound and outbound shipping and a 2-mile-wide buffer zone.

Oil shipments
Flows through the Strait in 2009 were roughly 33 percent of all seaborne traded oil (40 percent in 2008), or 17 percent of oil traded worldwide, according to the U.S. Energy Information Administration (EIA).
Some 15.5 million barrels passed through daily in 2009, according to the U.S. EIA. U.S. warships patrol the area to ensure the safe passage.
The bulk of the oil exported through the Strait of Hormuz travels to Asia, the United States and Western Europe. About three-quarters of Japan's oil imports and about 50 percent of China's pass through this strait.
An additional 2 million barrels of oil products, including fuel oil, are exported through the passage daily, as well as liquefied natural gas (LNG).
Other shipments: Merchant ships carrying grain, iron ore, sugar, perishables and containers full of finished goods also pass through the strategic sea corridor en route to Gulf countries and ports such as Dubai.