/ Source: msnbc.com news services
North Korea's young leader vowed in 2009 to wage war if the country's enemies shot down a rocket, footage aired on state television showed Sunday in the first official word of his role in military operations before his father's death.
The documentary is the second in a week seeking to highlight Kim Jong Un's experience in leading North Korea's 1.2 million-strong military and was aimed at showing that he was in charge of the armed forces long before his father, former leader Kim Jong Il, died of a heart attack last month.
The son, who is in his late 20s, has moved swiftly into the role of "supreme leader" of the people, the ruling Workers' Party and the military despite questions abroad about how easily he could assume power with only a few years of grooming behind him. He has pledged to uphold Kim Jong Il's "military first" policy.
Sunday's footage — on the day believed to be his birthday — confirmed that he was being groomed as early as 2009 to succeed Kim Jong Il. The choice of Kim Jong Un as successor was not revealed publicly until state media reported in September 2010 that he was made a four-star general and a vice chairman of a key military commission.
The video showed Kim Jong Un shaking hands with officials at a satellite control center after scientists launched a rocket in April 2009 that stoked regional tensions and earned North Korea widespread international sanctions and condemnation.
"I had decided to wage a real war if the enemies shot down" the rocket, Kim Jong Un was quoted as saying. A voice-over described Kim Jong Il as saying his son was in charge of the military's anti-rocket interception operations at the time.
North Korea has said it successfully sent a satellite into orbit as part of a peaceful bid to develop its space program. U.S. and South Korean officials, however, said no satellite or other object reached orbit, and accused the North of using the launch to test its long-range missile technology.
At the time, Japan had threatened to shoot down any debris from the rocket if the launch went awry. U.S. lawmakers also urged their military to shoot the rocket down.
The video also showed Kim Jong Un navigating a tank, observing fighter jets and firing exercises, and posing for photographs with soldiers. He is shown seated in the tank's cockpit and speaking to officers with the hatch cover open. He later drove it on a snow-covered road as his father watched from a reviewing stand.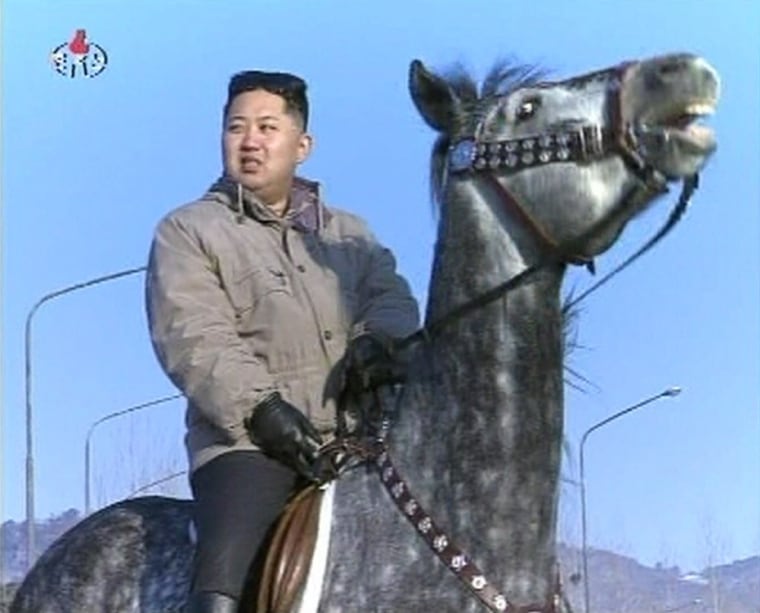 Both father and son wore heavy winter parkas. State TV did not say when the video was taken.
A documentary aired a week ago showed Kim Jong Un paying a New Year's Day visit to a premier tank division with strong historical and family ties.
Since Kim Jong Il's death, the process to install his son as leader has been quick, with top military and party officials wasting no time in pledging their loyalty.
Kim Jong Un, a graduate of Kim Il Sung Military University, is believed to have turned 28 or 29 on Sunday, though his exact birth date has not been confirmed by the government.
Beijing summit
Meanwhile, South Korean President Lee Myung-bak will this week ask China's leaders to use their influence to lean on North Korea to show restraint amid the delicate transition to a new leadership.
Lee will hold a summit with China's president, Hu Jintao, in Beijing and will "discuss ways to develop the strategic partnership between the two nations and cooperative measures for peace and stability on the Korean Peninsula," the South Korean president's office said in a statement.
Lee's three-day trip to China, his second in four years, starts on Monday.
The South has said its primary foreign policy goal this year is maintaining stability on the divided peninsula.
Both South Korea and the United States have urged China, the North's main ally and benefactor, to help restrain the new leadership from staging any hostile acts.
Analysts say the young Kim may order a "provocation," such as a small-scale military attack or  missile test, to burnish a hardline image with the powerful military.