After driving through a red-carpeted tunnel of plaster elephant tusks in an Ambassador, India's retro-looking national car, the chief minister of India's largest state swept past a coterie of her party's workers, who bowed and touched her feet.
Diamonds adorned the diminutive figure of "the Dalit Queen," encrusting her necklace, a bracelet, her earrings, a nose-ring and her watch, as she accepted a few bouquets of flowers and marched about briskly in the marigold-draped party headquarters.
But the huge crowds of gaping admirers were missing this year; there was no garland of banknotes, no upper-caste Brahmin on hand to symbolically pop a morsel of birthday cake into the mouth of an "untouchable" who has risen from the bottom of India's social pile to become one of the most powerful women in the world.
That's because election campaign rules are now in effect for staggered polls to be held in February and March in Uttar Pradesh.
Mayawati, who uses one name, is far from a sure bet to win another term as chief minister of the northern state whose population of 200 million would rank as the fifth-most populous in the world if it were a country.
Rainbow of castes
If she doesn't, it would be a blow to her undisguised ambition to one day become prime minister of India, a goal that looked reasonable back in 2007 when she won a huge mandate from the state's voters by appealing to a rainbow of castes, which still define the socio-economic status for many of India's 1.2 billion people.
Launching the seventh, gilt-edged volume of an autobiography that runs to thousands of pages and is printed in Hindi and English, Mayawati bemoaned Election Commission rules that obliged her to row back on her usual birthday beneficence.
"Normally, my birthday is an occasion to give away thousands of crores (a crore is 10 million rupees or $188,000) in welfare schemes for Dalits and other backward castes, but because of the election code of conduct we could not do that this year," she said.
Mayawati's nemesis in the election is Rahul Gandhi, scion of the Nehru-Gandhi dynasty that has ruled the country for most of its six decades of independence.
A relative greenhorn in the hurly-burly of Indian politics, Gandhi has staked his future on the performance of the venerable but troubled Congress party in Uttar Pradesh.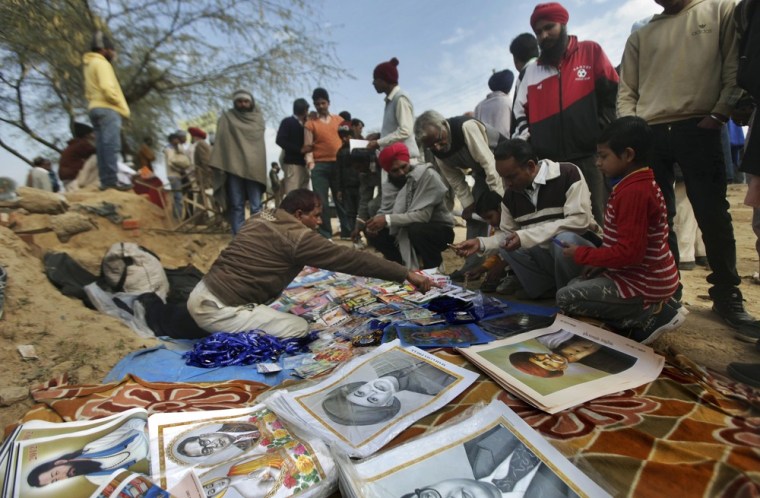 Although she presides over one of the most poverty-plagued states of India — its per-capita income is just above 50 percent of the national average — Mayawati's extraordinary personal extravagance preserves a tradition set over the centuries by a succession of rulers in the plains of the river Ganges.
Pink marble monuments
In the five years since she took office, she has blanketed hundreds of acres of prime real estate in the state capital Lucknow and elsewhere in pink marble and sandstone monuments.
Statues of marble elephants and icons of the lower castes, including a dozen of herself, occupy memorial parks created on a scale not seen in India since the British built New Delhi in the fading days of their empire.
A federal government report found that Uttar Pradesh lavished more than $400 million on such projects between 2007 and 2009 alone — and the building continues.
"She's taken it straight out of the pages of the Mughals and the first British Viceroys who built huge statues. These are abiding icons that the Dalits always hankered after but never had themselves," Ajoy Bose, author of a biography of Mayawati, said.
Like the Nawabs, descendents of Persian courtiers who governed the region in the 18th century, Mayawati likes to flaunt her wealth.
On paper, she is India's richest chief minister, with declared assets of $16 million that include a shopping mall in New Delhi and $169,000 in jewelry.
But unlike many of her peers in other states, she is open about her income and pays taxes on it.
A U.S. diplomatic cable released by WikiLeaks last year recounted how she once sent a private jet to fetch a pair of sandals from Mumbai, 620 miles away.
According to the cable, one minister was forced to do sit-ups in front of Mayawati as a punishment for a minor offence; those wanting to become election candidates for her Bahujan Samaj Party (BSP) had to pay tens of thousands of dollars for the privilege.
US cable: 'First-rate egomaniac'
But, unlike her aristocratic Mughal, Nawab and British predecessors, she hails from India's "Dalit" castes, who were marginalized for centuries on the bottom rungs of Hinduism's social ladder. Still today, the idea that a Dalit could become prime minister is as outlandish for many Indians as the thought of a black president once was in the United States.
One of nine children of a poor government clerk, Mayawati grew up in a Delhi slum and became a school teacher before launching into politics. Aides say she's a news junkie, who obsessively watches the many all-news channels now available in India.
She is often ridiculed by urban middle classes for her monumental personality cult — the U.S. cable described her as a "first-rate egomaniac" — and yet Mayawati still has many supporters in Uttar Pradesh, where economic growth has picked up and law and order have improved on her watch.
Mayawati's aides point out that she has spent far more on building roads and joining villages to the electrical grid than she has on the icons to herself and the Dalit people.
"Once you get the infrastructure on the ground, Uttar Pradesh will grow on its own," said a senior official in her inner circle, who asked not to be identified.
Sympathetic analysts even liken her park-building spree to that of the Nawab of Lucknow, Asaf-Ud-Dowlah, who employed 20,000 people to build a shrine during a harsh 1784 famine, a project some historians call an example of pre-Keynesian economics.
Economic growth
That might be a stretch, but electrification and rural welfare projects have undoubtedly contributed to economic growth, which at seven percent annually in her first four years of office, was the state's fastest-ever rate.
A report by the central government's economic Planning Commission last year said Mayawati's pro-Dalit policies had begun to improve the dire nutrition situation in the state, where 42 percent of children under five are underweight.
Even critics admit crime has fallen noticeably since she took over as chief minister in 2007 from Mulayam Singh Yadav, a former wrestler many remember for presiding over a surge in gang violence, with gun-wielding goons threatening shopkeepers.
In the mainly Dalit village of Bhaddi Kheda, an hour's drive from Lucknow, families have been given grants to build modest new houses to replace mud-walled hovels. New toilets improve sanitation, and muddy lanes have been paved.
Most importantly, said villager Saptruhan Das, Dalits who for generations were terrorized by higher castes now feel protected because the police are on their side.
"Yadav people would come and misbehave with the women," Das said, referring to former Chief Minister Yadav's caste. "In some places, they'd give us work but beat us. Now with Mayawati in power, nobody dares."
According to an opinion poll conducted in Uttar Pradesh for India Today magazine last November, 69 percent said that Mayawati had fulfilled the expectations of Dalits.
Ability matters more than caste
But nearly 9 out of 10 voters said competence mattered more than the chief minister's caste, two-thirds wanted a change of guard, and the poll showed that Yadav was more favored than Mayawati as the best person to lead the state.
Indeed, Yadav's Samajwadi Party could well emerge from the election with more seats in the 403-member state assembly than Mayawati, though probably not enough for a majority, forcing him to ally with Gandhi's Congress for a return to power.
It is too soon to write off the wily Mayawati. She has outwitted every opponent who has crossed her path since the 1990s, first forming several short-lived coalition governments and then storming home with a single-party majority in 2007.
She still pulls in crowds of easily 100,000 at election rallies, far more than her opponents, including Gandhi. And she has a knack for turning adversity into advantage.
Take the flap over the life-sized elephant statues Mayawati had erected in a sprawling Lucknow park, which she opened in 2008 and named after the untouchable leader who wrote India's constitution, Dr. B.R Ambedkar.
The Election Commission this month ordered all statues of Mayawati and of elephants — her party's electoral symbol — to be covered during the campaign. So now, dozens of hulking elephant statues are clad in yellow plastic sheeting, and plyboard boxes have been built around bronze Mayawati statues.
"I thank the Election Commission for this order," she said. "It is going to benefit the party and has given us free publicity."
Despite her bravado, Mayawati is likely to lose the votes of millions who believe that corruption has gone from bad to worse and the fruits of economic growth have been unevenly spread both across the sprawling state and its castes.
System of bribes
Speaking on condition of anonymity, one businessman in the state described a well-organized system of bribe-paying to bureaucrats and constant harassment of companies for pay-offs.
"You have to be really desperate to do business in Uttar Pradesh. You have to pay for virtually everything," he said. "Since you have to pay out even if you follow the law — why follow the law?"
Apart from a couple of companies seen as close to her administration including Jaypee Group, which built the track used for India's first Formula One race last year, Uttar Pradesh has missed out on India's industrial growth of the past decade.
Construction, particularly state-funded building of roads, has been the main driver of the state's economy, along with agriculture. Manufacturing has stagnated, hobbled by regular power cuts, high taxes and corruption.
Dalit villager Chote Lal, 28, says life has improved for his caste under Mayawati, but he still does not have enough food to feed his seven children properly.
"There are no jobs, no factories — she should have brought in industry," he said.
This may be Mayawati's undoing: not the statues and the personal extravagance, but the sense she has not done enough to lift living standards evenly across so vast a population.
"Overall, her performance is a mixed bag," said Bose, her biographer. "She has clearly been disappointing. She had a great chance to do more."
This is especially felt among higher castes and Muslims, whose votes helped propel Mayawati to power with a majority in 2007 but who now feel her pro-Dalit policies have not taken them into account.
"We want a government that works for development, not one that works for one particular caste or religion," said Mohammed Ahmed Khan, a Muslim farmer in the village of Dharai Mafi.