/ Source: msnbc.com staff and news service reports
At least 10 people died in crashes overnight apparently caused by smoke from a fire along Interstate 75 in north Florida, authorities said Sunday.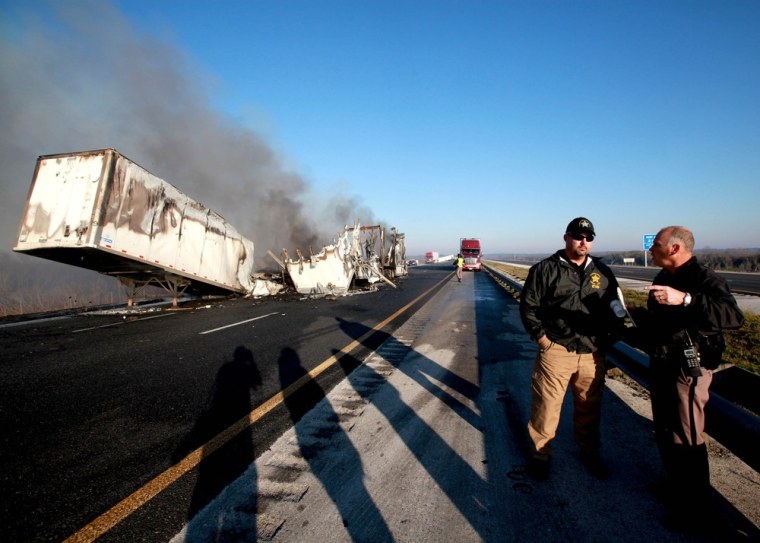 Nine people were confirmed dead at the scene, and a 10th fatality was later reported. A local hospital was treating 20 people for injuries. Their conditions were unclear.
At least four to five large commercial vehicles and 10 passenger vehicles were involved. Many were badly mangled.
Reporters who were allowed to view the site saw one tractor-trailer that was burned down to its skeleton, charred pages of books and magazines in its cargo area. Bodies were still visible inside a burned-out Grand Prix. The rubber on the tires of every vehicle had burned away, leaving only steel belts.

State police estimated that wreckage was strewn for nearly a mile in both directions.

Steven Camps, 23, of Gainesville, said he and a friend had stopped due to the smoke and began talking to a man in the car stopped next to them, when another vehicle hit the man's car.

Camps said the man's vehicle was crushed under a semi-truck stopped in front of them. Camps said his car was hit twice, but he and his friend were able to jump out. They took cover in the grass on the shoulder of the road.

"You could hear cars hitting each other. People were crying. People were screaming. It was crazy," he said. "If I could give you an idea of what it looked like, I would say it looked like the end of world."

He said cars and trucks were on fire and they could hear explosions as the vehicles burned.

"It was happening on both sides of the road, so there was nowhere to go. It blew my mind," he said. "It was like a war zone. It literally looked like someone was picking up cars and throwing them."
"That's a very scary thing when you can't see anything and hear the squealing of tires and don't know if 2,000 pounds of metal is coming at you," The Gainesville Sun quoted Alachua County Sheriff's Sgt. Todd Kelly as saying.
"We just hit it, and you couldn't see anything," added Donna Henry, who was driving with friends when her car hit a guardrail and ended up sideways.
From the side of the road she heard more crashes. "Like 15 times somebody hit, from this side and that, north and south. It was bad."
In one crash, a pickup truck was left sitting atop a passenger car and both were up against the rear end of a FedEx tractor-trailer. All vehicles were burned out.
The pile-ups, on both north- and southbound lanes, happened around 3:45 a.m. Sunday on both sides of I-75 south of Gainesville.
All lanes of the interstate remained closed as investigators began their work examining the vehicles, many of them just burned shells.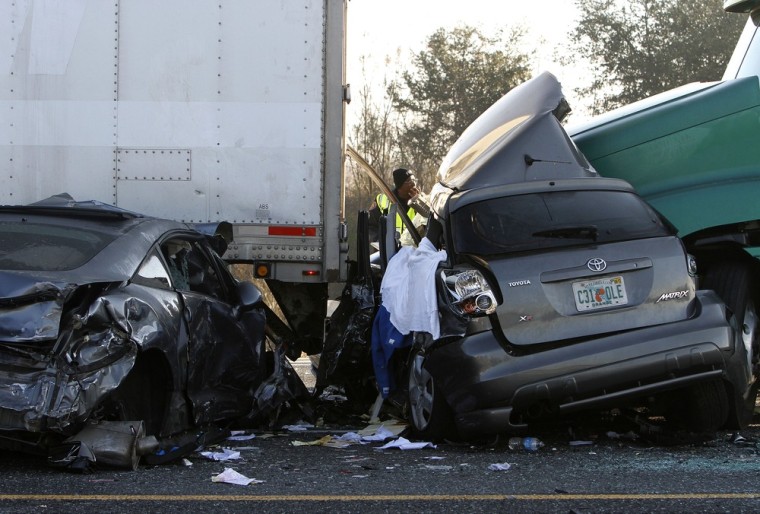 The Florida Highway Patrol had closed the highway briefly earlier overnight because of a mixture of fog and smoke from a marsh fire in the Paynes Prairie area south of Gainesville.
The agency had several troopers driving along the stretch of I-75 to access the situation early Sunday.
"When the visibility cleared, we reopened the road," said Florida Highway Patrol Lt. Patrick Riordan.
The fire was manmade and started on Saturday, police said. It was not known if it was accidentally or deliberately set.
Heavy fog and smoke were blamed for a deadly string of accidents four years ago. In January 2008, four people were killed and 38 injured similar crashes on Interstate 4 between Orlando and Tampa, about 125 miles south of Sunday's crash. More than 70 vehicles were involved in those crashes caused by fog and smoke, including one pile-up that involved 40 vehicles.