/ Source: Arthur Frommer's Budget Travel
From the continent that brought you Yellowstone and Yosemite: Astounding scenery! Glaciers you can climb! Swarms of wild butterflies!
We do not exaggerate. The National Parks of Canada are among the top touristic destinations in the world. And thanks to a good exchange rate, they also remain a highly affordable vacation for American travelers. Today, we're counting down our picks for the best of the best.
Pacific Rim National Park Reserve, British Columbia
Vancouver Island's west coast is already Canada's top surfing destination. Add a 46-mile trail through old-growth temperate rain forest, a hundred islands for wilderness kayakers, and 20,000 migrating gray whales each spring, and it's no wonder the 93-mile strip of seashore is so popular that reservations are required to visit certain parts.
Inland, it's a temperate rain forest, which means it gets around 120 inches of rain a year. (So pack the rubber stuff!) And don't hike the trails without a buddy—wild cougars are frequently observed in parts of the park.
When to go: Late June to early September for the finest weather, but March and April for the whale migration.
Wildlife: Killer whales cruise offshore, eagles soar over the Broken Islands, sea lions and seals play in the surf. Bear-watching boats depart from the towns of Tofino and Ucluelet for about $50 a run. (All prices in this article are in U.S. dollars.)
Where to stay: The waterfront Whaler's Point Guesthouse in Tofino, a town that's becoming well known for its galleries. Simple private doubles $57, 250/725-3443, www.tofinohostel.com.
Don't miss: Dipping your toes into tidal pools or exploring the rain forest with the park's free interpretive walks and trails. Nuu-chah-nulth Trail, for one, focuses on the history of the First Nations, the preferred term for Canada's indigenous people. For details, make a stop at the park's recently revamped Wickaninnish Centre at Long Beach.
Kids: Teenage girls can learn to ride the waves at Surf Sister's five-day summer camps ($375) and two-day programs ($148). Lessons for anyone 12 and up are $57. 877/724-7873, www.surfsister.com.
Planning: 250/726-7721; Tourism British Columbia, 800/435-5622, www.hellobc.com.
Waterton Lakes National Park, Alberta
Separated by a slashed clearing through the forest, Alberta's Waterton Lakes National Park and neighboring Glacier National Park in Montana form the world's first International Peace Park. The tiny lakeside town of Waterton sits where the Rocky Mountains drop dramatically to rolling prairies, generating winds so strong the historic seven-story Prince of Wales Hotel has to be anchored with huge cables.
The sunniest weather is from June through September. For wildflowers—55 percent of Alberta's wildflowers are found in the park—visit in early summer; for bird migrations and the best animal sightings, go in late fall.
Wildlife: Watch for moose at Cameron Valley (a popular canoeing lake); black bear, elk, and bighorn sheep on the prairie portion of the park; eagles on updrafts in the valley; and grizzlies wandering in the wilderness beyond town.
Don't miss: The two-hour cruise along the shores of Upper Waterton Lake, which is the deepest lake in the Rockies. It goes to Goat Haunt, a U.S. ranger station just over the border in Montana ($19 adults, $14 ages 13 to 17, $7 kids, Waterton International Shoreline Cruise Company, 403/859-2362).
Where to stay: Waterton Lakes Lodge is the only full-service resort in town (from $163 in summer, about $50 less in spring and fall, 888/895-6343, www.watertonlakeslodge.com). The historic Prince of Wales Hotel, below, has an undeniably spectacular view—unfortunately, it charges high rates to match. You're better off visiting it for afternoon tea ($19).
You need to know: Because there are only 400 hotel rooms available in town, you really do have to book far in advance!
Budget secret: Park interpreters from both the United States and Canada lead free cross-border, full-day hikes every Saturday. You only have to pay for the boat fare: $4 to $11, depending on age.
Planning: 403/859-2224; regional information, 403/853-2252, www.watertonpark.com.
Banff National Park, Alberta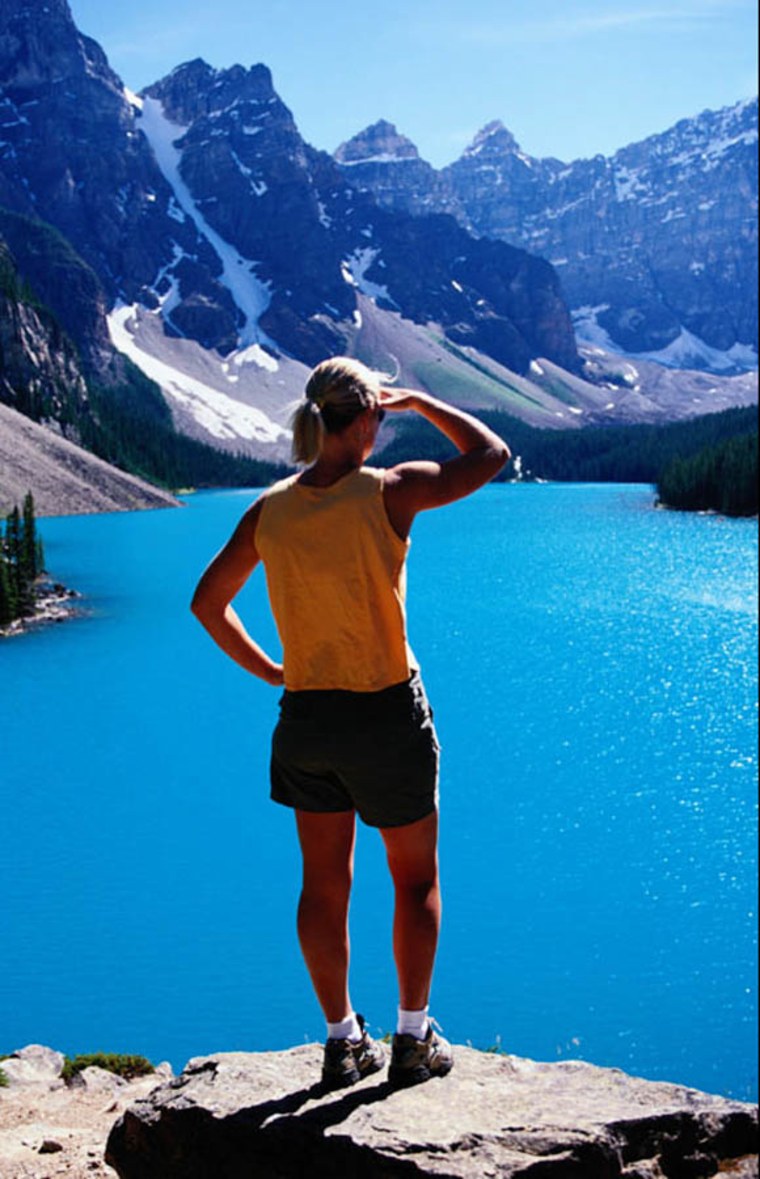 Canada's oldest national park started with three prospectors poking around the Rockies. They didn't find gold, just a steaming, sulfurous hot spring, but the protection of that discovery, in 1885, led to the creation of a 656-square-mile park of jagged snow-capped mountains, broad U-shaped valleys, turquoise lakes, rich forests, and meandering rivers. More than 4 million visitors pay their respects every year, and with some of the world's best hiking and skiing, peak season never ends.
Photo op: For that classic, mountain-reflected-by-the-lake shot, make an early-morning visit to the poppy-filled garden behind the elegant Fairmont Chateau Lake Louise resort. Also stunning is the unbelievably blue Peyto Lake, off the Icefields Parkway, between Lake Louise and the Jasper Park border.
Wildlife: Elk were once so prolific that park staffers were issued slingshots in an effort to persuade them to move out of town. Grizzlies, meanwhile, hang out in the mountains, stuffing themselves in summer with up to 100,000 buffalo berries each day.
Where to stay: There are roughly 30 inns, including the pleasant Rocky Mountain B&B right in town (from $72, 403/762-4811, www.rockymtbb.com). The Banff and Lake Louise youth hostels, made of stone and timber, have been rated in the world's top 10, and they have family rooms (doubles from $55 in Banff, from $65 in Lake Louise, www.hihostels.ca, 866/762-4122).
Don't miss: The free guided hikes offered by the Friends of Banff Park (www.friendsofbanff.com); the 50,000-plant Cascade Gardens, also free, at the foot of Banff Avenue; or the historic Banff Upper Hot Springs, located on Sulphur Mountain—it's a pool with a fabulous setting surrounded by pines and peaks ($5).
Fascinating fact: The Trans-Canada Highway between Banff and Lake Louise zips beneath a pair of million-dollar overpasses that were constructed so that animals could cross the highway safely.
You need to know: There are lots of additional lodgings by Banff's eastern gate in Canmore's strip of hotels and motels. What they lack in charm, they make up for in convenience. Try the Quality Resort Chateau Canmore (suites from $82, 403/678-6699, www.chateaucanmore.com).
Planning: 403/762-1550; Banff/Lake Louise Tourism Bureau, 403/762-8421, www.banfflakelouise.com.
Jasper National Park, Alberta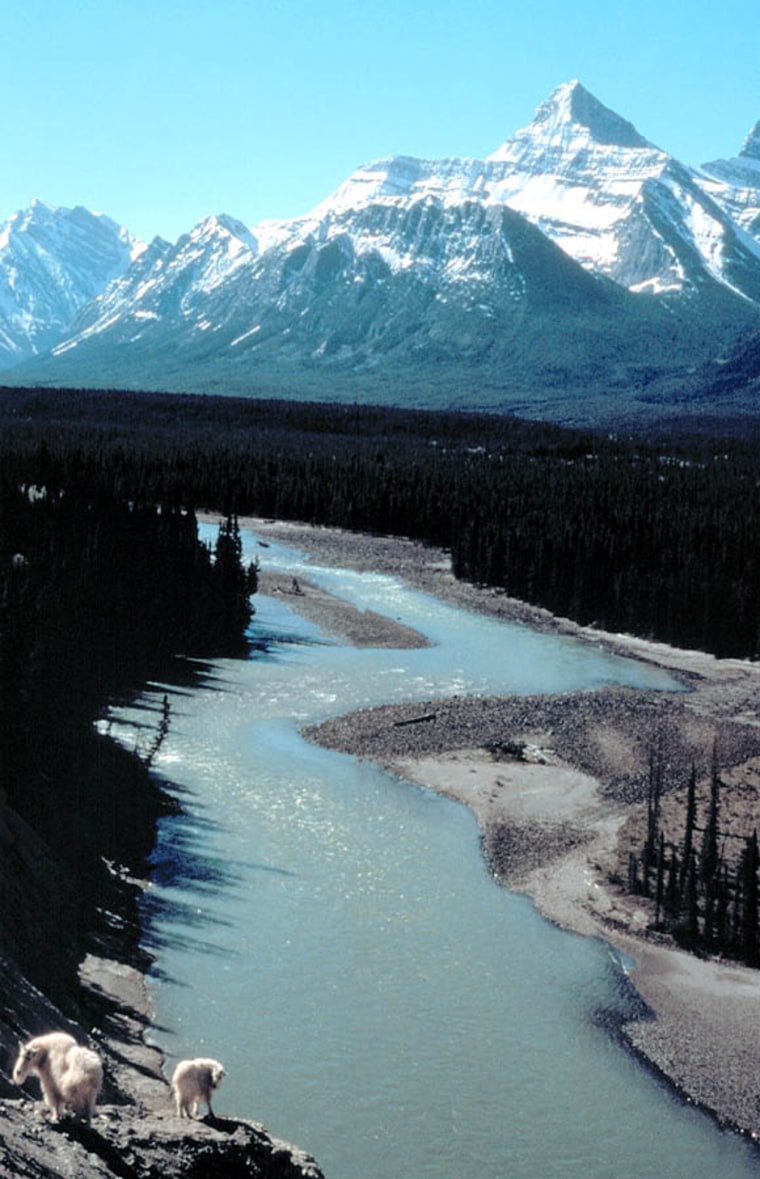 Raging rivers, crashing waterfalls, and one of the world's most accessible glaciers are just three reasons why people drive the 142-mile Icefields Parkway, which winds from Lake Louise to Jasper. Once they arrive, they bike wooded trails, raft on waters that were glacier ice hours earlier, and soak in Miette Hotsprings, the hottest mineral pool in the Rockies. What makes the park particularly appealing, though, is that it's so darn easy to stumble across wildlife.
When to go: Mid-June to Sept 1. Ski mid-December through spring.
Photo op: Fifty-mile visibility from the Jasper Tramway ($21), just across the river from town.
Wildlife: The 29-mile drive to Maligne Lake; you might just catch glimpses of bears, moose, and deer on a single outing. In town, don't be surprised to see elk peeking from between train cars.
Where to stay: The central, recently re-furbished Athabasca Hotel has enough mounted critters in the lobby to fill its own museum (from $75, 877/542-8422, www.athabascahotel.com).
Don't miss: Larger than the city of Vancouver, Athabasca Glacier sends melted snow and ice to three oceans—the Arctic, Atlantic, and Pacific—as well as to powerful Athabasca Falls. The glacier and the falls can easily be seen by car from the dramatic Icefields Parkway.
To get in closer go to Icefield Centre, at the Athabasca Glacier, 65 miles south of Jasper, with tours on giant-wheeled buses that crawl onto the ice ($22 adults, $11 children, Brewster Snowcoach, 877/423-7433, www.brewster.ca).
You need to know: You're most likely to spot roadside animals at dusk and dawn—but that's when it's also easiest to accidentally hit them. Drive carefully.
Budget secret: The Friends of Jasper offer nightly, year-round historical walking tours, birding excursions, and moonlight hikes for $1.50 (780/852-4767, www.friendsofjasper.com).
Planning: 780/852-6176; Jasper Tourism & Commerce, 780/852-3858, www.jaspercanadianrockies.com.
Bruce Peninsula National Park, Ontario
On its west side, the 104-square-mile park, straddling the Niagara Escarpment, slips gently into bogs, beaches, and Lake Huron. On its east side, cliffs plunge into the clear waters of Georgian Bay.
When to go: May to September.
Photo op: The park's eroded eastern shoreline, particularly the giant stone "flowerpot" column formations.
Wildlife: More than 300 species of birds migrate through this peninsula. The massasauga rattlesnake is an elusive resident, and the black bear makes unwelcome appearances when campers leave food lying around.
Where to stay: The picturesque fishing village of Tobermory, 10 minutes away, where Innisfree B&B overlooks the harbor (rooms from $50, 519/596-8190, www.bbcanada.com/innisfree). From here, you can see the crystalline waters of Fathom Five National Marine Park of Canada, with its 21 islands, lighthouses, and 22 turn-of-the-century shipwrecks.
Don't miss: The half-mile hike from Halfway Rock Point to Overhanging Point. The coastal scenery is staggering: erosion-sculpted cliffs, grottos, and deep-blue waters.
Planning: 519/596-2233; Bruce County Tourism, 800/268-3838,  www.naturalretreat.com; Bruce Peninsula Tourism, 519/793-4734, www.brucepeninsula.org.
Bruce Peninsula National Park: Some of the stunted eastern white cedar trees that cling to the cliffs along Georgian Bay, above, are over 1,000 years old—and less than five feet tall. The park is also home to more than 30 species of orchids, best seen in early June.
Point Pelee National Park, Ontario
It's all about birds and butterflies on this tiny peninsula, which pokes into Lake Erie like a dagger. More than two-thirds marsh, the beach-fringed finger of land, measuring just six square miles, is a haven for tired birds and butterflies migrating across the Great Lake to Mexico and beyond. In May, up to 25,000 bird-watchers also land here, for the show.
When to go: May for songbirds, which are also plentiful (but less colorful) in autumn. September for monarch butterflies. It's difficult to predict exactly which days they'll flutter in, but updates can be had by calling a special sighting hotline  (519/322-2371).
Photo op: Take your long lens for the one-mile stroll on Marsh Boardwalk, then climb aboard the free tram from the visitors center for a 10-minute ride to short trails at the park's tip, the hot spot for bird and butterfly shots. In season, the monarch butterflies often spend early mornings and late afternoons huddled by the thousands in the trees, conserving their warmth and energy.
Where to stay: The Wild Rose B&B in Wheatley, 15 minutes from Point Pelee, is owned by Tom Hince, a birding expert, and Lily Shuster, a former park employee (rooms from $75, 519/825-9070, www.netcore.ca/~peleetom). Other convenient locations are the communities of Leamington and Kingsville, close by.
Fascinating fact: It's the most southerly point in mainland Canada, with approximately the same latitude as both Rome and Boston.
You need to know: For May, book at least six months ahead.
Budget secret: Point Pelee National Park doesn't have camping, but just 20 minutes away, you can pitch your tent under the towering oak and hickory trees of Wheatley Provincial Park (519/825-4659, www.ontarioparks.com). For dinner, pick up fresh perch or pickerel from the roadside fisheries en route.
Planning: 519/322-2365; local information, 800/265-3633, www.visitwindsor.com.
Saguenay–St. Lawrence Marine Park, Quebec
Gouged out by a glacier, with banks blanketed in thick forest and flanked by rugged cliffs, the spectacular, 60-mile Saguenay Fjord eventually merges its warm waters with the chilly St. Lawrence Estuary, creating one of North America's richest feeding grounds for whales. Settle yourself on the shore, and you may even spot a blue whale—the biggest mammal on earth.
When to go: May to October.
Photo op: For belugas, head to the viewing platforms at Baie Sainte-Marguerite and Pointe-Noire. On the fjord's south side at Rivière-Éternité, Zodiac boats navigate 1,000-foot cliffs that dwarf even passing cruise ships (adults $22, kids 12 and under $14, Parc Du Saguenay, 877/272-5229).
Wildlife: In summer, finback, minke, and enormous blue whales congregate in the area where the waters meet. Humpbacks and sperm whales also visit. Small white belugas stick around all year. Look for birds gathering over the water—it's a telltale sign of whales beneath.
Where to stay: Base yourself where the rivers merge, in the French-Canadian village of Tadoussac. Founded as a fur post in 1599, today it trades in tourists and crafts. The 39-room Hotel Le Beluga is simple but central (from $67, 418/235-4784, http://www.le-beluga.qc.ca).
Fascinating fact: Remember the 1984 Rob Lowe movie The Hotel New Hampshire? That was shot at the grand, red-roofed Hotel Tadoussac, which was built in 1864. It's got a dining room with gorgeous murals, where there's a huge, $22 evening buffet.
You need to know: Interpretation centers run by provincial governments often keep the English translations of park information stashed somewhere in a binder—you may have to ask for it.
Planning: 418/235-4703; Tourism Quebec, 877/266-5687, www.bonjourquebec.com; Tourisme Saguenay-Lac-Saint-Jean, 877/253-8387, http://www.tourismesaguenaylacsaintjean.qc.ca.
Fundy National Park, New Brunswick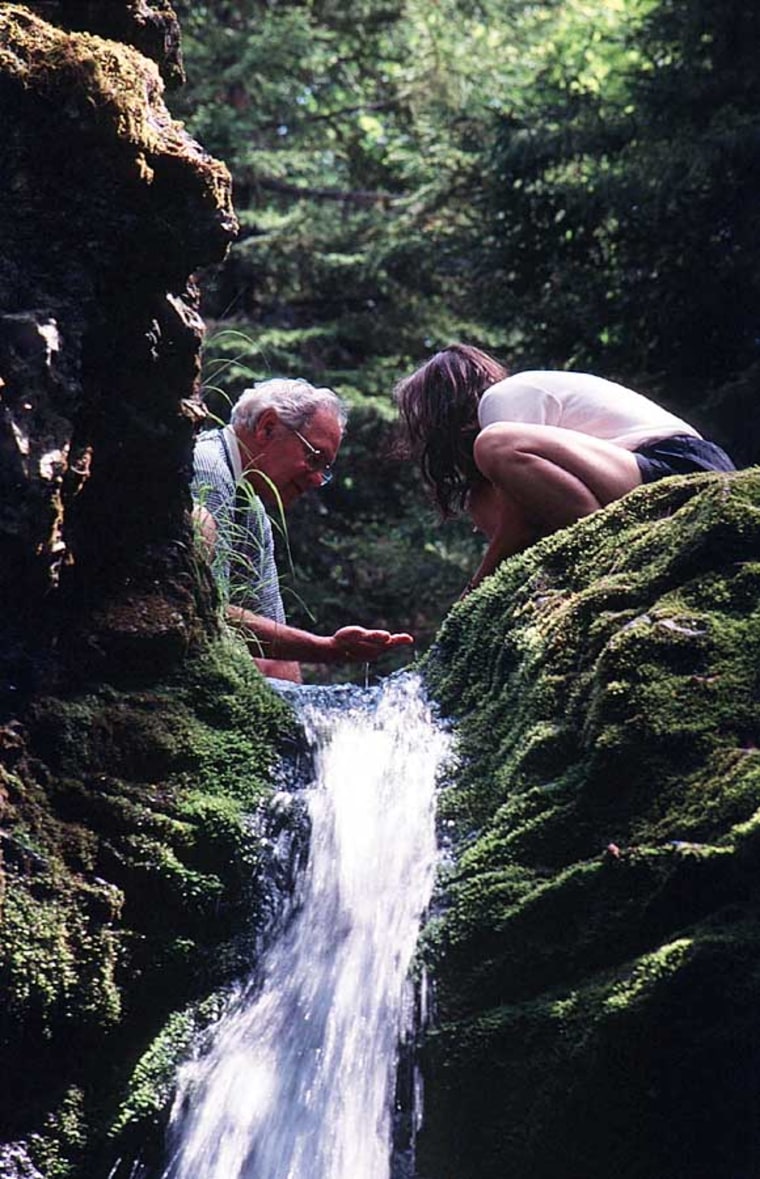 When you paddle in deep water past the park's coastal cliffs, it's hard to imagine that you can return later in the day and have a beach stroll in exactly the same spot—here, tides are so massive, they push rivers back upstream.
When to go: Late June to mid-September.
Photo op: Sumptuous Dickson Falls, where waters cascade down moss-covered boulders. A one-mile loop trail near the headquarters leads you there. For a gripping coastal view of the park, head to Butland Lookoff on Highway 114.
Also, during the Bay of Fundy's extreme low tide—which draws 200 billion tons of water—you get the chance to explore the ocean floor with a park interpreter. Walks are offered daily in July and August.
Wildlife: Deer, moose, and black bear all live here, and beaver lodges are easy to spot from Highway 114. More than 100 species of birds also nest in the park, including the reintroduced, endangered peregrine falcon.
Where to stay: Inside the park at Fundy Highland Inn & Chalets (from $64, 506/887-2930, www.fundyhighlandchalets.com) and Fundy Park Chalets (from $45, 506/887-2808, www.fundyparkchalets.com). There are more motels and guesthouses located in the village of Alma, at the park entrance.
Fascinating fact: The Bay of Fundy's tide draws 200 billion tons of water, which is approximately the same as the daily output of all of the earth's rivers combined.
You need to know: Dress for the park's two-climate zone. You can be toasty on an inland trail and chilled by the moist coastal air 10 minutes later.
Budget secret: In July and August, every child's park admission includes a one-hour "Junior Naturalist Program" excursion, such as a visit to a beaver pond.
Planning: 506/887-6000; Albert County Tourism, 506/734-2660, www.albertcountytourism.com; Tourism New Brunswick, 800/561-0123, www.tourismnbcanada.com.
Prince Edward Island National Park, Prince Edward Island
Beyond PEI's rolling green hills, creamy-white churches, and mussel farms are the long, sandy beaches, rust-red cliffs, and giant shifting sand dunes of Prince Edward Island National Park. Spread across 25 miles of the north shore, this is one of Canada's smallest—yet busiest—parks.
When to go: Late June to late August.
Photo op: Dunes grow to 60 feet at Greenwich, at the park's west end.
Don't miss: The state-of-the-art Greenwich Interpretation Centre at the east end has interactive exhibits and hiking trails; nearby archaeological digs have found 10,000-year-old traces of habitation. And visit the turn-of-the-century Green Gables House, which was the inspirational setting for L. M. Montgomery's classic children's novel Anne of Green Gables.
Where to stay: You can find cottages for $40 a night through Prince Edward Island Tourism Information (888/734-7529). Dalvay-by-the-Sea, a National Historic Site at the eastern end of the park, is an elegant Victorian home built in 1895 by an oil tycoon. It's now an upscale inn and restaurant (from $115 per person, 902/672-2048, www.dalvaybythesea.com)
Fascinating fact: The rubbery Irish moss that washes up on the beach is used as a thickener in toothpaste.
You need to know: The sand dunes, which host fox dens, are extremely fragile and held in place by the tufts of marram grass. Stick to boardwalks and footpaths.
Planning: 902/672-6350; area tourism information, 888/734-7529, www.peiplay.com.
Cape Breton Highlands National Park, Nova Scotia
The highlight of the 367-square-mile park, which stretches across the top of Cape Breton Island, is a driving tour: the spectacular 66-mile section of the Cabot Trail. A roller coaster of a road flanked by ocean and forested highlands, it climbs to heights of 1,200 feet (with breathtaking coastal views), twists around hairpin turns, and sinks down to the shore, threading in and out of the park boundaries and through small communities and fishing villages. You can drive the route easily in a few hours, but with all the scenic pull-offs, hiking trails (ranging five minutes to five hours), beautiful beaches, and opportunities to spot wildlife, consider taking several days.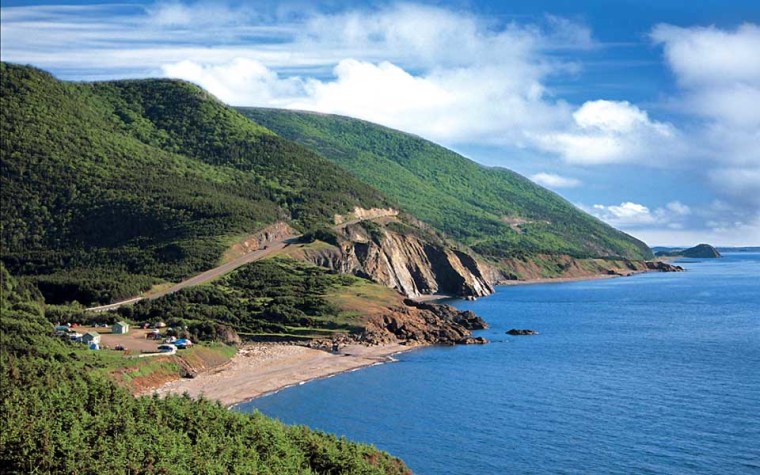 Although the scenery is superb all along the entire Cabot Trail the most awesome coastline views can be found at the lookouts between Pleasant Bay and the southwest border of the park.
When to go: Summer or autumn. Leave enough slack in your schedule for days with bad visibility—they occur often.
Wildlife: Keep an eye out for roadside moose, gliding bald eagles, and highway scenic stops for whale spotting.
Where to stay: The Acadian village of Chéticamp, at the park's west entrance, has a waterfront boardwalk, seafood restaurants, and crafts shops. Laurie's Motor Inn rents rooms from $72 (800/959-4253, www.lauries.com). At the east gate, the best choice is the seaside community of Ingonish. Nights at Glenghorm Beach Resort start at $64 (800/565-5660, www.capebretonresorts.com). Between the two, try Cape North's Country Haven B&B (from $49, 902/383-2369, www.bbcanada.com/countryhaven).
Budget secret: The park's Highland Links Golf Course, at Ingonish Beach, was rated Canada's best public course in 2002 by Score Golf magazine (top price for 18 holes is $63, 800/441-1118, www.highlandslinksgolf.com). Casual lobster meals—with a seaside view—cost just $11.50 at the Chowder House, on the main road in Neil's Harbour. The Highland Sitting Room in historic Keltic Lodge (800/565-0444), a province-run resort on a cliff overlooking Cape Smokey and the dark North Atlantic, is a gorgeous spot for a light lunch.
Planning: 902/224-2360; Tourism Nova Scotia, 800/565-0000, http://explore.gov.ns.ca; Cabot Trail, www.cabottrail.com.