As international donors gathered in Berlin this week to mull Afghanistan's rebuilding needs, there was at least one part of the economy that had already returned to robust health — poppy production. In the two years since the end of the war, production of the opium-producing plant has soared to near record levels.
While opium income brings some short-term relief from the grinding poverty of the postwar, post-Taliban era, development experts and the country's new leadership say the trend threatens to undermine all other efforts to rebuild the economy, security and government.
"Donors must reverse this trend," says a new report by the Center for Strategic and International Studies in its recommendations to the donors conference. "Without a dramatic increase in international focus and resources, Afghanistan could deteriorate into that which the international community has been working to prevent — a failed state serving as a breeding ground for terrorists and narco-traffickers."
Simple math
So far, the international community has fallen short on its overall reconstruction commitment, and it remains far from clear whether rebuilding efforts will be effective in checking the tidal wave of drug profits. "While there is a recognition of problem, there is a shortage of resources or the political will to deal with the problem," says Kevin Henry, the advocacy director for the international aid organization CARE.
Since U.S.-led forces drove the Taliban from power in late 2001 and uprooted much of the al-Qaida terrorist network that was based in the country, Afghans have scraped to get by as the country tries to rebuild and international organizations have tried to raise funds and figure out which of the many needs to address first in the devastated country.
For farmers, the options are stark. By growing poppies along with other crops, farmers can make an average of $2,520 a year, compared to about $670 by growing only other crops, according to a study released in February by the U.N. Office on Drugs and Crime.
In 2003, Afghanistan produced an estimated 3,600 metric tons of opium, accounting for more than 75 percent of the world's illicit opium production. It was the second-highest level since its peak in 2000, before the Taliban cracked down on the industry.
The new government under Hamid Karzai has banned opium production. But in the U.N. survey, 69 percent of the 1,329 farmers interviewed said they planned to significantly increase their 2004 poppy crop, and only 4 percent planned to reduce it.
Recent estimates suggest Afghanistan has up to a million heroin addicts — an emerging public health problem that could escalate to the high levels seen in neighboring countries.
Free-market free-for-all
In some sense this is one of the costs of the end of the war and the Taliban regime, which opened Afghanistan to the world market. With the end of isolation, trade in all commodities has become easier, and opium is one of the few crops for which farmers can make an advance sale. One postwar relief effort — providing bread made of imported wheat — actually depressed the price of wheat grown in Afghanistan, making poppy growing even more attractive, experts say.
With opium now netting about $2 billion a year for Afghanistan, it accounts for 40 percent of the total economy and even tops the total amount of foreign assistance. Production that was concentrated in four provinces just a few years back has spread to at least 26 provinces.
While that does allow poppy farmers to feed their families in the short run, the long-term effects are insidious: "I think it's already taking a toll by providing more liquidity and financial wealth than anything else coming into Afghanistan," says Rick Barton, co-director of the Post-Conflict Reconstruction Project at the Center for Strategic and International Studies, a Washington, D.C., think tank.
The flow of cash to farmers and warlords strengthens their hand, allowing them to maintain private armies, while undermining the new leadership's ability to build new legal and government institutions and bring stability to the countryside. Beyond that, poppy production discourages other types of investment, and makes it very difficult for aid organizations to work safely in rural areas.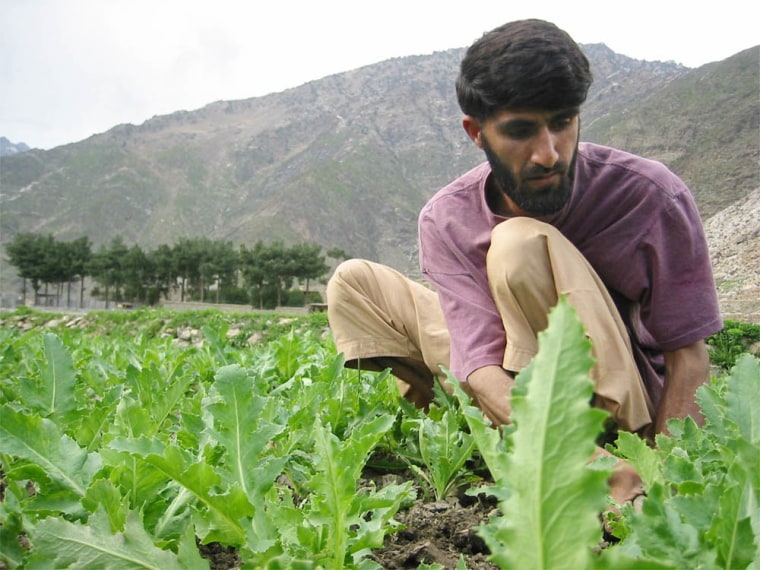 "(Opium) is the biggest single factor in the economy and that in turn creates dependence and also allows the warlords to be independent of what is happening in the capital," Barton says. "It allows people to head off in different directions."
The industry is at a turning point, according to aid organizations and government. At the moment, most opium is produced by small-scale farmers and sold wholesale out of the country where processing and distribution take place.
But there is growing evidence of large-scale production, and the beginnings of processing in Afghanistan itself — elements that come hand in hand with criminal organizations and violence.
Where's the antidote?
That opium production might surge after the war was fairly predictable, since it had been grown in the past, surging particularly in times of turmoil. Why so little was done to prepare for it is the subject of debate.
Some U.S. officials point to weak eradication efforts, laying the blame at the feet of the British, who are in charge of counter-narcotics efforts in postwar Afghanistan.
Despite $3.6 million pledged by Britain to the first phase of poppy eradication, the U.N. reported that there has been no deterrent effect yet, and that efforts to introduce alternative crops had so far "had no overall impact on farmers' intentions to grow or not grow opium poppy."

But this problem is at least in part a reflection of the slow ramping up of reconstruction aid. At this week's donor conference, contributing countries pledged $4.4 billion toward reconstruction in 2004-2005, which actually matched the request from the Afghan government. But past conferences have generated far less impressive sums, and even then, donors have not all come through with promised funds.
The Karzai government needs to sustain the interest in Afghanistan if it hopes to get the projected $27.5 billion over seven years that it says it needs to reach economic growth fast enough, and distributed well enough to absorb those now involved in the illicit economy and employed by warlords. That will be a challenge.
The aid needs to be aggressively focused on two fronts, says Henry, of CARE. "For farmers, we have to help them increase their income by legal means — not just with alternative crops. There are no crops as lucrative (as opium poppies)." That means creating income-generating options for women, short-term public works project and other sources of transition incomes. Beyond that, he says, there needs to be interdiction targeting poppy processors and large-scale producers.
The gap in enforcement
Karzai's government has expressed alarm at the burgeoning opium trade and started eradication and interdiction efforts while banning opium production. But so far, Kabul has just two anti-narcotics teams of 15 members each, trained by Western forces in the country.
The training effort will continue but it's a game of catch up —as it is with the effort to build a national army and police force. As a measure of the lag in security and enforcement institutions, the Afghan National Army consists of roughly of 10,000 soldiers while warlords in the country still have some 5-10 times that many soldiers under arms.
Russia, which is seeing an increasing flow of Afghan heroin on its city streets, has accused NATO of turning a blind eye to the problem, a sentiment echoed by some aid groups and some Afghan government officials.
Building an Afghan anti-narcotics capacity is important, says Henry. But in the meantime, he notes, "we also have NATO and ISAF (International Security Assistance Forces) … in areas where the drug is getting out of control. To us, it's very questionable how they ignore that problem and focus on what we consider lower-level activity."
CSIS's Barton says the failure to address opium is a product of two contradictory goals of the U.S.-led coalition in the country: One goal has been to support the Karzai government, and the other has been to work with warlords to battle terrorism in the countryside — some of the same regional leaders who are profiting from the drug trade.
"Probably the best thing we can do is resolve these private power centers," says Barton, combining the use of "politics and some force. ... If we made it very clear to one or two warlords that this is not going to go on, then the poppy becomes more addressable."
So far, the U.S. military has distanced itself from eradication efforts, which many observers agree could create a harsh backlash from Afghans who are living on the edge of survival.
Growing urgency, emerging plans
However, there appears to be a greater sense of urgency developing in the region and among coalition partners to help address the problem, at least indirectly.
The U.S. Drug Enforcement Agency recently announced a "significant expansion" of operations in Afghanistan. Public Affairs Officer Will Glaspy said the DEA has authorization to increase its number of agents in the country beyond the two there now. He said the agency would be "working to train Afghan national police, with hopes of providing them with actionable information to target labs and organizations."
USAID, the U.S. government's foreign aid arm, has an array of projects under way in the agricultural sector — from repairing dams and irrigation systems to microlending and improving technology. The idea is to bolster the legitimate farm sector, while complimenting other agencies' efforts to halt the opium industry.
The Department of Defense is reportedly planning to open an intelligence center in Afghanistan for multinational information sharing. However, details of new plans under the State Department, the Pentagon and USAID are not yet available.
Understandably, countries getting flooded by Afghan opium have a renewed sense of urgency to halt the trafficking problem. Iran and Afghanistan each have more than 1 million heroin addicts.
At the donors conference six countries in the region — China, Iran, Pakistan, Tajikistan, Turkmenistan and Uzbekistan — announced a new initiative to smash narcotics trafficking, including beefed-up border security in order to seize opium shipments leaving Afghanistan.
Since 2002, the DEA has also been working with 19 countries in Central Asia, the Caucuses and Europe on "Operation Containment." In congressional testimony in February, DEA administrator Karen Tandy said the program had resulted in "23 significant seizures" of narcotics and precursor chemicals and disrupted major distribution and transportation organizations in the region. "Operation Containment has been a great success," she said.
Even so, the message from this crackdown clearly has not yet reached the farmers in Afghanistan's hinterland where, for now at least, the poppy has the momentum.