/ Source: The Associated Press
A scandal over the fortune of reclusive mining heiress Huguette Clark has renewed interest in the life of her father, copper magnate William A. Clark, once one of the nation's richest men.
The scandal has also brought more attention to the 34-room mansion that W.A. Clark built in Butte more than a century ago.
That home is now a bed-and-breakfast known as the Copper King Mansion and offers visitors a glimpse into the pampered lives of the robber barons who ruled American business at the turn of the previous century.
A recent three-night stay at the mansion was a trip back into Victorian opulence.
The Copper King Mansion was built from 1884 to 1888 in this city that was situated on "the richest hill on Earth," and produced most of the copper used in wire that electrified the nation.
Clark lived in Montana for nearly four decades and built this home, where he could entertain his well-heeled associates, for what was then the astonishing cost of $250,000. The mansion was added to the National Register of Historic Places in 1970.
Why are the mansions of one of America's richest women sitting vacant? Click to follow this photo narrative of the reclusive Huguette Clark and her father, William Andrews Clark, the "Paris millionaire senator." Where is Huguette Clark? And what will become of her fortune?
These days, the home is owned is privately owned and occupied by the Cote family, who operate the bed-and-breakfast and offer guided tours.
Once one of the largest cities in the West with some 100,000 residents, Butte in recent decades has suffered economically from the precipitous decline of the copper industry. It is now home to about 32,000 people.
The older portion of the city, known as Uptown because of its steep streets, has been declared a national landmark and is filled with solid brick and stone buildings with distinctive architecture. The red Copper King Mansion is located here.
Many of the mansion's rooms come equipped with sleigh beds and other antique furnishings. The exquisite woodwork is amazing and many windows are decorated with stained glass. There is even an old-fashioned shower stall that sprays water from numerous openings set in a 360-degree circle around one's body.
Breakfasts are hearty, as befits a mining town.
We spent the holidays in the mansion last December while visiting family in Butte. Our suite included a sitting room where we opened presents on Christmas morning. But Butte's location at the intersection of Interstates 15 and 90, about midway between Yellowstone and Glacier national parks, makes it a good stopping point on a summer road trip. The two parks are about 400 miles apart. Butte is also located a mile high in the Rocky Mountains of southwestern Montana, and the mansion offers views of snowcapped peaks from many windows.
But the attractions don't end at the front door of the mansion. The surrounding blocks of Uptown Butte are filled with picturesque buildings, many of which have unfortunately gone to seed as the city has struggled for economic vitality since most of the mines closed in 1980. A good camera is mandatory for walking through Uptown Butte.
William Andrews Clark was born in 1839 in Pennsylvania and moved to Montana in 1863.
Full coverage: Huguette Clark mystery
He eventually struck it rich in the mining camps and moved to the boom town of Butte in 1872. He branched out into numerous businesses, including banking, copper smelting, newspapers and railroading. He entered politics, serving as president of the Montana constitutional conventions in 1884 and 1889. He was elected by the state Legislature to the U.S. Senate in 1901, serving a single term.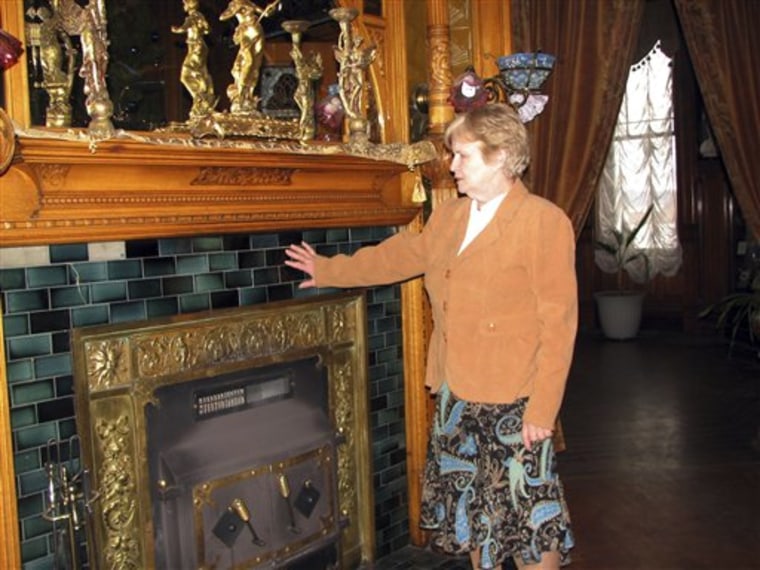 In fact, his purchase of a Senate seat through the bribing of legislators led eventually to the constitutional amendment calling for the direct election of senators.
Clark also created the city of Las Vegas in 1905 as a way station for his Los Angeles to Salt Lake City railroad. Surrounding Clark County was named for him.
Clark left the Senate in 1907 and moved to a Fifth Avenue mansion in New York City, where he devoted himself to his business interests and to acquiring art. He died in 1925 at the age of 86, leaving his children a fortune of more than $200 million.
His last surviving child was Huguette Clark, who was born in Paris. She was married briefly in her 20s to a bank clerk. They parted after only nine months.
After her mother's death, Clark's busy life in New York society slowed and she rarely ventured from her home. She voluntarily moved into a hospital in the 1980s. She died in May at the age of 104, leaving a $400 million estate but no children.
A New York judge has suspended the attorney and accountant who administered her estate, after finding evidence they engaged in tax fraud that resulted in $90 million in unpaid federal gift taxes and penalties. Both deny any wrongdoing. The Manhattan district attorney's office has been looking into how Clark's affairs were managed in the past two decades.
Huguette Clark never lived in the Copper King Mansion, although one of the bedrooms has her photo on the wall and is decorated in the style of a young woman.
If you go ...
COPPER KING MANSION: 219 W. Granite St., Butte, Mont; http://thecopperkingmansion.com/ or 406-782-7580. Nightly rates $75-$125. Free guided tours and full breakfast.