/ Source: msnbc.com news services
Coalition officials said Thursday it was too early to blame al-Qaida for simultaneous suicide car bombings in Basra that killed dozens of people, reviving the issue of how much of a role foreign Islamic militants have in Iraq's violence.
Meantime, in the latest violence, a lone gunman in traditional Arab dress killed a Spanish civilian and seriously wounded his Iraqi translator in Baghdad on Thursday, police sources told Reuters. They said the man was shot in the head while in the Iraqi capital's Adhamiyah neighbourhood, a Sunni Muslim stronghold.
In Basra, a spokesman for British forces gave a death toll of 50 -- 20 of them children -- for Wednesday's blasts, lower than the toll of 68 reported by Basra's governor.
Meanwhile, a top U.S. military commander said that 10 percent of Iraqi security forces "worked against" U.S. forces during the past three weeks' flare-up of fighting in Fallujah and the southern city of Najaf, a sign of how difficult it will be for the United States to assemble an Iraqi army and police force.
Another 40 percent of the Iraqi security forces walked off the job because they didn't want to fight fellow Iraqis, said Maj. Gen. Martin Dempsey, commander of the U.S. Army's 1st Armored Division.
Dempsey said it was "very difficult" to convince security forces that the insurgents they are fighting are "killing fellow Iraqis and fellow Muslims," he said in an interview beamed by satellite from Baghdad to Washington.
The failure of Iraqi security forces to fight is significant because Washington's exit strategy depends on moving U.S. troops out of cities and over responsibility for security to Iraqi forces.
Child victims
It was still too early to say who was behind the Basra attacks, a spokesman for the British forces responsible for the area said Thursday.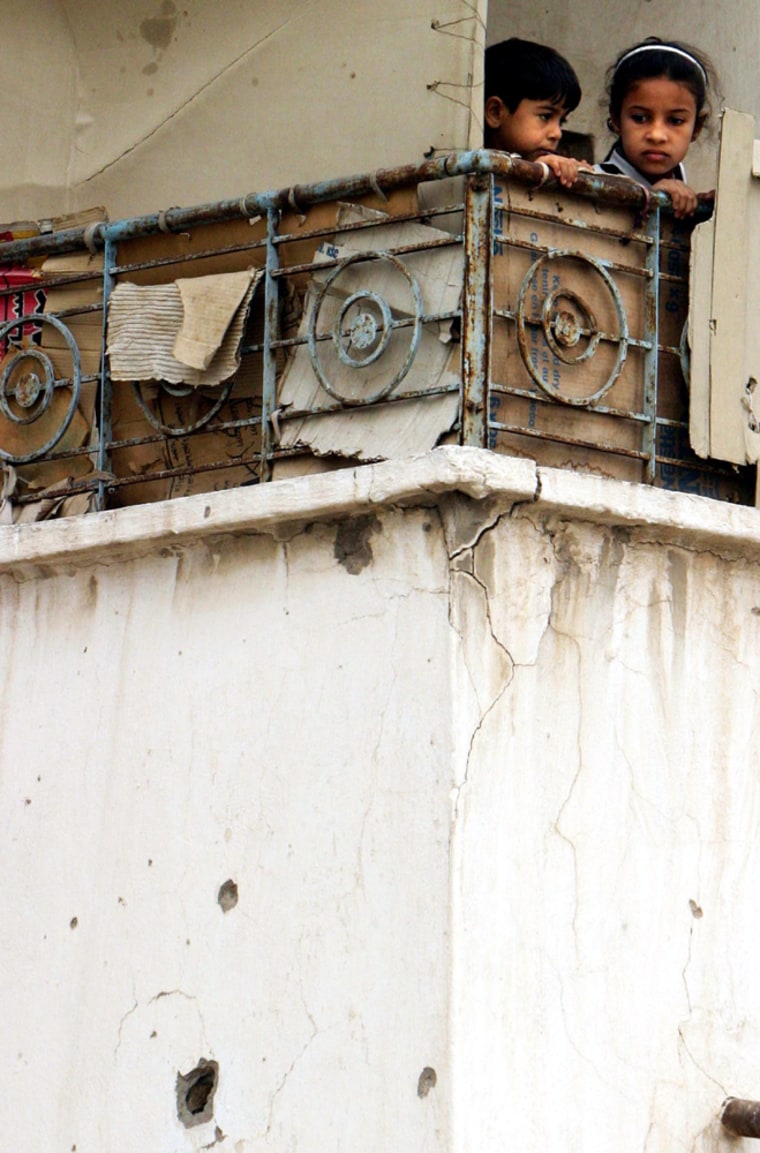 "We can't discount al-Qaida, we can't discount former regime loyalists. It is too early to start speculating," Capt. Hisham Halawy, spokesman for the British forces, said in Kuwait on Thursday.
Suicide attackers detonated five car bombs -- all but one of them simultaneously -- targeting police buildings in Basra, Iraq's second largest city Wednesday, striking rush-hour crowds just as buses carrying kindergartners and school girls were passing by.
Vehicles were shredded and charred in the blast, including two school buses carrying kindergartners and girls aged 10-15. Bodies of children burned beyond recognition had to be pulled from the wreckage.
Police discovered two car bombs before they were detonated and arrested three men in the vehicles, said Basra Gov. Wael Abdul-Latif
Abdul-Latif said 68 people were killed, including 16 children, and he said he suspected al-Qaida was behind the attack.
But Halawi said a review of the hospitals revised the numbers. Five coalition soldiers were wounded, one seriously.
Basra is overwhelmingly Shiite and the last major suicide attack also targeted Shiites: a series of suicide bombers who near simultaneously detonated explosives strapped to their bodies among thousands of pilgrims at holy shrines in Karbala and Baghdad on March 2. At least 181 people were killed.
Al-Qaida suspected
U.S. coalition officials said they believed those attacks were planned by a Jordanian al-Qaida linked militant, Abu Musab al-Zarqawi, who they say plans a campaign of massive attacks on Shiites in order to spark a civil war between Iraq's Shiite Muslim majority and Sunni minority.
Abdul-Latif pointed to the similarities between that attack and the Basra bombings in making his link to al-Qaida.
But a U.S. counterterrorism official said it was "just premature to draw any conclusions."
The official, who spoke on customary condition of anonymity, said that while al-Zarqawi's terror network may have been behind the bombing, Sunni extremists could also have carried out the attack as could tribal groups or former members of Saddam Hussein's regime.
The British commander in Iraq, Brig. Nick Carter, refused to blame al-Qaida for the attack, but said the attackers were from outside of Basra and "quite possibly" from outside Iraq.
"All that we can be certain of is that this is something that came from outside," Carter said on Britain's Channel Four News.
"We work very closely with the community down here and our information is very good. I think we also are absolutely clear that nobody in the Shia community would regard this as being something that is worth doing in Basra," Carter said.
The links between foreign fighters and homegrown Iraqi guerrillas -- and question of which are in the forefront of Iraq's violence -- has long been unclear. Out of 2,000 suspected guerrillas held by U.S.-led forces, only 50 are foreigners.
But the top Marine commander in Iraq, Lt. Gen. James Conway, said Thursday that hundreds of foreign fighters are thought to be holed up alongside Iraqi guerrillas in Fallujah.
Dempsey suggested the Basra bombings were timed to coincide with relative quiet in Fallujah and Najaf, where U.S. forces have been battling local insurgents.
"If I were (the attackers), I think I would probably want to stay in the news. And the way you stay in the news is space (the attacks) out -- you conduct attacks sequentially, not simultaneously" with other violence, he told The Associated Press.
Fallujah fighting
In Fallujah, the bloodiest battlefield this month, insurgents attacked U.S. Marines, prompting a clash that killed 20 guerrillas. And U.S. military officials said residents were turning in mostly unusable weapons, undermining a crucial part of an agreement aimed at ending the fighting and lifting the U.S. siege of the city.
"These may be early indications that the insurgents may not be living up to the requirements of the agreement," said Marine Lt. Col. Brennan Byrne.
The U.S. military has warned of a resumption of fighting if guerrillas do not hand in their heavy weapons.
U.S. Marines halted efforts to allow families who had fled amid fighting to return home to Fallujah, a step that was to be taken alongside disarmament. About 10 families made it back into the city in the morning before Marines announced to some 600 Iraqis waiting at the checkpoint that no more would be allowed to enter.
That contrasted sharply with Tuesday when several hundred Iraqi police and security forces moved back into the city, along with 50 returning families.
Fighting in Fallujah has killed at least seven U.S. Marines and more than 600 Iraqis, mostly civilians, according to the city hospital.
Human Rights Watch meanwhile, criticized the United States in a Thursday press release, saying that U.S. authorities had failed to provide clear or consistent information on the treatment of some 10,000 civilian detainees.
"Many people have been held for months without knowing why," said Richard Dicker, director of Human Rights Watch's International Justice program. "The U.S. military needs either to inform people promptly of charges against them if they are suspected of a crime, or to give them the right to appeal and a six-month review if they are held on security grounds."