Western powers bear "criminal responsibility" for Rwanda's 1994 genocide because they did not care enough to stop it, the commander of the beleaguered U.N. peacekeeping force at the time said on Tuesday.
"The international community didn't give one damn for Rwandans because Rwanda was a country of no strategic importance," Canadian General Romeo Dallaire told a conference in Kigali marking the 10th anniversary of the slaughter.
"It's up to Rwanda not to let others forget they are criminally responsible for the genocide," he said, singling out France, Britain and the United States. "The genocide was brutal, criminal and disgusting and continued for 100 days under the eyes of the international community."
Dallaire, 57, is making his first return visit to the tiny central African country since 1994 to present Rwandans with his memories of the bloodshed and make recommendations for future peacekeeping missions.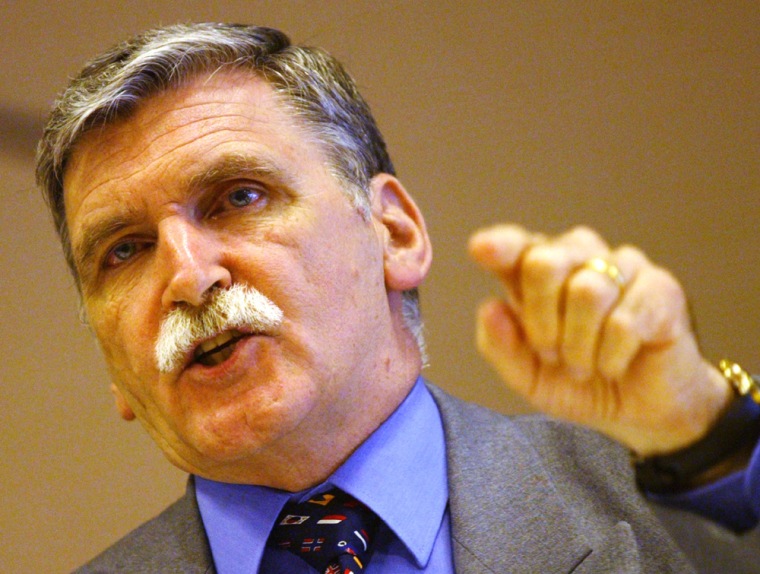 Almost alone among representatives of the international community at the time, Dallaire is popular among many in the devastated country today because he worked incessantly, albeit in vain, to prevent the massacres.
The retired Canadian soldier has been deeply traumatized by his mission's failure to prevent the deaths of some 800,000 Tutsis and Hutu moderates, butchered by Hutu extremists who often killed with machetes and spiked clubs.
Rwanda's genocide began on the night of April 6, 1994, after the shooting down of a plane carrying the Rwandan and Burundian presidents, who both died in the crash near Kigali.
Dallaire battled for a more robust U.N. peacekeeping mission with a mandate to stop the killings, but Security Council members voted instead to slash his force from 2,500 troops to 450 poorly trained and ill-equipped men.
Dallaire said on Tuesday events in Somalia in 1993, when 18 U.S. troops supporting a U.N. peace mission were killed in a firefight, had created a "fear of casualties" in the West.
Rwandan President Paul Kagame called Dallaire "a good man caught up in a mess" at the opening of a conference on genocide prevention on Sunday, launching a week of memorial events planned to mark the tenth anniversary of the genocide.
Kagame led the rebel army which ousted the extremist Hutu government that planned and carried out the three months of mass killings initially ignored by world leaders.
No solace
Ordinary Rwandans also expressed admiration for Dallaire, who was so affected by his mission's failure that he suffered post-traumatic stress and was once found passed out drunk on a park bench in Ottawa after trying to commit suicide.
"Dallaire only failed Rwanda because he tried to save us. The world and the U.N. didn't fail Rwanda because they never even tried," said Beatha Uwazaninka, a 24-year-old who escaped death by hiding under a pile of dead bodies.
"He is a good friend because he was in hell with us for three months," Uwazaninka said, adding that she knows a number of people Dallaire's few brave troops rescued from certain death. "I wish all U.N. soldiers were like him," she said.
Although widely regarded as a hero who tried, repeatedly but in vain, to alert the world to Rwanda's plight, Dallaire shuns suggestions that he played a heroic role in a modern tragedy.
"There's absolutely no solace in saying I did the best I could. That is not going to erase the suffering of one million people. I would find that the most insulting, self-righteous goddamn thing to say," Dallaire told The New York Times Magazine at the weekend.