/ Source: The Associated Press
Obnoxious. In your face. And at age 100, still unforgettable.
"Times Square is New York," Tim Tompkins, head of the Times Square Alliance, said Wednesday on the eve of the square's centennial, as Mayor Michael Bloomberg and New York Times publisher Arthur Sulzberger Jr. hosted a celebration with red, white and blue confetti raining down beside One Times Square.
"It's a little bit obnoxious, a little bit in your face — but it's something you can never forget. It's a crazy, manic version of a town square," said Tompkins, whose nonprofit alliance of businesses plans nine months of activities topped by a 100th anniversary New Year's Eve bash ushering in 2005.
One Times Square, the building that hosts the New Year's party televised worldwide, was opened in 1904 as the headquarters of the Times in the middle of the midtown square.
"It is a matter of great pride that what has become one of the most famous sites on earth is named after The New York Times," Sulzberger said. "Since my great-grandfather Adolph Ochs moved the newspaper to what was then called Longacre Square in 1904, this area has constantly reinvented itself."
Renamed by Mayor McClennan
The area was renamed Times Square on April 8, 1904, when Mayor George McClellan signed a proclamation. By December 1904, the Times organized the square's first New Year's bash, with fireworks, and composer George M. Cohan had written "Give My Regards to Broadway" after the thoroughfare that passes through the square.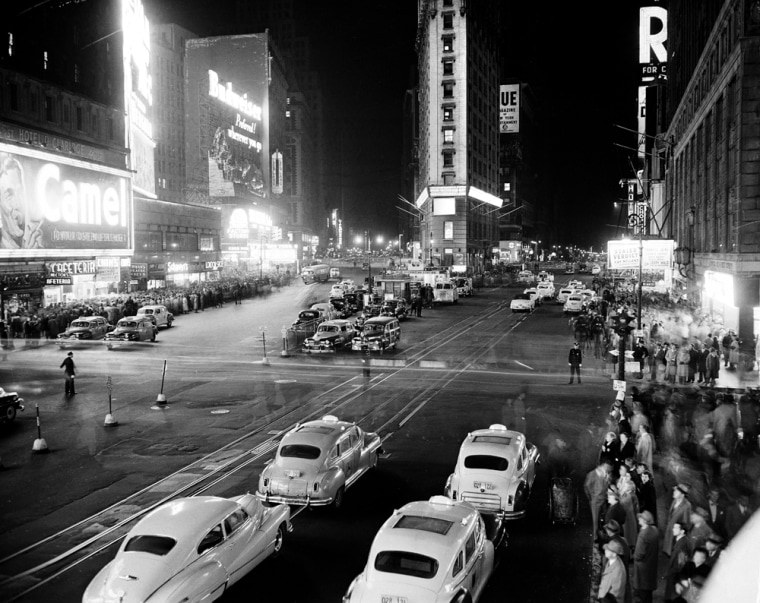 The famed New Year's ball made its debut in 1907 from atop the Times building.
The square became a popular gathering point at key moments of the 20th century, with a "news zipper" made of light bulbs announcing world events, while billboards and neon signs advertised everything from Camel cigarettes to Coca-Cola.
By the 1970s, Times Square had deteriorated, with crime soaring while striptease bars and pornography shops thrived. But after a decade-long revival, the square now draws more than 26 million tourists each year.
The 100th anniversary ceremony marks the start of nine months of activities that "will show that Times Square remains a focal point for the creativity, energy and edge that have defined it for a century," Tompkins said.
Upcoming activities include a museum exhibit, a public art program and the development of new designs to improve the aesthetics of the square and ease pedestrian congestion.