/ Source: The Associated Press
The people of Fallujah carried their dead to the city's soccer stadium and buried them under the field, unable to get to cemeteries because of the U.S. siege of the city.
As the struggle for Fallujah entered a sixth day Saturday, hundreds of women, children and the elderly streamed out of the city. Marines ordered Iraqi men of "military age" to stay behind, sometimes turning back entire families if they refused to be separated.
"A lot of the women were crying," said Lance Cpl. Robert Harriot, 22, of Eldred, N.Y. "There was one car with two women and a man. I told them that he couldn't leave. They tried to plead with me. But I told them no, so they turned around."
The fighting, which has killed more than 280 Iraqis and five Marines, has seen heavy battles that have damaged mosques and destroyed buildings, angering even pro-U.S. politicians and turning the city of 200,000 people into a symbol of resistance for some Iraqis.
U.S. forces halted their offensive at noon to allow a delegation from the city to meet with U.S. commanders, let food and medicine into the city and give residents a chance to tend to their dead. But after 90 minutes, the Marines complained they were being attacked, and commanders gave their troops permission to open fire again, Marine Maj. Pete Farnun said.
Devastating homecoming
Many residents emerged from their homes Friday for the first time in days.
People carried the bodies of loved ones and others who had been slain to al-Somoud soccer stadium for burial. Access to cemeteries, which are on the city's outskirts, was blocked.
A long line of cars snaked its way Friday afternoon through parts of the city as residents lined up to be checked by Marines before being allowed out, said Lt. Col. Brennan Byrne, commander of the 1st Battalion, 5th Marine Regiment.
Marines used Fallujah's large southern industrial region, which they have controlled for the past few days, as a staging ground to make small raids into nearby neighborhoods. Troops used abandoned cement factories as cover, firing on suspected rebel positions in buildings close by.
In the morning, before the halt in offensive operations, a tank-mounted 50-caliber machine gun fired on a sniper in the minaret of Abdel-Aziz al-Samarrai mosque, said one of the Marines involved. The military said the insurgents had been using the mosque as a fire base for the past few days.
A helicopter hit the mosque's minaret with a missile Wednesday, and a warplane dropped a 500-pound bomb on the wall around the mosque to allow Marines to flood inside. Iraqis said the airstrike killed civilians as they gathered for afternoon prayers, a claim the Marines denied.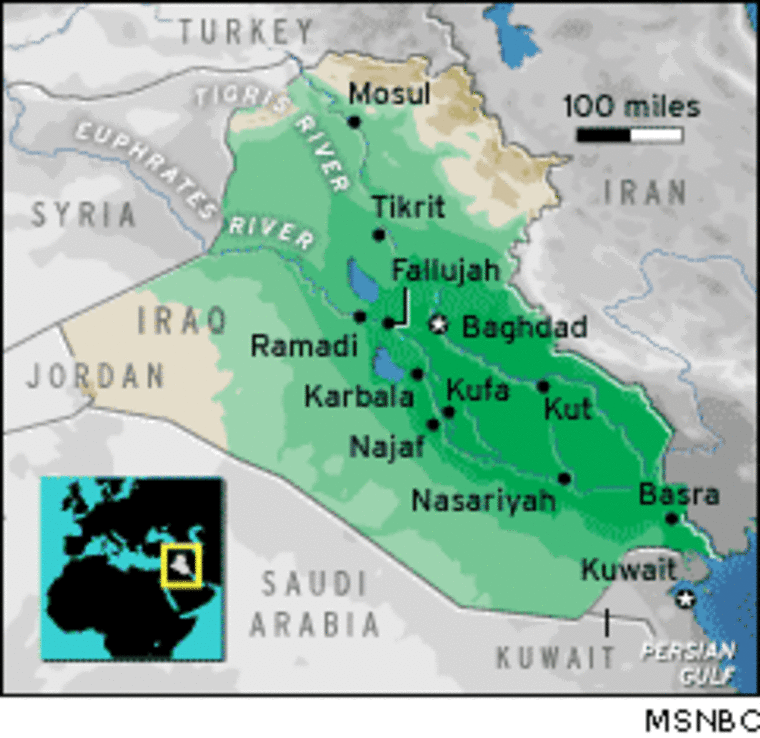 "There are a lot of people who wish to do America harm," Sgt. Maj. Ken Jones said. "There are a lot of foreign insurgents here. They are well-organized and well-trained."
Maj. Larry Kaifesh, 36, of Chicago, said the rebels were disguising themselves as civilians and hiding their weapons in white rice sacks to move around the city before launching ambushes against the troops.
"It is hard to differentiate between people who are insurgents or civilians. It is hard to get an honest picture. You just have to go with your gut feeling," he said.