/ Source: The New York Times
Charles W. Colson, who served as a political saboteur for President Richard M. Nixon, masterminded some of the dirty tricks that led to the president's downfall, then emerged from prison to become an important evangelical leader, saying he had been "born again," died Saturday. He was 80.
The cause was complications resulting from a brain hemorrhage, according to a statement from Prison Fellowship Ministries, which Mr. Colson founded in Lansdowne, Va.
Mr. Colson had brain surgery to remove a clot after becoming ill on March 30 while speaking at a conference, according to Jim Liske, the group's chief executive.
Mr. Colson was sent to prison after pleading guilty to obstructing justice in the Watergate affair. After having what he called his religious awakening behind bars, he spent much of the rest of his life ministering to prisoners, preaching the Gospels and helping to forge a coalition among Republican politicians, evangelical church leaders and Roman Catholic conservatives, helping to change the very dynamics of American politics.
It was a remarkable reversal.
'Lightning rod' for Nixon's frustrations
Mr. Colson was a 38-year-old Washington lawyer when he joined the Nixon White House as a special counsel in November 1969. He quickly caught the president's eye. His "instinct for the political jugular and his ability to get things done made him a lightning rod for my own frustrations," Nixon wrote in his memoirs. In 1970, the president made him his "political point man" for "imaginative dirty tricks."
"When I complained to Colson, I felt confident that something would be done," Nixon wrote. "I was rarely disappointed."
Mr. Colson and his colleagues "started vying for favor on Nixon's dark side," said Bryce Harlow, a former counselor to the president, in an oral history.
"Colson started talking about trampling his grandmother's grave for Nixon and showing he was as mean as they come."
As the president's re-election campaign geared up in 1971, "everybody went macho," Mr. Harlow said. "It was the 'in' thing to swagger and threaten."
Few played political hardball more fiercely than Mr. Colson. When a deluded janitor from Milwaukee shot Gov. George C. Wallace of Alabama on the presidential campaign trial in Maryland in May 1972, Nixon asked about the suspect's politics. Mr. Colson replied, "Well, he's going to be a left-winger by the time we get through." He proposed a political frame-up: planting leftist pamphlets in the would-be killer's apartment.
"Good," the president said, as recorded on a White House tape. "Keep at that."
Hiring E. Howard Hunt
Mr. Colson hired E. Howard Hunt, a veteran covert operator for the Central Intelligence Agency, to spy on the president's opponents. Their plots became part of the cascade of high crimes and misdemeanors known as Watergate.
The scandal began to unravel after Mr. Hunt and five other C.I.A. and F.B.I. veterans were arrested in June 1972 after a botched burglary and wiretapping operation at Democratic National Committee headquarters at the Watergate office complex in Washington. To this day, no one knows whether Nixon authorized the break-in or precisely what the burglars wanted.
"When I write my memoirs," Mr. Colson told Mr. Hunt in a November 1972 telephone conversation, "I'm going to say that the Watergate was brilliantly conceived as an escapade that would divert the Democrats' attention from the real issues, and therefore permit us to win a landslide that we probably wouldn't have won otherwise." The two men laughed.
That month, Nixon won that landslide. On election night, the president watched the returns with Mr. Colson and the White House chief of staff, H. R. Haldeman. "I couldn't feel any sense of jubilation," Mr. Colson said in a 1992 television interview. "Here we were, supposedly winning, and it was more like we'd lost."
"The attitude was, 'Well, we showed them, we got even with our enemies and we beat them,' instead of 'We've been given a wonderful mandate to rule over the next four years,' " he said. "We were reduced to our petty worst on the night of what should have been our greatest triumph."
The Watergate operation and the dirty tricks campaign surrounding it led to the criminal indictments and convictions of most of Nixon's closest aides. On June 21, 1974, Mr. Colson was sentenced to prison and fined $5,000. Nixon resigned seven weeks later after one of his secretly recorded White House tapes made clear that he had tried to use the C.I.A to obstruct the federal investigation of the Watergate break-in.
'I deserved it'
Mr. Colson served seven months after pleading guilty to obstructing justice in the case of Daniel Ellsberg, a former National Security Council consultant who had leaked the Pentagon Papers, a secret history of the Vietnam War, to The New York Times. In July 1971, a few weeks after the papers were published, Mr. Colson had approved Mr. Hunt's proposal to steal files from the office of Mr. Ellsberg's psychiatrist. The aim was "to destroy his public image and credibility," Mr. Hunt wrote.
"I went to prison, voluntarily," Mr. Colson said in 2005. "I deserved it."
He announced upon emerging that he would devote the rest of his life to religious work. In 1976, he founded Prison Fellowship Ministries, which delivers a Christian message of redemption to thousands of prison inmates and their families. In 1983, he established Justice Fellowship, which calls itself the nation's largest religion-based criminal justice reform group. In 1993, he won the $1 million Templeton Prize for Progress in Religion, and donated it to his ministries.
By the end of the 1990s, Mr. Colson had become a leading voice in the evangelical political movement, with books and a syndicated radio broadcast. He helped form a conservative coalition of leaders from the Republican Party, the Protestant evangelical community and the Catholic Church. The Catholics and the evangelicals, once combatants over issues of religious doctrine, now joined forces in fights over abortion rights and religious freedom, among other issues.
Mr. Colson also reached out to the Rev. Richard John Neuhaus, a Catholic theologian who edited the journal First Things and who had warned of a coming tide of secularism in his book "The Naked Public Square." Together they inaugurated a theological dialogue that resulted in the publication of the document "Evangelicals and Catholics Together" in 1994.
Mr. Colson said he had initially gotten hate mail from evangelicals because of that initiative, and that the Prison Fellowship had lost a million dollars in donations. But the manifesto, pushing for religion-based policies in government, cleared the path for a political and cultural alliance that has reshaped the political debate in America, adding fuel to a rightward turn in the Republican Party and a rising conservative grass-roots movement.
Back into politics
In 2000, Mr. Colson was a legal resident of Florida when Gov. Jeb Bush restored his rights to practice law, vote and serve on a jury — all of them having been lost with his federal felony conviction. "I think it's time to move on," Mr. Bush said at the time. "I know him. He's a great guy."
With that, Mr. Colson re-entered the political arena. In January 2001, six days after President George W. Bush's inauguration, a Wall Street Journal editorial praised Mr. Colson's prison work as "a model for Bush's ideas about faith-based funding."
When he went to the White House to state his case for religious faith as a basis for foreign and domestic policies, he found himself pushing on an open door. "You don't have to tell me," Mr. Colson said the president told him. "I'd still be drinking if it weren't for what Christ did in my life. I know faith-based works."
In 2006, a federal judge ruled that a religion-based program operated by a Prison Fellowship affiliate in Iowa had violated the constitutional separation of church and state. By using tax money for a religious program that gave special privileges to inmates who embraced evangelical Christianity, the state had established a congregation and given its leaders "authority to control the spiritual, emotional, and physical lives of hundreds of Iowa inmates," the judge said.
Mr. Colson blasted the ruling, and Prison Fellowship appealed it. But in October 2006, after turning 75, he stepped down as the chairman of the group to devote himself to writing and speaking for his causes. In 2008, President Bush awarded him the Presidential Citizens Medal.
Charles Wendell Colson — friends called him Chuck — was born on Oct. 16, 1931, in Boston, the only child of Wendell B. and Inez Ducrow Colson, His father was a struggling lawyer; his mother, nicknamed Dizzy, was an exuberant spendthrift.
He grew up at 15 different addresses in and around the city and attended eight schools. He got his first taste of politics as a teenage volunteer in Robert F. Bradford's re-election campaign for governor of Massachusetts. He remembered that he learned "all the tricks," including "planting misleading stories in the press, voting tombstones, and spying on the opposition in every possible way."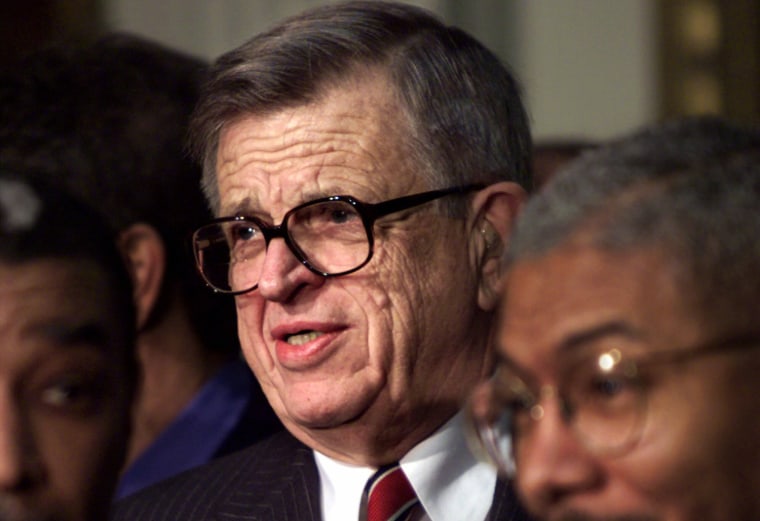 He graduated from Browne & Nichols, a private school in Cambridge, in 1949, and went to Brown University with a scholarship from the Navy Reserve Officer Training Program. After his graduation in 1953, he married his college sweetheart, Nancy Billings, and joined the Marines.
In 1956, Mr. Colson went to Washington as an administrative assistant to Senator Leverett Saltonstall, a Massachusetts Republican. He met Nixon, who was then vice president, and became, in his words, a lifelong "Nixon fanatic."
The two men "understood each other," Mr. Colson wrote in "Born Again," his memoir. They were "prideful men seeking that most elusive goal of all — acceptance and the respect of those who had spurned us."
After obtaining a law degree from George Washington University in 1959, Mr. Colson became partner in a Washington law firm, always practicing politics on the side, with an eye to a Nixon presidency. He was crushed when his candidate lost the 1960 election by a whisker to Senator John F. Kennedy.
A sympathetic biography, "Charles W. Colson: A Life Redeemed" (2005), by Jonathan Aitken, depicts him in these years as a hard-drinking, chain-smoking, amoral man with three young children — Wendell Ball II, Christian and Emily Ann — and a failing marriage. He divorced his first wife and married Patricia Ann Hughes in 1964.
In 1973, while looking for work after leaving the White House and fearing that he was going to wind up in jail, Mr. Colson got into his car and found himself in the grip of the spiritual crisis that led to his conversion.
"This so-called White House hatchet man, ex-Marine captain, was crying too hard to get the keys into the ignition," he remembered. "I sat there for a long time that night deeply convicted of my own sin."
Laurie Goodstein contributed reporting.
This story, "," originally appeared in The New York Times.