Having the president of the United States speak at commencement would normally be the most memorable day in the life of a high school senior.
But not in Joplin, Missouri, where President Barack Obama's commencement address on Monday will come one year after the deadliest tornado in the United States in six decades killed 161 people.
"I'm pretty sure we will remember the tornado more than Obama's speech," said graduating senior Ethan Ritschel.
Joplin is still recovering from the EF-5 tornado - the strongest rating possible - that claimed among its victims one graduating senior returning home from his commencement and six other public school students. It also destroyed 7,500 buildings, including Joplin High School.
Students who graduate Monday said they will do so with a mix of relief, sadness and gratitude. They went to classes their senior year in a shopping mall building that serves as the temporary school for 11th and 12th graders.
"It's bittersweet," said senior student Taylor Camden after high school seniors finished a commencement practice Friday. "It's going to be a sad, emotional day for a lot of people just to be at graduation. We all lost something, and everyone here lost their high school."
The high school, a two-story 1950s building, has been demolished and lays in rows of rubble behind a chain-link fence decorated with painted wooden stars that memorialize the school and victims.
A few blocks away, graduating senior Danielle Campbell sat on the front steps of her newly built house Friday with the just-released 2012 high school yearbook on her lap.
Her previous home was destroyed as her family and small dog huddled in a closet. Campbell's neighborhood is rebuilding, but vacant lots and treeless horizons are still reminders of the disaster.
Campbell said seeing the high school destroyed made her teary. "But I don't cry much anymore," she said. "You have to pick yourself up and keep going. I've become a stronger person."
The yearbook is titled "Back to the Drawing Board," a reference to starting over in what students call "Mall High School." Ground will be broken Tuesday on a new high school, middle school and two elementary schools to replace buildings destroyed by the tornado on May 22 of last year.
Allie Pederson, who dodged the tornado by getting into a large freezer with others at a convenience store, said attending school at the mall has been difficult.
"It gives you an ominous feeling; it's a reminder of the tornado every day," said Pederson, a junior.
But an outpouring of generosity and support has given students some unusual benefits, Campbell said.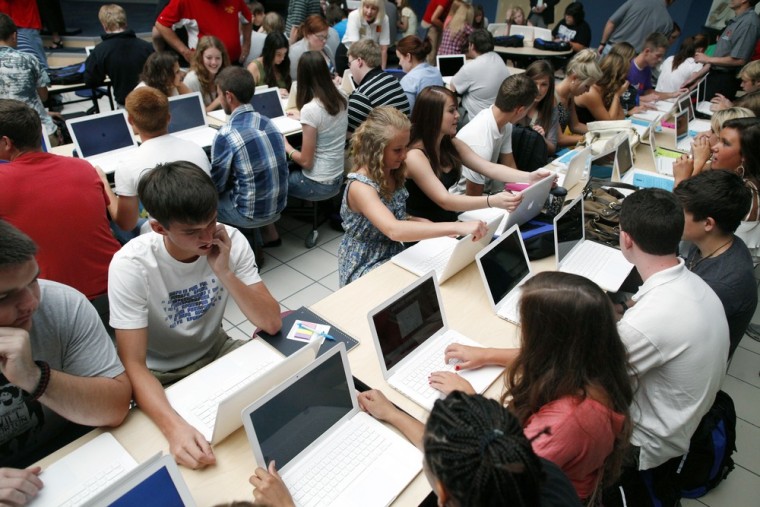 Every student got a MacBook laptop to use all year. The prom was sponsored in part by singer Katy Perry and included discounted dresses and tuxedos, free makeup for the girls and top entertainment and décor.
The football team got to play at the stadium of the NFL Kansas City Chiefs. A softball player, Campbell threw out a first pitch at a St. Louis Cardinals game.
"There were so many amazing opportunities we were able to get through school because of the tornado," Campbell said.
And of course Obama is speaking at commencement.
Ritschel said the perks were welcome but cannot fill the void for students who lost family, friends or their homes.
"It's not going to replace anything," he said.
More than 3,000 students lived in the path of the tornado, which was up to three-quarters of a mile wide and stayed on the ground for 13 miles. The storm forced 4,200 students to attend temporary schools.
The school district received extra counselors to help students cope with their fears and feelings, said Lisa Orem, director of special services. In all, 40 percent of students received help, with many of them complaining about fear of another tornado or losing parents, she said.
Some students said the trauma of the tornado changed them. Rachel Berryhill, who took shelter in a bathroom with her family when the tornado tore the roof off their house, said she no longer gets stressed over small things -- such as being "super neat" or wearing the best clothes.
"I'm more relaxed," she said. "Not having material things doesn't bother me."
Pederson said she values people closest to her more than she did before the tornado and she tries to reach out to them more often.
"I've become more caring, more attached to people," she said. "I'm trying to live my life in a better way."
At commencement, tribute will be paid to the two high school students killed in the tornado. Senior Will Norton died when the tornado pulled him through the sunroof of his car just as he was arriving home from graduation. Freshman Lantz Hare also died in a vehicle.
Commencement, normally held on a Sunday, was moved to Monday evening to accommodate Obama. A statement released by the White House said Joplin's "resilience and selflessness in the face of tragedy continues to inspire our nation."
The city has rebuilt at a rapid pace with the help of thousands of volunteers in cleanup, construction and other services. Building permits have been issued for two-thirds of the destroyed homes while 446 of 553 businesses have reopened.
On Tuesday, the anniversary of the tornado, the city has organized a "walk of unity" through the long path of the tornado. Many of the 428 students who graduate Monday are expected to take part.
Many students have grown tired of the attention the tornado has brought, Ritschel said.
"I'll feel relieved and I think most everyone will be relieved," he said. "It's time to move on with college or wherever life takes people."