/ Source: The Associated Press
A year after a massive tornado tore through Joplin, thousands of survivors and others touched by the storm's fury made a somber march through some of the hardest-hit neighborhoods in a town dedicated to remembering its losses but also committed to what is certain to be a long, slow recovery.

Carrying small American flags and wearing T-shirts bearing the names of friends and loved ones among the victims, they walked through the town where a tornado packing 200 mph winds killed 161 people. The tornado wiped away entire neighborhoods in the city of 50,000, destroyed Joplin's only public high school and left behind a ghastly moonscape of block after city block of foundations wiped clean of their structures.

"There is not a handbook out there that says, 'Here's how you develop a community that has an 8-mile-long, 25 to 30 city-block wide swath of area that has basically lost everything,'" said David Wallace, a Texas developer whose firm was hired by the city to oversee Joplin's rebuilding plan. He estimated the recovery will cost nearly $2 billion, about half of which has already been pledged by private sources.

Signs of the challenges ahead were plentiful on the 4-mile "Walk of Unity," from the glaring absence of century-old trees in the city's central neighborhoods to the ghostly shell of St. John's Regional Medical Center.

Throughout the day, residents, hospital workers, volunteers and politicians gathered across the disaster zone to mark the May 22, 2011, tornado, mixing somber remembrances with steely resolutions to rebuild.

"It is so fitting to begin this day, this anniversary, by reflecting on our faith as dawn breaks over a renewed Joplin," Missouri Gov. Jay Nixon said at a sunrise service at Freeman Hospital, which is eight blocks from St. John's but was undamaged. "Scripture tells us that the path of the righteous is like the first gleam of dawn, shining ever brighter till the full light of day."

The afternoon procession started in neighboring Duquesne, where more than one-fourth of the community's 750 homes were destroyed and nine people died. The Joplin portion of the walk began past a Wal-Mart where three people were killed and 200 survived by huddling together in employee break rooms, bathrooms and other designated safe zones.
Among the planned stops was a groundbreaking ceremony for the rebuilt Joplin High. Juniors and seniors will spend the next two years attending school in a converted department store in the city's sole shopping mall.

The walk will conclude with a moment of silence at Cunningham Park at 5:41 p.m. local time, the moment the tornado struck. The city park, which is across the street from what is left of the St. John's hospital, has been rebuilt.

The medical center hasn't yet been torn down because it sits atop the mining tunnels that made Joplin an early 20th century boomtown. The hospital has been operating out of a succession of temporary facilities while construction continues at its new permanent location, where it will reopen under the name Mercy Hospital Joplin.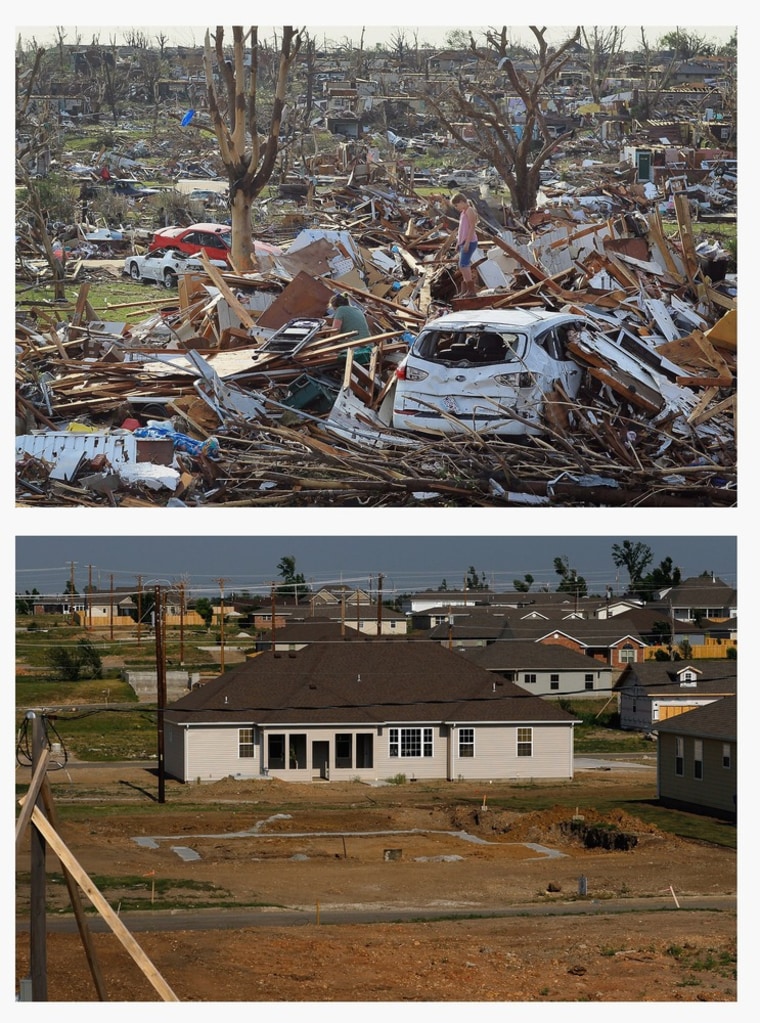 The city held the first of three groundbreaking ceremonies Tuesday morning for its new schools in the shadow of St. John's former home on land donated by the Sisters of Mercy Health System. An elementary school will be built at the site to replace two that were destroyed.

"The sound of hammers has replaced the sound of sirens," said C.J. Huff, Joplin's school superintendent.

A community theater where three people died after a Sunday matinee performance will be rebuilt nearby. Those on the walk included former co-workers of Randy Mell, a 49-year-old Jasper County custodian who died while trying to save some of the more than 50 audience and cast members trapped inside the Stained Glass Theater.

"It's been a roller-coaster type year. Extremely high highs and lots of low lows," said Debbie Fort, the principal of Erving Elementary School, which has been operating out of temporary facilities and which will be the name of the new school.

"It's important that we take a moment to reflect and remember," she said. "But it's a new chapter in our lives. This really signifies our future, the future of Joplin."

Insurance policies are expected to cover most of the $2.8 billion in damage from the storm. But taxpayers could supply about $500 million in federal and state disaster aid, low-interest loans and local bonds backed by higher taxes. Almost one-fifth of that money was paid to contractors who hauled off an estimated 3 million cubic yards of debris.

In January, elected officials and other members of a 45-person recovery committee endorsed a long-term recovery plan that calls for the creation of four new business districts that would allow residents to live and shop nearby and a unified approach to rebuilding that ensures new construction meets certain design standards.

In March, the city hired Wallace Bajjali Development Partners, of Sugar Land, Texas, as its "master developer" to oversee the rebuilding plan. Wallace, the company's chief executive officer, said that he's secured commitments from builders who want to bring a minor league baseball stadium, a convention center and a public performing arts center to the city near the borders of Arkansas, Oklahoma and Kansas. One interested developer is a group led by former Dallas Cowboys star Emmitt Smith that envisions transforming Joplin's Main Street business corridor into a mixed-use neighborhood with high-end lofts built atop retail space.

"Everybody's heart in America is pouring out to Joplin right now," he said. "There's a desire to be able to come and make a difference in this community."