/ Source: msnbc.com staff and news service reports
Fire crews hampered by wind gusts and dry conditions on Wednesday made slow gains battling dangerous forest and brush fires in the West and Southwest, including a wildfire in Nevada that doubled in size overnight and destroyed 17 buildings and two homes.
Blazes in rugged, mountainous areas of Arizona, Colorado, Nevada, New Mexico and Utah have already forced the evacuation of several small towns and torched more than 85 square miles  of forest, brush and grass in the past two weeks.

The Arizona blazes were the first major wildfires in the Grand Canyon state this year after a record 2011 fire season in which nearly 2,000 blazes consumed over 1,500 square miles, according to the National Interagency Fire Center.

In northern Nevada near the California border, crews said two homes and 17 other buildings were charred and more than 100 were under voluntary evacuation on Wednesday as the Tre wildfire razed more than 9 square miles of brush and forest in Douglas County.

More than 360 firefighters fought the conflagration with bulldozers and helicopters, as billowing smoke cast a pall over the rugged area south of Carson City, making it difficult to assess the burn size.

"There's so much smoke, you can't really get up in the air and see ... the size," Rita Ayers, a spokeswoman with the Tre incident team told Reuters.

"Helicopters in front are trying to hold the fire moving too far to the east, and they have all the fighters around it putting in lines," she added.

Ayers said the fire was just 10 percent contained. While gusting winds challenged firefighters, much cooler temperatures were expected to help crews bring the fire under control by Saturday.

Even as crews fought to contain the Nevada fire, more than 1,100 firefighters made slow progress against the most dangerous of the blazes burning in the U.S. Southwest, the so-called Gladiator Fire in Arizona.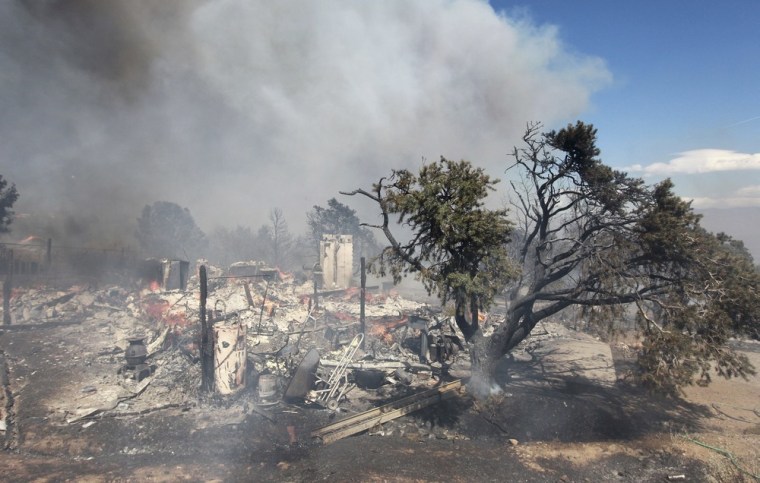 That fire, which has torched more than 24 square miles of ponderosa pine and brush some 40 miles north of Phoenix, was 26 percent contained on Wednesday, up from 19 percent a day earlier.

"The winds will start earlier today and will continue to get stronger as the day progresses," the fire incident team said. "Firefighters will continue to monitor for spot fires from flying embers outside of the fire lines.

The blaze, which threw a veil of grayish smoke over the northeast Phoenix valley, has forced the evacuation of about 350 residents of the old mining town of Crown King and three other tiny communities nearby.

Crews battling the largest of the four Arizona fires, the 25-square-mile Sunflower Fire, had succeeded in reinforcing control lines and had more than 40 percent under control.

In New Mexico, authorities said seven residents of the small summer community of Willow Creek were evacuated as a precaution because of a fire that charred more than 15 square miles in steep, rugged terrain of the Gila Wilderness area.

Utah firefighters are battling a three-square-mile blaze on public and private land southeast of Hurricane, about 290 miles south of Salt Lake City.

The human-caused fire was sparked Tuesday evening, fire information officer David Eaker said. No evacuations have been ordered, and the fire is around 65 percent contained.

The Hewlett Fire in Colorado's Roosevelt National Forest, sparked by a camping stove mid-month, was declared completely controlled on Wednesday.