/ Source: The Associated Press
It's been a long, strange trip for what appears to be several tiny chips of lunar rock that found their way into a casino mogul's hands after being collected by the first men on the moon.
If they're real, they were plucked from the lunar surface by Neil Armstrong and Buzz Aldrin, given by then-President Richard Nixon to former Nicaraguan dictator Anastasio Somoza Garcia, pilfered by a Costa Rican mercenary soldier-turned Contra rebel, traded to a Baptist missionary for unknown items, then sold to a flamboyant Las Vegas casino mogul who squirreled them away in a safety deposit box.
Now, more than 2½ years after Bob Stupak's death, an attorney for his estate has sent to NASA officials in Houston a tabletop display featuring the four gray chips the size of grains of rice. They're magnified in a Lucite dome about as big around as a U.S. 50-cent piece set with a small blue and white Nicaraguan flag. Combined, the chips weigh 0.05 grams.
Renee Juhans, NASA inspector general executive officer, confirmed Tuesday that the agency was "taking steps to authenticate" the display it received from attorney Richard Wright. Juhans declined to say what would happen after that.
Wright said he expects that if the chips are authentic, they'll be returned to the people of the Central American country. If not, he said they should be sent back to him.
"I told them it was either Stupak's or Nicaragua's," said Wright, who said he counseled Stupak when ownership questions were raised more than a decade ago not to try to sell or auction the display.
The tiny rocks can be considered priceless or worthless, said Joe Gutheinz, a retired NASA investigator and moon rock hunter who has spent decades on a quest to find 160 missing moon rock samples around the world.
"In a sense, they're worthless because you can't sell them," Gutheinz said by telephone this week from his law office in Friendswood, Texas. "But for people who love space, you can't put a price on it."
They're part of a limited supply of about 842 pounds of rock collected by U.S. astronauts in six missions between Apollo 11 in 1969 and Apollo 17 in 1972. The Soviet Union collected about 300 grams of rock, or about two-thirds of a pound, during unmanned probes to the moon.
Gutheinz said the U.S. distributed 270 moon rock samples in the 1970s as a goodwill gesture to countries around the world. States received 100 samples and territories received six. The United Nations received a sample from the Apollo 11 mission.
NASA has conceded it lost track of some of the 26,000 samples of moon rock and other space material loaned to researchers and museums. The agency inspector general said last December that more than 500 pieces were reported missing since 1970.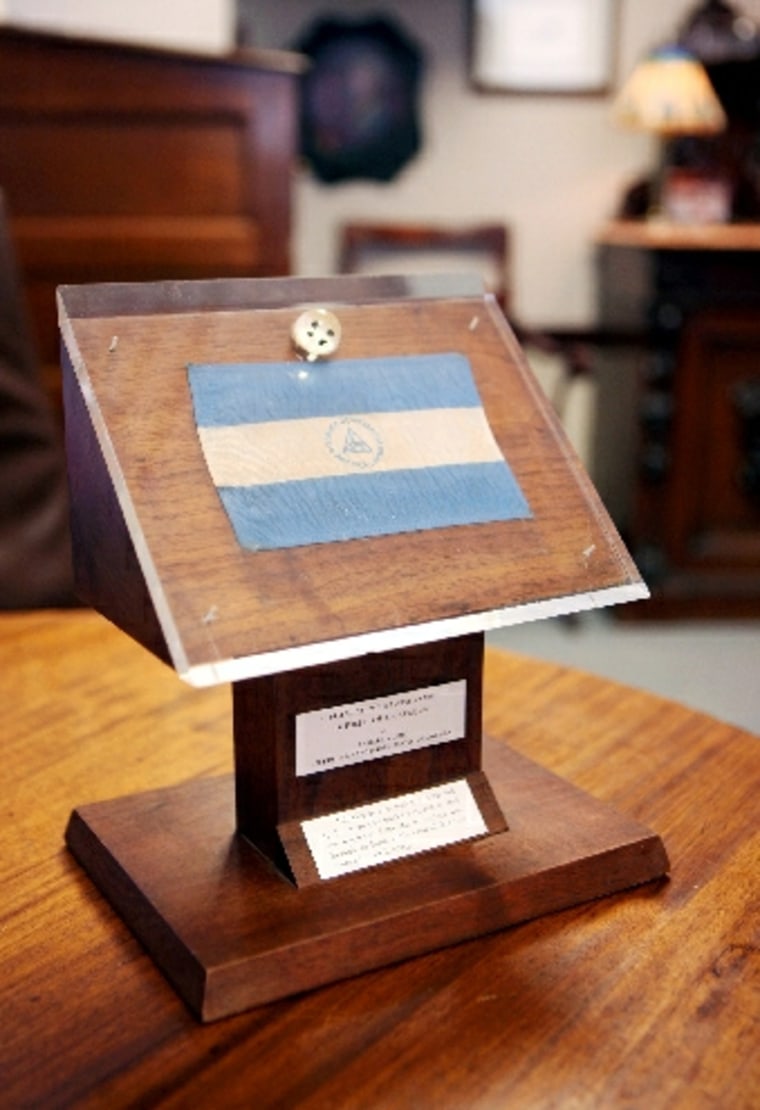 The tiny chips that made their way to Stupak by 1987 apparently were a gift to Nicaragua.
Stupak was a wheeler, dealer and gambler of the first order. He won a $1 million wager on Super Bowl XXIII and a World Series of Poker championship bracelet, both in 1989; nearly died in a motorcycle crash in 1995; and lost a bid in 2006 to become lieutenant governor of Nevada.
For a time, Wright said, the lunar stones were displayed at the Moon Rock Cafe at Bob Stupak's Vegas World casino, which featured a rocket ship logo and big sign declaring "Sky's the Limit." The display went into storage after Stupak replaced the place with the tallest structure on the Las Vegas Strip, the 1,149-foot Stratosphere tower resembling the iconic Space Needle in Seattle.
Stupak bought the rocks for $10,000 and 200,000 shares in his casino from Arizona preacher and businessman Harry Coates, according to documents provided by Wright and the recollections of Coates' widow, Silvina Coates.
Harry Coates, a Baptist minister and missionary, met his wife in 1985 during a mission to Costa Rica. He died in July 2005 in Arizona at age 85.
Silvina Coates, of Casa Grande, Ariz., recalled Tuesday that her husband had lots of side business deals, including one with a man in Costa Rica for the moon rock display. She couldn't remember what the trade involved.
Wright has a copy of Stupak's $10,000 check to Harry Coates' business, Midway Development Inc., along with an affidavit describing how Coates acquired the display from a man named Bob Stone of Golfito, Costa Rica.
The display had been picked from a pile of looted items by an unnamed Costa Rican mercenary fighting with Nicaraguan soldiers when a Somoza compound dubbed "El Retire" was sacked "at the time of the revolution in Nicaragua," according to the affidavit. It said the mercenary later switched sides to fight for the Contras, before returning to Costa Rica in 1979.
"Bob bought it in good faith," Wright said.
Stupak wanted to sell the display a little more than a decade ago. He offered Wright 10 percent of the proceeds if he could help, then upped the offer to 25 percent.
Wright counseled him that he couldn't auction or sell it, because whether it had been lost or stolen, it wasn't clear that Stupak had any legal right to own it.
After Stupak died, Wright contacted NASA and the Nicaraguan consulate about returning the display.
Wright obtained a written promise in April from NASA attorney Cedric Campbell that if the rock display is authentic, "NASA will return the rock to the people of Nicaragua."
Gutheinz, who teaches an online University of Phoenix course and enlists student sleuths to find missing moon rocks, said the sample sounded authentic. He said he expects an ownership fight in Nicaragua.
But that'll just provide another chapter for one of the many stories Gutheinz tells about moon rock samples. He said his students have helped find 79 displays since 2002.
Governors took them home in Colorado, West Virginia and Missouri, he said. A display given to then-Arkansas Gov. Bill Clinton turned up in archived materials after Clinton became president.
"Here, the attorney did the right thing," Gutheinz said. "He told NASA, and they're in the process of turning it over properly. We can only hope that Nicaragua gets its property back."