/ Source: msnbc.com staff and news service reports
A cluster of thunderstorms that stalled off the southeastern U.S. coast on Saturday is expected to make for a sloppy, rainy Memorial Day on beaches and in tourist towns from Florida to South Carolina.
Tropical storm warnings were in effect for the entire Georgia coastline, as well as parts of Florida and South Carolina, according to the National Hurricane Center in Miami. A tropical storm watch for the South Carolina coast north of Edisto Beach was discontinued late Saturday night.
Beryl was considered a "subtropical storm," but the system is expected to bring winds and rain to the area regardless of its official classification.
Tropical storm conditions — meaning maximum sustained winds of 45 mph — were expected to reach the coast Sunday. Three to six inches of rain are forecast for the area. Some coastal flooding is forecast, as the rain could cause high tides.
As of 11 p.m. EDT Saturday, Beryl was centered about 215 miles southeast of Charleston, S.C., National Hurricane Center said in a public advisory notice. It had maximum sustained winds of 50 mph and was moving toward the southwest at 7 mph. Its center was expected to be near the U.S. coast on Sunday and to make landfall Sunday night or Monday.
Dangerous surf conditions are possible from northeast Florida to North Carolina over the holiday weekend, forecasters said.
The southeastern coast is popular with tourists who visit the beaches and wilderness areas.
"A three-day thunderstorm is what it's probably going to be," said Jay Wiggins, emergency management director for Glynn County, which is about 60 miles south of Savannah, Ga., and includes Brunswick and St. Simons Island. "Unfortunately, it's going to ruin a lot of Memorial Day plans."

Wiggins said he expects some flooded roadways and scattered power outages, perhaps some minor flooding in waterfront homes, but otherwise little damage. However, he urged beachgoers to beware of dangerous rip currents.

On Tybee Island, home to Georgia's largest public beach east of Savannah, employees at Amy Gaster's home and condo rental business were making sure arriving guests were aware of the approaching storm. Gaster said her 180 rentals were sold out and nobody was canceling plans or asking to check out early.

"Mostly I think people are just curious," said Gaster, adding that guests were being urged to bring in patio furniture if the winds kick up and prepare to hunker down for movies and home cooking Monday. "We're just saying take advantage of today as your beach day and get it while you can."

On Cumberland Island, a federally protected wilderness area beloved by hikers and campers, superintendent Fred Boyles said he planned to wait until Sunday to decide if campers need to evacuate before the storm arrives. Boyles said he had about 100 campers planning to stay overnight Sunday, and the only way to leave Cumberland Island is by ferry.

While Georgia hasn't taken a direct hit from a major hurricane in 114 years, the last time a tropical storm made landfall here was in August 1988. Tropical Storm Chris hit near Savannah but did little damage as it pushed northward into South Carolina.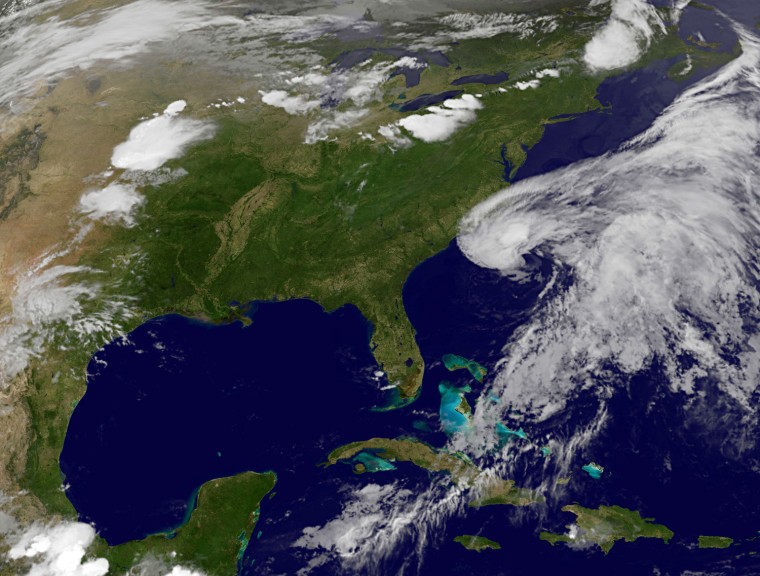 In South Carolina, Beaufort County Emergency Management deputy director David Zeoli said that at midday Saturday word went out to first-responders along the coast near the Georgia line to pay attention to the storm's progress. Officials haven't been ordered to work on an otherwise lovely day for the beach, but have been told to stay near a phone, Zeoli said.
The storm is forecast to eventually turn back toward the Atlantic and away from the Gulf of Mexico, where U.S. oil and gas operations are clustered. 
Subtropical storms usually have a broader wind field than tropical storms and their shower and thunderstorm activity is more removed from the storm's center.
Beryl is the second named storm of the Atlantic hurricane season, which officially runs from June 1 to November 30, although it is not uncommon for storms to form outside that time frame.