/ Source: msnbc.com staff and news service reports
A wildfire burning in the Gila National Forest consumed nearly 20,000 more acres in a day and is now, by far, the largest blaze on record in New Mexico, a fire incident spokesman told msnbc.com.
"It's certainly not a record we're happy with," Gerry Perry said in reporting that aerial infrared readings last night led to a new count: 170,272 acres, or 265 square miles, burned -- up from 152,000 acres on Tuesday.
The Whitewater-Baldy Complex Fire surpassed the 2011 Las Conchas Fire, which had been the largest on record in New Mexico at 157,000 acres. That blaze threatened property around Los Alamos National Laboratory, the nation's premier nuclear facility.
More than 1,200 firefighters and 12 helicopters from around the state are fighting the blaze.
Perry said continued extremely low humidity is making efforts against the fire difficult.
The fire is at zero containment and officials fear it will burn until the monsoon rain season in July.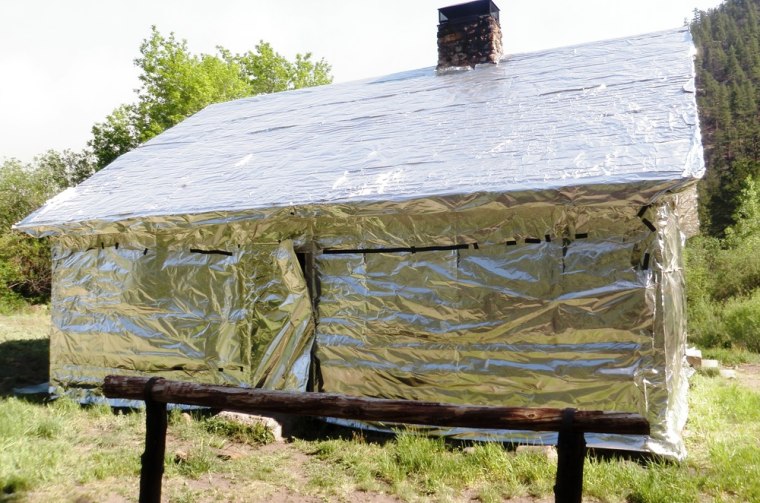 Two lightning-sparked fires merged last week to form the giant blaze, which has destroyed 12 cabins and seven small outbuildings.
One fire was first spotted May 9 and the second blaze was sparked May 16, but nearly all of the growth has come in recent days due to relentless winds. Officials also said a "record breaking dry air mass" and persistent drought in the region contributed to the fire's growth.
Those winds forced crews to the sidelines last week as the fire rapidly spread in an isolated area and charred several homes in the community of Willow Creek.
Evacuation orders for hundreds
Several hundred residents of Willow Creek and nearby Mogollon, a historic mining town, remain under evacuation.
Smoke has spread across New Mexico and parts of Arizona, putting cities as far away as Albuquerque under health alerts.
Perry said a shift in the winds Wednesday means that Las Cruces will probably see smoke soon.
Sen. Jeff Bingaman, D-N.M., announced Tuesday that FEMA has approved New Mexico's request for fire management assistance declaration. Bingaman visited Reserve, N.M., Tuesday and was briefed by the U.S. Forest Service on the fire.
Under the declaration, the state is eligible for funding through the Fire Management Assistance Grant Program, which provides for the "mitigation, management, and control" of fires burning on publicly or privately owned forest or grasslands.
Also on Tuesday, Gov. Susana Martinez urged business affected by the fire to apply for low-interest Small Business Administration loans that could become available if enough applicants seek the help.
"As a result of this fire, small businesses are unquestionably feeling the impact, and I want to make sure that these businesses and their surrounding communities can take advantage of any assistance possible," Martinez said in a statement.
Dry and hot conditions in the Southwest have also fueled wildfires in other states, including Colorado. Hundreds of firefighters were at an 8-square-mile fire in western Colorado near that state's border with Utah, and a separate 4-square-mile blaze about 200 miles southwest of Denver.