Following afternoon prayers, Hasan Faruq took his daughter by the hand and led her across the green-carpeted interior of the East London Mosque.
On the ground floor, a scattering of men remained prostrate, facing Mecca. Upstairs, women prayed.
Playing with 5-year-old Zainab in an adjacent room, Faruq, a secondary school teacher of Bangladeshi decent, spoke of the importance of providing his children with excellent education, and cultural and religious values.
"People are not given the true image of Islam. I want my daughter to have a good education, to have freedom, to go where she wants," he said.
British Muslims say that al-Qaida and other militant groups do not speak for their faith because violence is rejected in Islam. But, no matter how fiercely imams and community leaders condemn acts of terrorism, they feel that much of society now views all adherents of the religion as suicide bombers in-waiting. "I personally feel really victimized," said Faruq, 30.
Recalling the recent kidnapping of a 17-year-old Muslim girl in Ilford, northeast London, whose abductor carved a cross into her hand, the father of three young children said, "I often feel full of fear when walking around with my kids."
Looking like a terrorist?
Britain has been on a heightened state of alert for terrorist attacks over the past couple of months.
"If you suspect it, report it," read posters in London's Underground Tube stations, put up immediately following the March 11 attacks on trains in the Spanish capital. Loudspeaker announcements also remind commuters to be vigilant and report any unusual activity to the police.
It means, according to Muslims, that women's hijabs (headscarves) and men's beards and caps are viewed by the wider public as the tell-tale markings of a terrorist.
"You walk into anonymous ground (outside the Muslim community), especially in the Tube, and all eyes are on you," Faruq said. "My wife wears a headscarf and there's no way she's going on the Tube alone -- there's been occasions of women's scarves getting torn off."
"My friend has taken off his cap since the Spain bombing; it's kind of unnecessary attention in the Tube, and if you're carrying a bag along it's even more difficult," he said.
The head of London's metropolitan police force has said that an attack in the British capital is "inevitable." The Madrid bombings, blamed on al-Qaida, and recent seizure of half a ton of ammonium nitrate fertilizer, which can be used to make a bomb, have only heightened the public's trepidation.
On Monday, British police announced the arrest of 10 terror suspects during a sweep in Manchester and other northern cities. They were described as of North African and Iraqi Kurdish origin.
Islamaphobia?
Muslim groups argue that the culture of fear, fostered in their view by the government and British media, has resulted in widespread "Islamaphobia."
Stop Police Terror, a grass-roots organization, alleges that in addition to attacks from the wider public, British Muslims have suffered physical and psychological abuse at the hands of the police who are supposed to protect them.
"The Muslim community in Britain has felt under the spotlight since 9/11; after the Madrid bombings the glare is red hot," said Inayat Bunglawala, media secretary for the Muslim Council of Britain.
The East London Mosque, which will be the largest mosque in the capital once current construction work is completed, is located in Tower Hamlets, where minority ethnic groups make up 48 percent of the population, according to the latest census figures.
While the borough's Muslims generally feel comfortable within the largely Asian Muslim community, many fear that by crossing the "borderline" into the wider British arena, their appearances alone can make them targets for attacks.
"You expect police to protect you, but you feel this sense of hopelessness," said Abu Mumin, a 34-year-old who works in social services.
Feeling vulnerable
While the British Home office states that "no community or religion should be made a scapegoat for the actions of terrorists," Muslim groups say that Islam has become synonymous with international terrorism.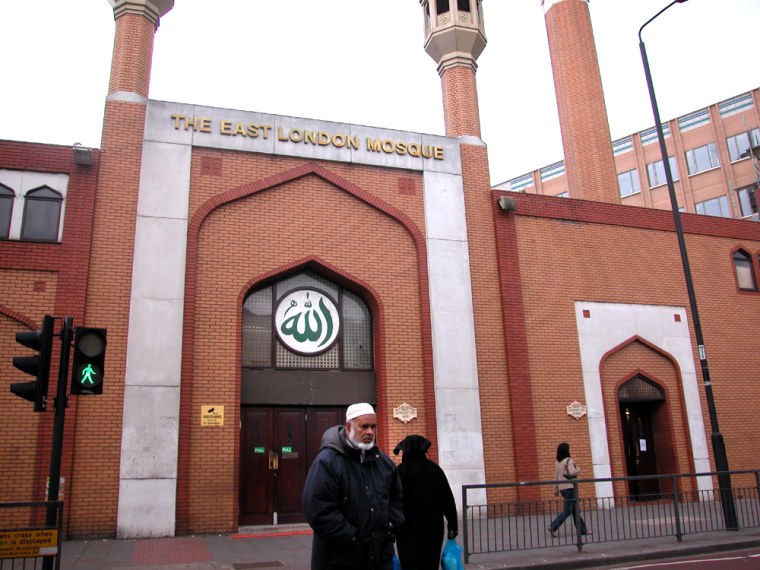 Bunglawala, from the Muslim Council of Britain, described a recent newspaper headline: "Islamic bomb plot foiled" as a "denigration of the faith...Muslims have done everything to say that terrorists do not speak for the Islamic faith."
In a recent and Islamic organizations, the council repeated its condemnation of attacks and urged community leaders to work with police against terrorism.
The media secretary added that "rogue preachers like Abu Hamza (who vociferously praised the Sept. 11, 2001, attacks) receive a gross amount of press.
"The miniscule level of support they receive is magnified by the media — if we focused a story on the States just on the Klu Klux Klan you'd get a distorted impression of the States too," he said.
Instead of looking toward the police force for protection, the Muslim community is increasingly coming to fear it.
Recently, several hundred Muslims gathered in the Hayes Islamic Center, in west London, for a four-hour conference.
As the gathering began, the speaker warned the audience to note where the exit was in case of an attack by white extremists.
Men and women, separated by a wall divide, listened to accounts of how their "brothers and sisters" have been victimized by anti-terror legislation.
"Nobody cares when it's a Muslim," said Muddassar Arani, a leading human rights lawyer.
Under "a constable may arrest without a warrant a person whom he reasonably suspects to be a terrorist." Once detained, a suspect can be held for up to 14 days in solitary confinement without being charged.
While Stop Police Terror says it understands the need to arrest suspects believed to be carrying out terrorist activities, it worries that the police force is going on blind "fishing expeditions" within the Muslim community.
Sensitivity
While the Home Office and Metropolitan police declined to discuss what specific evidence or suspicions constitute the need for an arrest, "police are taught to be racially sensitive," said Nick Jordan, press officer for New Scotland Yard, the detective department of London's metropolitan police force
"They are aware that they need to keep good relations with the Muslim community, 99 percent of which are law abiding,"
Between the Sept. 11, 2001, attacks on the United States and Jan. 31, 2003, 544 people were arrested under the Terrorism Act 2000 in Britain. Of these, 98 were charged, and of those, six were convicted, according to Home Office statistics. Muslim groups say virtually all of those arrested were Muslim.
There are an estimated 2 million Muslims within the overall British population of 59 million.
"Many have been arrested, but many have been released without charge," said Arani, noting how the arrest of an innocent person affects his or her family, and their relations with non-Muslim neighbors and coworkers.
Several case studies of purported abuse were presented at the conference, including injuries caused by police dogs set on individuals who had already surrendered, and guns pointed at a 10-year-old boy, who's father was accidentally stopped due to a database error, while police yelled: "We will blow your son's head off!"
The lawyer also warned that once people have been arrested, even if they aren't charged, their information can be passed abroad to other governments that may torture them.
A businessman originally from Fallujah, Iraq, claimed that information the MI5 -- Britain's internal security organization -- gave to the Jordanian government led to his being tortured in Jordan.
It was not possible to confirm the allegation. "We couldn't comment in any way on information sharing with other countries," said Peter Wilson, a spokesman for the Home Office.
Upon his return to Britain, the businessman said he was questioned further, released without charge, and told his life would be made "hell" if he didn't agree to act as an informant.
"We would never discuss informants or intelligence in any way," Jordan said.
'Where's your God now?'
Within the Muslim community, feeling embattled and isolated, the allegations are accepted.
And the case of a British citizen known as Ali has become a cause celebre, because of the evidence he has presented.
"Stop Police Terror was started two days after my release. The community was on fire — they saw it as an insult to all Muslims," said Ali (not his real name), who is of Pakistani decent.
Seated on decorative cushions in his prayer room at his home in South London, Ali recounted the abuses he allegedly suffered at the hands of the police. It was his case that spurred London Muslims to gather together to inform others of their their rights and how to stand up for them.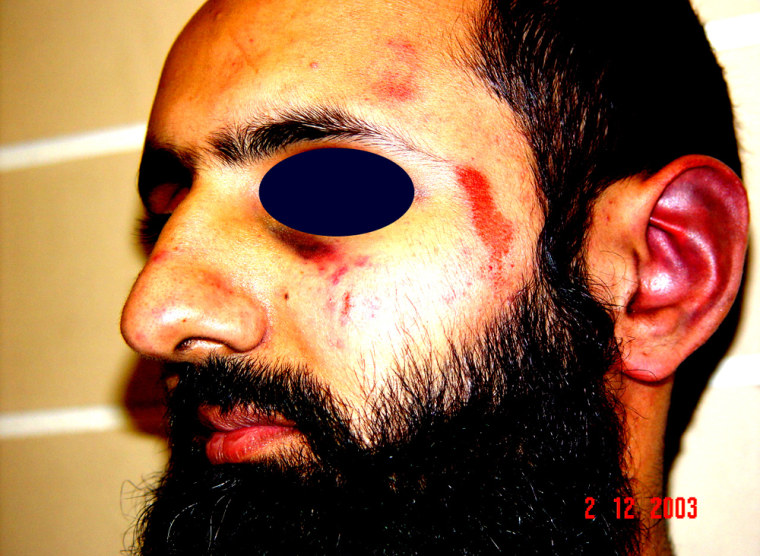 The 29-year-old was arrested in his home on Dec. 2, 2003, by 15 to 20 police officers in riot gear. He says that although he did not resist arrest he was badly beaten while held face down on his bedroom floor, then taken downstairs into his prayer room.
"In cuffs, they made me kneel down in Muslim prayer position. They said: 'Pray to your God now. You're in prayer position. Where's your God now?!'" he said.
He claims that the physical abuse continued in the police van and that he was denied proper medical attention at Charing Cross police station, where he was held in solitary confinement for seven days.
"Britain and the U.S. say we don't do things like this. I was shocked to see that it could happen here," said Adnan Siddiqui, adoctor who found 47 injuries to Ali's body, including bleeding in his left inner ear, and in his urine, which suggested kidney damage. Siddiqui was called in to look at Ali by his lawyer, Muddassar Arani.
Ali said his home was ransacked for potential evidence and that the police tried to "plant on me a map of the local area with a circle around the territorial Army center," which he said he refused to touch for fear of leaving his fingerprints on the document.
He was released from custody without charge and said he still doesn't know why he was arrested.
An investigation into the alleged case of abuse is being carried out by the Metropolitan police and is being overseen by the Independent Police Complaints Commission (IPCC).
Jordan, the press officer for New Scotland Yard, would not comment on Ali's allegations but said "inappropriate force is not allowed" during arrests.
'Self-perpetuating cycle'
According to a recent public opinion survey carried out by ICM, sixty-four percent of Britain's Muslims feel that the country's anti-terror laws are used unfairly against them.
And the activist groups believe that the vast majority of the 32,000 "stops and searches" carried out in 2003 by the police were against Muslims and constitute a low level of harassment. The Home Office does not keep statistics on the ethnic background of those stopped by the police.
"This is leading to a reaction from young Muslims who feel they aren't accepted by the wider society -- it's a self-perpetuating cycle," Bunglawala said.
Rogue preachers, who call for violence against Western countries, prey on such disaffected teenagers, he said.
Back at the East London Mosque, Faruq said, "It has a knock-on effect; how you're treated determines how you act."
Looking at his daughter, he added, "I don't want my kids to grow up as victims of their identity."
But, despite worries of a widening gap between Muslim and non-Muslim society, both in Britain and globally, he said doesn't believe in the "clash of civilizations."
"We can all learn to live together," he said.