Casey Anthony, the Florida mother who was acquitted in the death of her 2-year-old daughter, addressed the murder charges Tuesday for the first time since her trial last summer.
In a phone interview with CNN's Piers Morgan, Anthony, 26, reportedly said she had been enormously proud of her daughter Caylee, who was last seen June 16, 2008.
"There's obviously several misconceptions. Obviously, I didn't kill my daughter," Morgan said Anthony told him on the phone. "She said that very firmly."
Morgan did not play the phone interview, but spoke with one of Anthony's attorneys on "Piers Morgan Tonight" about the conversation.
"If anything, there's nothing in this world I've ever been more proud of, and there's no one I loved more than my daughter. She's my greatest accomplishment," Morgan said Anthony told him.
Caylee was not reported missing until nearly a month after she was last seen, when Anthony's mother, Cindy, called the police. Morgan said he was "struck" by Anthony's desire to reiterate that she was innocent.
"She said that to you without any prompting, without any rehearsal, without any lawyering whatsoever," attorney J. Cheney Mason Mason told him Tuesday.
Anthony's high-profile murder trial was held last July in an Orlando courthouse, which attracted crowds of protesters. During the 13-day trial, Anthony's lead attorney, Jose Baez, argued Anthony did not report her daughter's disappearance because Caylee, 2, had accidentally drowned in the Anthony family's pool, and she feared being accused of intentionally killing the toddler.
Baez argued Anthony's father, George, helped dispose of the body after Caylee drowned, calling the death "an accident that snowballed out of  control." George Anthony denied any involvement.
Six months after Caylee was last seen, her skeletal remains were found less than a mile from her grandparents' Orlando home. Prosecutors claimed Anthony drugged Caylee with chloroform, and then duct-taped her mouth.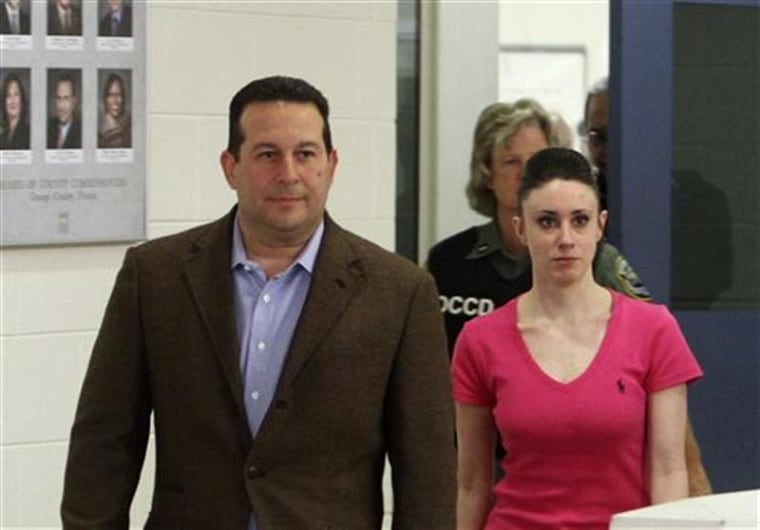 Anthony was acquitted of murder, and she was released from jail on July 17, 2011, to people yelling, "Baby killer!" as the vehicle she was in drove her away from jail. She has lived in an undisclosed location since then amid fears for her safety.
Judge releases Casey Anthony jailhouse video
In the conversation with Morgan – which reportedly lasted about 10 minutes – Anthony reflected on past interviews with the media. "I've looked back at some of the interviews. I'm ashamed in many ways of the person that I was, because even then, that wasn't who I am," she said, according to Morgan.
In the weeks following Caylee's disappearance, photos showed Anthony partying in clubs. Baez addressed her seemingly carefree behavior in his defense, arguing Anthony had been sexually abused by her father as a child, and was accustomed to hiding her feelings. George Anthony vehemently denied the molestation claims.
Mason said on CNN on Tuesday, "Casey had a bad background, lots of problems in her history … She didn't trust anybody."
Although Anthony was acquitted of murder, she was found guilty of four counts of lying to authorities investigating Caylee's disappearance.
"I'm 26 now, and I've gone through hell," Anthony reportedly told Morgan in their phone conversation.
Anthony has dropped out of the public eye since her trial, surfacing only on YouTube in January when she released a video diary in which she spoke about the dog she adopted and the computer she owned. The clip didn't mention Caylee.
"I'm not making gazillions of dollars at the hands of other people, or trying to sell myself to anyone willing to throw a couple of dollars at me," Anthony said, according to Morgan. "The caricature of me that is out there, it couldn't be further from the truth."
She is currently serving a year of probation stemming from an unrelated check fraud conviction in 2010.