The X Prize contest that is meant to spark suborbital passenger flight is heating up. Twenty-seven teams from seven nations are in an intense race to win a unique top spot in the record books of entrepreneurial one-upmanship.
The "straight up" rules are clear: A $10 million X Prize cash award will be turned over to the first team that privately finances, builds and launches a three-person spaceship that scoots up to 62.5 miles (100 kilometers) altitude, returns safely to Earth, then repeats the feat with the same ship within two weeks.
Although rocket engines are critical to success, there's an economic engine driving entrants to put their efforts into high gear this year. That's because the X Prize $10 million offer ends on Jan. 1.
"I sure hope that we have a winner this year … because I'd hate to see $10 million go to waste," said Peter Diamandis, X Prize chairman. In one way, the X Prize has been already been successful, he told Space.com, by the fact that 20 different approaches to enable passenger suborbital flight are being taken.
Diamandis explained that for the promise of $10 million, over $50 million has been spent in research, development and testing.
Eight years of progress
The X Prize effort was kick-started in May 1996. Today, dozens of real vehicles are being built, nearing their first flights, or have already streaked across the sky in checkout mode.
X Prize teams have been formed in Argentina, Canada, Israel, Romania, Russia and the United Kingdom, as well as the United States. Over the weekend, 12 of the teams met in Los Angeles to exchange information and discuss the future of commercial suborbital flight.
Only one team will snare the $10 million X Prize. But in the attempt to pull off vertical victory laps — from Earth to the edge of space — the efforts of the private-sector groups are resulting in an array of workable reusable launch vehicles.
Ready to rumble?
Clearly, an out-front X Prize entrant is Scaled Composites' SpaceShipOne. Leading the rocket-plane work is aviation rebel Burt Rutan.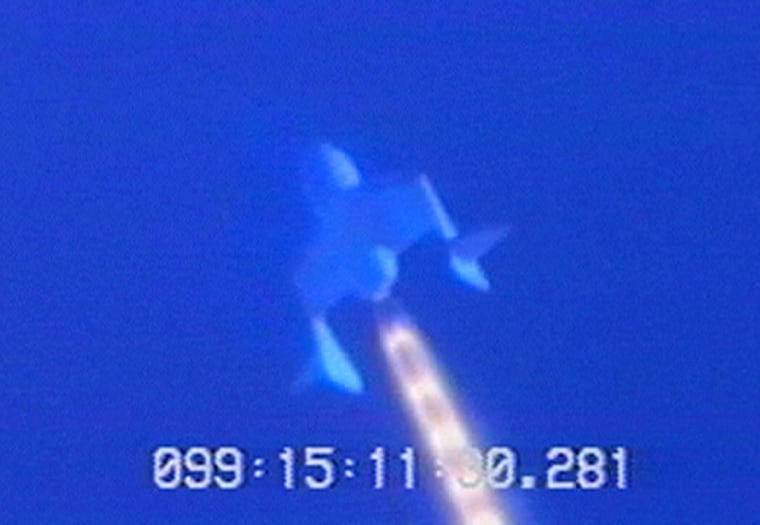 SpaceShipOne has already chalked up extensive air time, both in glide and rocket-powered mode over California's Mojave Desert. Pilots and machine appear to be nearly ready to rumble, cracking the whip and the sound barrier at the same time to snare the X Prize.
"As one team pulls out ahead, it definitely motivates the others to push harder and faster," Diamandis said. "But that's got to be balanced by the fact that this is dangerous stuff."
SpaceShipOne has become a media darling, but Diamandis said the X Prize competition's outcome remains open-ended.
As an example, Diamandis recalled that the front-runner in the Orteig Prize for the first solo flight across the Atlantic Ocean was Adm. Richard Byrd, who crashed on takeoff. "Then here comes an unknown upstart by the name of Charles Lindbergh … who won the $25,000 in prize money in 1927," Diamandis said.
Speedsters support rocketeers
Last month, the X Prize rocketship race garnered the support and participation of the Champ Car World Series — an organization steeped in checker-flag competitions of open-wheel speedsters around the globe. The seven-figure sponsorship includes having the Champ Car World Series logo placed on all X Prize vehicles. The series will also be the primary corporate sponsor of the X Prize flights.
"This is a natural fit for Champ Car, as our teams and drivers spend every waking moment trying to develop ways to push the limits of man and machine," series President Dick Eidswick said in a statement announcing the sponsorship. "The X Prize competitors are pushing toward the same goal that we are, albeit a few more miles above the ground!"
The Champ Car/X Prize relationship hits on all cylinders, Diamandis said. "We're working together to bring a lot of the race technology, concepts and marketing into the space world … and God knows we need it," he added.
Time to climb
The X Prize Foundation, based in St. Louis, is in the midst of analyzing bids from both Florida and New Mexico for one of them to be picked as the spaceport of choice for the X Prize Cup.
Diamandis said the cup would be a two-week event, taking place at the same location each year. X Prize teams would be invited to fly as many times as they can. "They would set records and compete in different categories, such as maximum altitude, time-to-climb, the fastest vehicle turn-around, number of people carried during a single flight or during the course of the two weeks," he explained.
This "friends and family" type of gathering would allow public viewing of perhaps 100 spaceship launches throughout the two weeks, Diamandis envisions.
Meeting the deadline
While Rutan and his teammates repeatedly ring out SpaceShipOne's flying attributes, other X Prize competitors are making progress too, as well as running into bothersome snags.
"We are now working on our recovery equipment, since the main engine is finished and operating. We just performed some successful drop test of the crew cabin to measure water impact deceleration," said Geoff Sheerin of the Canadian Arrow project in London, Ontario.
"I find it interesting that everyone says the X Prize expires at the end of the year when in actual fact the 'trophy' is available until whenever it is won. And just like the Americas Cup, the trophy has very significant value … perhaps more than the $10 million cash," Sheerin stated. "I have every confidence we can make a launch before the end of the year."
Meanwhile, groups like Israel's IL Aerospace Technologies have frozen the design of their Negev suborbital reusable launch vehicle system. "We are now in the process of raising the funds to build it, test it and certify it for commercial use. We are definitely looking beyond the X Prize at this point," said Dov Chartarifsky, founder and chief executive officer of the company.
"Our company is striving to become one of the first, if not the first private entity to establish a self-sufficient space venture targeted at space tourism and other emerging markets," Chartarifsky said. "Our company objective is to begin the commercialization stage of our program by mid-2007."
Chartarifsky said that while the company may not meet the X Prize deadline, ILAT is "very much alive and well."
Slow but steady progress
Another leading X Prize contender, Armadillo Aerospace of Mesquite, Texas, is making slow but steady progress, said entrepreneurial rocketeer John Carmack.
"We actually hoped to be where we are now last December, making the initial tethered tests of the full-scale vehicle. The next month will see several tests … leading to boosted hops with powered landings from several hundred feet up," Carmack told Space.com.
"We have all the materials for building a full ship set of the large engines, but we are still looking at some alternate configuration ideas. We expect to fly the current vehicle until we crash it … then assemble a newer version with the lessons learned."
Needless to say, building human-carrying rocket hardware is a tough challenge. But paperwork alone can leave you stranded on Earth.
Carmack and crew have found themselves in an annoying place, regulations-wise.
Parasitic paperwork
"We moved away from parachutes because the worst-case drift under failure was large enough that White Sands [a remote test site in New Mexico] was going to require half a million dollars of 'engineering support' to convince themselves that the vehicle won't leave their range. Unfortunately, powered landing involves burning the engines longer, so our early test flights run into the non-launch-license burn time limits much earlier," Carmack said.
"We are negotiating a waiver for this as an early step before we get our launch license, but we may have to go all the way to New Mexico to do test flights under the waiver, which will hurt our schedule," Carmack added.
Armadillo's launch license is currently stalled on the environmental assessment, Carmack reported.
"If I was willing to throw a million dollars at the problem by hiring the right firms to write the environmental impact statement and finish the launch license, things could get done faster, but I'm not willing to toss that kind of money at parasitic paperwork," he said.
"We won't catch Burt unless he has a loss-of-vehicle incident. If something knocks him out of the race, we still have a chance. But both the regulatory process and a credible testing schedule are looking very tight to make it this year. We are carrying on in any case. Post-X Prize there will be some changes in our focus, but the basic work will continue," Carmack concluded.
Frequent-flying credo
Diamandis believes what is urgently needed is an increase in the rate of Earth-to-space passenger flight. At present the takeoff tempo is low, made even more so by the grounded U.S. space shuttle fleet and the small number of Russian Soyuz launchings per year.
"I recognize that the vehicles resulting from the X Prize are only suborbital ships, only one-thirtieth the size of today's orbital ships. But the lessons that we will learn from these vehicles are critical," Diamandis recently told the Aldridge Commission on the Moon, Mars and Beyond. Learning how to refuel, retool and relaunch a fleet of reusable vehicles is part of the frequent flying credo of the X Prize, he said.
Whether it's X Prize vehicles straining to reach suborbital altitudes, or NASA beating a path back to the Moon, to Mars and other targets — it's all inherently risky business.
"We need to be upfront with the American public about such risk. I think America can deal with and accept the risks involved," Diamandis explained. "We're never going to make new breakthroughs in propulsion or get back to the moon or Mars without taking increased levels of risk. We'd be foolish to think it will be done without the loss of life. We better face up to that now."
In his estimation, Diamandis argued, there is need to heed the words of an early master of technological risk while striving for new horizons.
Aviation pioneer Wilbur Wright in 1901 said: "If you are looking for perfect safety, you will do well to sit on a fence and watch the birds; but, if you really wish to learn to fly, you must mount a machine and become acquainted with its tricks and actual trials."