/ Source: The Associated Press
Sonia Gandhi, the latest member of the Gandhi dynasty in line to become India's prime minister, worked swiftly Friday to build a new coalition government around her family's Congress party after a stunning upset election victory.
Stock markets plummeted, however, on fears that her leftist allies would roll back fundamental economic reforms.
Congress, the party that led India to freedom from British colonial rule and then ran the country for 40 years, is returning to power after an eight-year hiatus, riding a surge of discontent among poor voters who felt left behind by the economic reforms championed by outgoing Prime Minster Atal Bihari Vajpayee.
"We will take the lead to ensure our country has a strong, stable and secular government at the earliest," Gandhi told a news conference as she claimed victory Thursday.
However, she and other Congress leaders were hesitant to state outright that she will take the top job, once filled by her husband and her mother-in-law, both of whom were assassinated. She was born in Italy and some have objected to her foreign roots.
"We are in a coalition and until we discuss this, we don't want to jump the gun" about who will be prime minister, said a senior Congress official, Kamalnath, who uses one name.

Market Jitters
Investors pulled their money out of state oil companies and banks, and even India's premier high-tech firms, in what TV commentators called a "bloodbath." Congress party leaders said nothing to calm the markets.
The Bombay Stock Exchange, the Sensex, tumbled 6.11 percent Friday at 5,069.46 points. It was the worst one-day plunge in four years.
The National Stock Exchange, the country's largest, tanked 7.92 percent to close at 1581.40 points — its biggest single day crash since it began operations a decade ago.
Dancing, singing, and slogan-chanting supporters gathered in front of Gandhi's house Friday. She, her son — newly elected Parliament member Rahul Gandhi — and daughter Priyanka Vadra emerged briefly to shake a few hands.
Crafting the coalition
Sonia Gandhi said Congress would wait until Saturday to elect its parliamentary leader, a post she now holds. That person was likely to be prime minister.
Gandhi's first meeting Friday was with Sharad Pawar, who split from Congress in 1999, saying he could not accept a foreign-born citizen as prime minister of India. She has held Indian citizenship for the past two decades.
He has not publicly changed those views, but his Nationalist Congress Party was among parties that joined with Gandhi to unseat Vajpayee's National Democratic Alliance.
Vajpayee's party relentlessly tried to undermine Gandhi during the campaign by bringing up her Italian birth, saying a foreigner should not govern India's 1 billion people.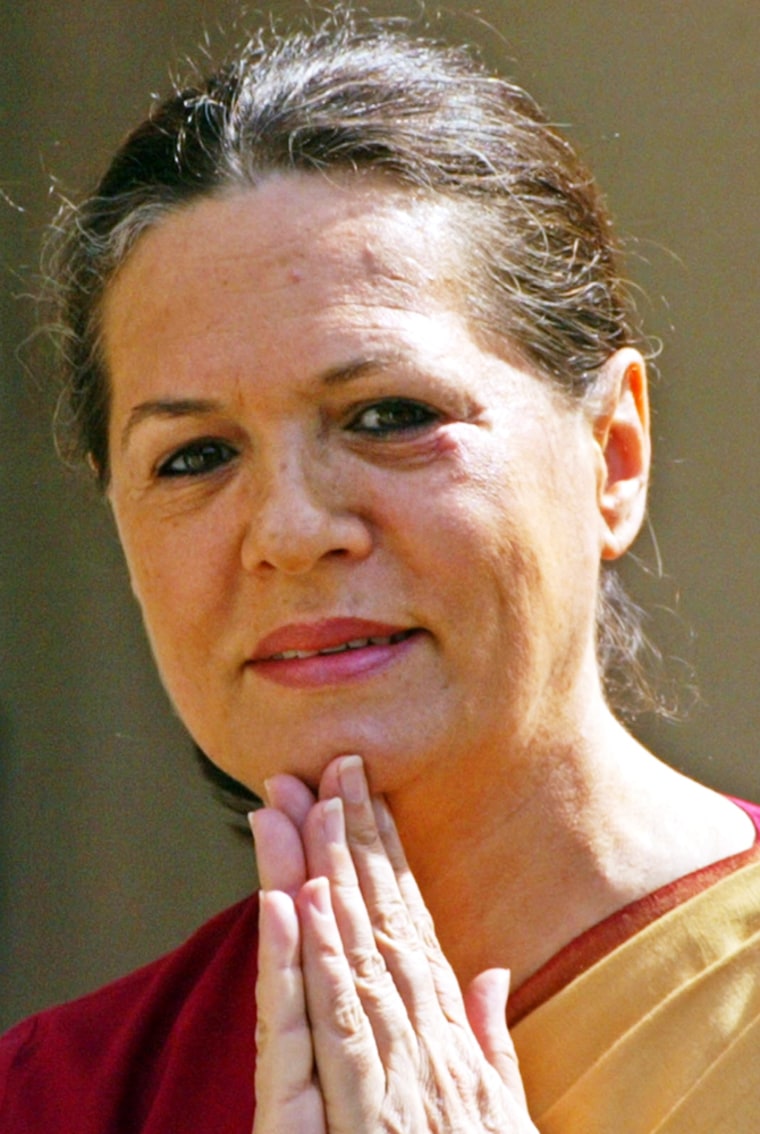 Congress and its allies won 279 seats, a majority of the 545-seat Parliament. Vajpayee's Bharatiya Janata Party and its allies had 187, and other smaller parties and independents had 73.
Four more constituencies will revote later this month, and two members are appointed.
Gandhi sought to assure Indians that Vajpayee's peace initiative to end five decades of enmity with neighboring Pakistan would continue. "From the very beginning we've been supporting the prime minister's initiative vis-a-vis Pakistan," Gandhi said.
Political dynasty fuels return
Shy to the point of near-reclusiveness, Sonia Gandhi, 57, long tried to stay out of politics. She was thrust to prominence with her husband's 1991 assassination. She reluctantly took the party leadership in 1998, only to see Congress to its worst election defeat the following year after she failed to form a bloc that could have ousted Vajpayee.
She spent the next 4½ years rebuilding the party.
"My mother is my hero," Rahul Gandhi, 34, told reporters from the family political stronghold of Amethi, in northern Uttar Pradesh state. "Today's verdict is on my mother's work and the strength of the Congress."
Congress was able to tap into the anger many Indians feel at being left out of their country's economic boom.
During his nearly six years in office, Vajpayee, 79, energized the economy but that success couldn't deliver quick prosperity to millions of rural poor.
Some 300 million Indians live on less than a dollar a day. Most poor lack even the most basic infrastructure, electricity and potable water.
Vajpayee's legacy was stained, however, by the worst religious riots in a decade, when Hindu mobs killed nearly 1,000 Muslims in western Gujarat state in 2002 as his government did nothing to stop it.
Sonia Gandhi would be the latest in a long line of Gandhis to govern this sprawling nation.
Jawaharlal Nehru, the first prime minister, headed India from 1947 until his 1964 death. He was followed by his daughter, Indira Gandhi, who was killed by her own bodyguards in 1984. Rajiv, her son and Sonia's husband, reluctantly stepped in, ruling until 1989. Two years later, he too was assassinated.
The family is not related to Mohandas Gandhi, India's independence leader.
Dozens of supporters, many holding bouquets, gathered outside the brick and steel wall surrounding Gandhi's house in New Delhi on Friday, where dozens of police stood guard.
Some 20 people beat drums and chanted, "Long live Sonia Gandhi."