/ Source: The Associated Press
My goal on a two-day trip to Boston with my children was simple. I wanted them to experience local history without hearing them say the words, "But history is boring!"
Fortunately, the Boston area is so steeped in history that you can't avoid it if you try. With the help of a Fodor's guide, "Around Boston with Kids," we managed to create an itinerary that entertained our 21st century family while glimpsing three centuries into the past.
We started with a tour of the city in a vintage World War II amphibious vehicle known as the "Duck" that plops into the Charles River after driving past famous sites like the Boston Common. Then we visited the USS Constitution, also known as "Old Ironsides," followed by a hike around Walden Pond and a stop at the John F. Kennedy Library and Museum.
Our first outing was the Duck tour, basically a boat on wheels designed to seamlessly ferry troops from ship to shore. The hourlong land tour took us past many famous sites, including the Old Granary Burying Ground where Paul Revere and other patriots are entombed; Beacon Hill and the tony shops of Newbury Street; and Boston's downtown park, known as the Common. The last 20 minutes of the trip was spent in the Charles River, where every child on board got a thrilling turn in the driver's seat.
After consulting the "Kid-Friendly Eats" recommendations in "Around Boston with Kids," which describes several dining choices for every attraction listed, we had a pleasant lunch in the food court at the Museum of Science. Although we did not tour the museum, while my husband and I finished eating, the kids had fun playing on a flight of stairs in which every step sounds a loud musical note.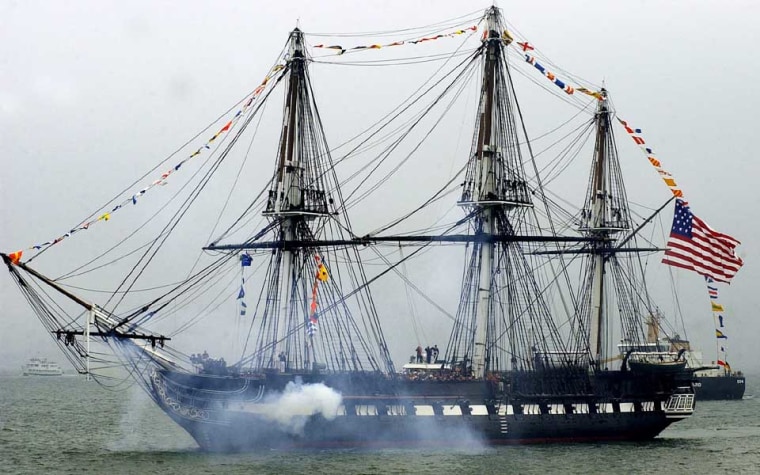 We then drove to the Charlestown Navy Yard to see the USS Constitution. Launched in 1797, it is the oldest commissioned ship afloat in the world. Our tour guide, a uniformed sailor, explained that the Constitution was one of the first six ships ever built for the U.S. Navy, after George Washington asked Congress to fund a fleet to defend our merchant vessels against piracy. The Constitution is still seaworthy and goes out five to 10 times a year.

The boat got its nickname, "Old Ironsides," during the War of 1812 when its oak hull withstood cannon fire and an enemy sailor remarked, "Her sides are made of iron!"

The ship's 54 cannons still impress, but it's the stories you hear on the tour that make it so much fun. Meat was so heavily salted to preserve it that they dragged it in nets in the sea to desalinate it; the ocean water was less salty than the meat. And the term for barrels of drinking water was "scuttlebutt," which became a synonym for gossip because it was the only place sailors were allowed to chat.

From there we headed to Walden Pond. Thoreau's legendary retreat from civilization is a mere half-hour from Boston—which is about how long it took my kids to jog the 1.8-mile trail around the water. I let them go ahead and paced myself, enjoying the newly budding trees and frog songs of early spring.

The fresh air made us hungry. My husband and I had lived in the area in the early '80s, and we wanted to return to one of our favorite haunts, Rosie's Bakery. The cafe, in Inman Square in Cambridge, did not disappoint; we shared coconut-covered German chocolate cake, cookies and a gorgeous frosted cupcake.

On our second day in town, we headed to the John F. Kennedy Library and Museum, a stunning I.M. Pei-designed building of white stone with a dramatic glass front and a lovely view of Dorchester Bay. Two movies—one on Kennedy's early political influences and career, and the other on the Cuban Missile Crisis—help children who know nothing more than the fact of JFK's death understand the impact of his life.

For grown-ups, footage of his speeches and live TV interviews fascinate as well. His intelligent discussions of complicated issues like the Cold War stand in stark contrast to today's sound bites and glib banter. A film about his assassination is just a few minutes long; this museum focuses on his life without dwelling on his death.

We lunched in another of our old favorites, Legal Sea Foods, which has expanded into a mini-empire in the two decades since we'd moved, with 10 locations around Boston and others elsewhere on the East Coast. Our chowder, calamari and fish-and-chips were flavored to perfection and moderately priced, and the waitress was nice to our kids, who ordered from the children's menu.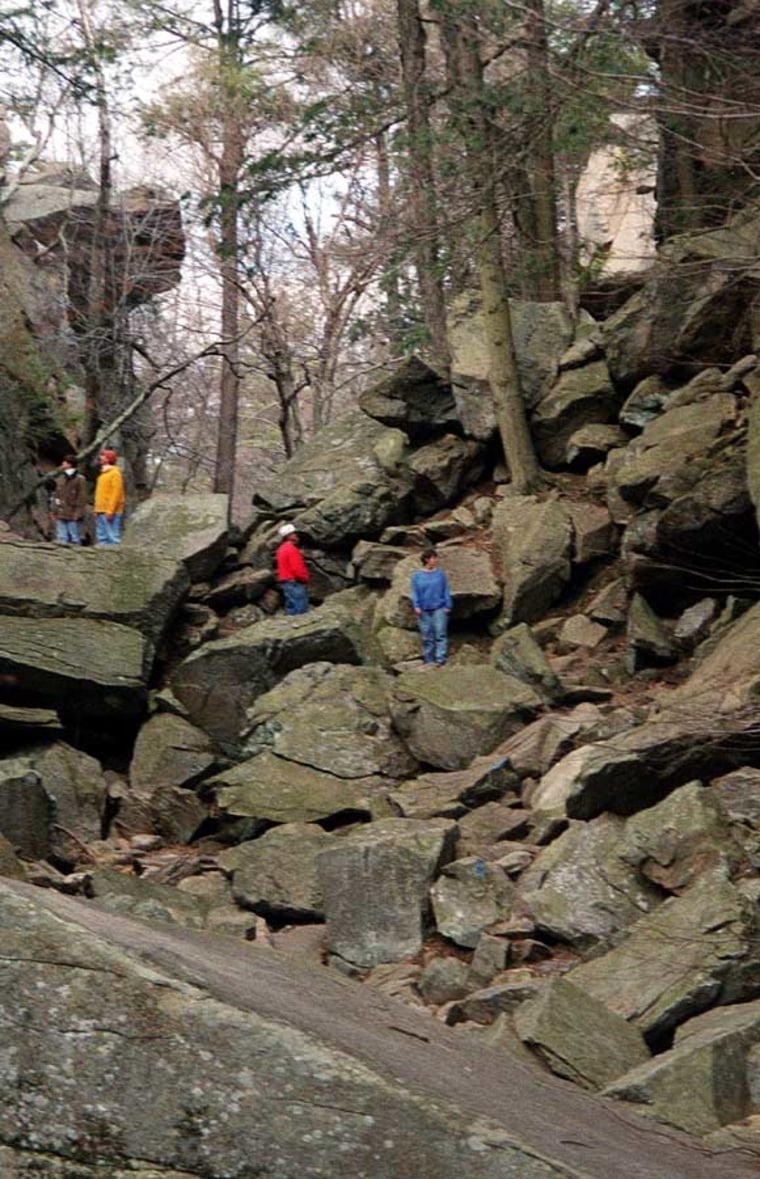 Last stop was Purgatory Chasm, a state park an hour west of Boston and one of many attractions listed in the Fodor's guide that are off the beaten path. The trails here consist mainly of craggy granite rocks that wind up and down through the woods. They are steep enough to be challenging, requiring nimble feet and sturdy footwear, and when you're at the top or bottom of a 70-foot-high scramble, the views are impressive. Yet the hikes are so doable that my 6-year-old managed without assistance.

As we headed home, we agreed that our visit to Boston had been a stress-free success. We'd seen plenty of historic sites, yet - surprise! - we'd somehow managed to avoid all the boring ones.

If you go:

GUIDEBOOKS: In addition to "Around Boston with Kids," the Fodor's series on child-friendly urban travel includes guidebooks ($11 each) for Atlanta, Chicago, Denver, London, Los Angeles, Miami, New York City, Orlando, Paris, Philadelphia, Rome, San Francisco, Toronto, San Diego, Seattle and Washington, D.C. As with any travel guide, information may change after publication, so call ahead to double-check hours and prices.

DUCK TOURS: Depart from the Museum of Science or the Prudential Center, daily on the hour from 9 a.m. until one hour before sunset, and depending on the season, also on the half-hour. Adults, $24; children 3 to 11, $15; children under 3, $3; discounts for seniors, students, groups. Contact www.ducktours.com or (617) 267-DUCK for more information. When school is out, tours fill up, so arrive early, or you can buy tickets five days in advance via the Internet. Other cities with Duck tours include Baltimore, Chicago, Pittsburgh, Portland, Maine, Seattle, Washington, D.C.

USS CONSTITUTION: Located in the Charlestown Navy Yard. Open Tuesday to Sunday, 10 a.m. to 3:50 p.m. Admission free. Visit www.ussconstitution.navy.mil/.

WALDEN POND: Route 2 to Route 126 in Concord. Parking $2 per car. Open 5 a.m. until 30 minutes after sunset. Contact (978) 369-3254 or www.state.ma.us/dem/parks/wldn.htm. Visitors limited to 1,000, so arrive early in peak season.

JOHN F. KENNEDY LIBRARY AND MUSEUM: Located Columbia Point, Dorchester; exit 15 off Route 3/I-93. Follow signs to the University of Massachusetts and JFK Library. By mass transit, take the Red Line to JFK/UMass, then a "JFK" shuttle bus to the library. Adults, $10; kids 12 and under, free; kids, 13 to 17, $7. Open daily 9 a.m. to 5 p.m. Contact (866) JFK-1960 or www.jfklibrary.org.

PURGATORY CHASM STATE RESERVATION: Located in Sutton, about an hour west of Boston. Take I-90 to exit 10A, then Rte. 146 south to Purgatory Road. Open daily, sunrise to sunset. Contact (508) 234-3733 or www.state.ma.us/dem/parks/purg.htm.

ROSIE'S BAKERY: 243 Hampshire St., Cambridge (Inman Square); 2 South Station, Boston; and 9 Boylston St., Chestnut Hill.

LEGAL SEA FOODS: This chain has 10 sites in Boston, plus restaurants in Warwick, R.I.; West Nyack and Huntington, N.Y.; Hackensack, N.J.; Baltimore, Washington, D.C., and McLean, Va.; and West Palm Beach, Fort Lauderdale and Boca Raton, Fla. Call (800) EAT-FISH or visit www.legalseafoods.com. Entrees range from $10 to $25.