Residents of one community and part of another outside Colorado Springs, Colo., evacuated Wednesday as a "monster" fire more than doubled in size and a two-mile-wide wall of flame burned down the backside of a ridge.
Mandatory evacuations were ordered for Crystola and part of Woodland Park after more than 32,000 people had to flee on Tuesday. How many new evacuees were moving out was not immediately available.
Fire crews had expected more weather trouble on Wednesday and by early afternoon scanner traffic confirmed the fire was still in full force.
The fire is moving down a ridge toward Teller County, the Colorado Springs Gazette reported, citing communications from an emergency services scanner. "It's huge," said the voice over the scanner. "I would estimate two-three miles in width."
Both Crystola and Woodland Park, population 7,000, are in Teller County.
In another scanner exchange, a request was made for more fire crews at Blodgett Peak near the U.S. Air Force Academy. "As of right now I cannot hold this hill," a voice said from the fire.
Heavy smoke made for unhealthy air in and around the city. After jumping fire lines Tuesday, the towering blaze has now burned more than 24 square miles and an undetermined number of homes.
While crews should get a break from the heat, a forecast for thunderstorms could mean unpredictable winds.
"We expect further trouble from the weather today," incident commander Rich Harvey said at a press briefing. "We do expect all of our lines to be challenged today."
By late afternoon, those winds started blowing, stirring flames and forcing some crews to retreat, the Gazette reported. C-130 planes used to bomb the fire with retardant were grounded.
Colorado Springs Fire Chief Rich Brown earlier Wednesday called the Waldo Canyon Fire a "monster event" that is "not even remotely close to being contained." The cause of the fire is under investigation.
The National Weather Service issued a forecast saying the next 48 hours would like be very challenging, as winds are forecast. On a scale of one to six on the Haines Index -- which measures the potential for fire growth -- the Waldo Canyon Fire is forecast to be a six by Friday evening.
The White House, meanwhile, said President Barack Obama would tour the area on Friday to offer his support.
Tuesday night, the community of Mountain Shadows, northwest of Colorado Springs, appeared to be enveloped in an orange glow.
People were "freaking out" as they fled Tuesday night, local resident Kathleen Tillman told the Denver Post. "You are driving through smoke. It is completely pitch black, and there is tons of ash dropping on the road."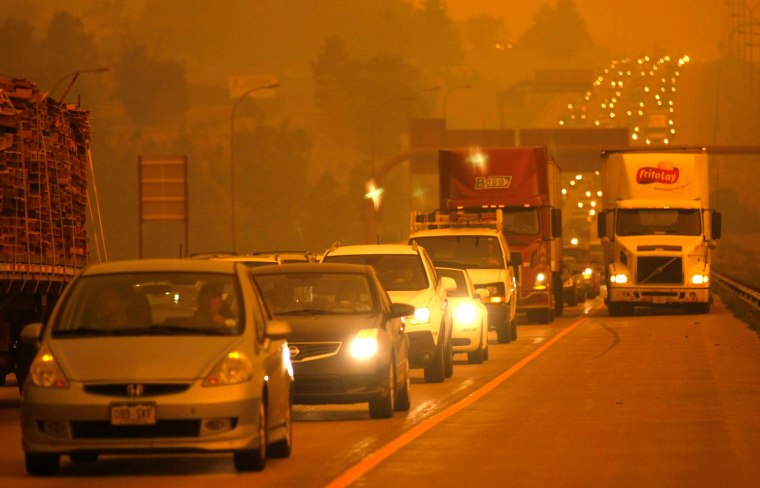 "This is a fire of epic proportions," Brown said at a briefing Tuesday night.
"It was like looking at the worst movie set you could imagine," Gov. John Hickenlooper added after flying over the fire. "It's almost surreal. You look at that, and it's like nothing I've seen before."
Brown insisted that "many, many homes" were saved by firefighters.
Hickenlooper told anxious residents that "we have all the support of the U.S. government. We have all the support of the state of Colorado. And we want everybody here to know that."
He emphasized that Colorado was open to tourism, saying various fires had affected just a half-percent of all public lands and perhaps 400 of 10,000 campground sites.
Among the evacuees were cadets and staff living in one section of the sprawling U.S. Air Force Academy. Flames crested a ridge high above the campus on Tuesday, forcing more than 2,100 residents there to flee.
A new class of 1,045 cadets will still check in on Thursday but at a different section of the campus. The academy said the entire campus would be closed Wednesday to all visitors and non-essential staff.
Colorado is battling 12 large fires, its worst fire season in history, and other states across the West are being taxed as well.
To the north in Boulder County, 26 homes were evacuated Tuesday when lightning sparked a wildfire. No structures were immediately threatened, but the National Center for Atmospheric Research closed as a precaution.
The state's largest blaze is the 136-square-mile High Park Fire, which has destroyed 257 homes and killed one woman. That fire was triggered by lightning on June 9 and is nearly contained.
Most of Utah, Colorado, Wyoming and Montana have seen red flag warnings in recent days, meaning extreme fire danger.
Much of the U.S. is seeing "a super-heated spike on top of a decades-long warming trend," Derek Arndt, head of climate monitoring at the National Climatic Data Center, told the Associated Press.
Although the fire season got off to an early start in the West, the number of fires and acreage burned nationwide is still below the 10-year average for this time of year.
Elsewhere in the West:
In Utah, a woman was found dead Tuesday in a blaze that has consumed several dozen homes. Her body was found during a damage assessment of the 60-square-mile Wood Hollow Fire near Indianola. The fire was 15 percent contained and evacuations were issued in Fairview, a town of about 1,100 residents.
In New Mexico, a fire that burned nearly 70 square miles west of Ruidoso was 90 percent contained, with many residents allowed to return home.
In Montana, a wildfire just 2 miles north of Helena destroyed four homes and forced people out of 200 homes. Gov. Brian Schweitzer issued a state of emergency for four counties.
In Wyoming, a wildfire in the Bridger-Teton National Forest grew from about 300 acres to 2,000 acres Tuesday, marking the first major wildfire of the season there.