A procession of violent storms hammered the Washington area late Friday, cutting off power to nearly 2 million people and killing two people when trees fell onto a house and a car.
The storms hit Washington, D.C., Maryland and Virginia on Friday night following a day of high temperatures across much of the country. Officials in Tennessee and Missouri were looking into the deaths of five people -- including a baby and two young children -- thought to have been caused by the heat.
West Virginia Gov. Earl Ray Tomblin declared a state of emergency after more than 500,000 customers in 27 counties were without power.
"The damage from today's storms is widespread and in many places severe," Tomblin said.
"With temperatures near 100 degrees expected this weekend, it's critical that we get people's power back on as soon as possible," he added. "We're committing 100 percent of our state's resources for as long as we need to get this cleaned up."
As of 11:25 p.m., Pepco reported 226,012 outages in Montgomery County, Md., 133,160 in Prince George's County and 66,684 in Washington, according to NBC News.
Police in northern Virginia said two people were killed by falling trees. Fairfax County police spokeswoman Mary Ann Jennings said one of the victims was a 90-year-old woman who was asleep in bed Friday night when heavy winds blew a tree onto her house in Springfield.
Another death was reported in Springfield when a tree collapsed onto a car. Jennings also said police were responding elsewhere to reports of a park police officer injured when his car was hit by a tree and an 18-year-old man struck by a downed power line.
The heat wave smothered the central U.S. on Friday spread east -- and for Washington, D.C., that meant topping out at 104 degrees at Reagan National Airport around 5 p.m. ET.
Dead boys had played outside
Heat is suspected to have been the cause of the deaths of two young brothers in eastern Tennessee, Reuters reported. The boys, aged 3 and 5, had been playing outside Thursday. The younger boy died Thursday, and the older boy on Friday afternoon, according to Eric Blach, administrator for the Bradley County Medical Examiner's Office.
In Kansas City, Missouri, city health officials said Friday they were investigating the deaths of three area residents, including a baby boy, to determine if they were heat-related, according to Reuters.
Earlier in the week, a 39-year-old construction worker died at the University of Arkansas.
The nation's capital broke the June 29 record mark by 3 degrees and, with the humidity, it felt like 112, the National Weather Service reported.
The old record of 101 degrees stood for 138 years. Washington's all-time record is 106.
Nashville, Tenn., saw 109 degrees on Friday -- smashing its 60-year record by two degrees.
Triple-digit temperatures across the Mid-Atlantic were expected to break records elsewhere as well, the weather service reported earlier.
Record-breaking heat will continue into the weekend and possibly through the July 4th holiday, it added, "and overnight lows will struggle to drop below 70."
Much of the Mid-Atlantic and Southeast on Friday joined areas in the Plains and Midwest with excessive heat warnings and heat advisories. The Northeast was only slightly cooler.
High humidity could make it feel like 119 degrees in some Carolina coastal areas by Saturday afternoon, the weather service stated.
On Thursday, Norton, Kan., was the hottest spot in the nation, topping out at 118 degrees, according to the National Climatic Data Center. In all, 22 Kansas locations reached 110 or hotter on Thursday.
Over the previous five days, another Kansas town, Hill City, held that hottest spot, reaching 115 degrees on Wednesday.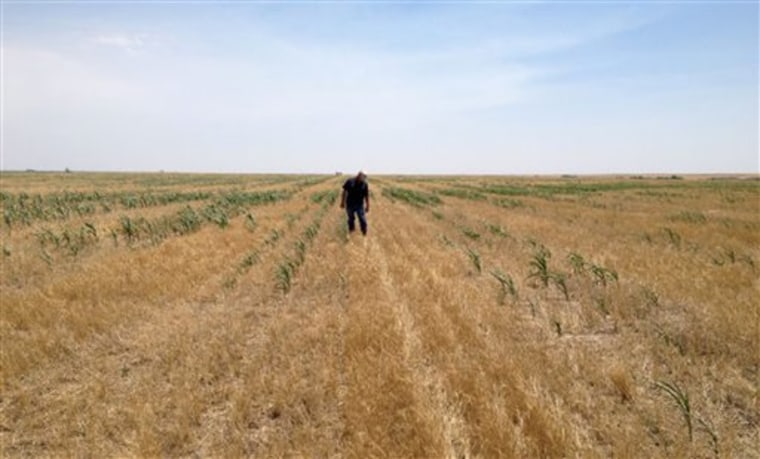 In Kansas City, Mo., the heat was suspected of contributing to the deaths of a man and an infant, KSHB-TV reported.
Meteorologists expect little relief over the next couple of weeks.
"This overall pattern looks like it is going to stick around well into July," Alex Sosnowski, a meteorologist with AccuWeather.com, told Reuters.
"It looks pretty much rock solid centered on the Central Plains and Central Rockies over into the Tennessee Valley interior south," Sosnowski said. "It's anchored in there and it's really not going to change much."
Sosnowski said temperatures would spike toward 100 degrees from Chicago to Washington, D.C., and possibly New York every now and then, and areas from Colorado to the interior of the Carolinas would have little hope for temporary relief.
Temperatures will push 90 degrees most days in New York, Washington and Philadelphia the next two weeks, while Denver, Kansas City and the middle of the nation will tend to see high temperatures pushing 100 degrees, he said.
The dry conditions and high temperatures have exacerbated wildfires in western states, and have threatened corn crops and stressed livestock in the Central Plains.