/ Source: NBC News and news services
London motorists were struggling to get to grips with the special Games Lanes reserved for Olympic athletes and dignitaries on their first day of operation on Wednesday.
They were still trying to figure out when and where they could drive on the 30 miles of lanes, designed to whisk 82,000 athletes, officials, VIPs, sponsors and media to venues on time.
Thousands of London drivers have switched to public transport, only to encounter severe delays on several Underground subway lines caused by power supply problems and signal failures. Severe delays were reported on the city's Central and Hammersmith subway lines with ripple delays affecting other lines.
'A lot of disruption'
British officials -- who have been advising Londoners for weeks to plan ahead, allow extra time or just stay home -- advised a stiff upper lip.
"There will be a lot of disruption and London is a congested city anyway," Transport Secretary Justine Greening told the British Broadcasting Corp.
As host city, London is as cosmopolitan as they come, but transport is its weak spot: Traffic often clogs up on its narrow, historic roads, bus schedules can change at a moment's notice, and the famous Underground suffers from daily delays and infrastructure that in parts is more than a century old.
For a city of its size, London has relatively few highways or wide thoroughfares, which means that most roads have multiple traffic lights and pedestrian crossings. Olympics organizers have repeatedly urged people to avoid driving their cars, to walk and bike ride around, and for spectators to go to events using public transport.
One driver said he spent much of his journey from East London stuck in a bottle-neck while casting an eye at an empty lane which was not being used by any of the Olympic community.
"They've closed off the Games Lane, but nobody was using it," said Ross Keeling, an engineer, whose normal 40-minute journey had become two hours.
"It was a pain the neck," he added. "We just have to sit and watch the empty lane."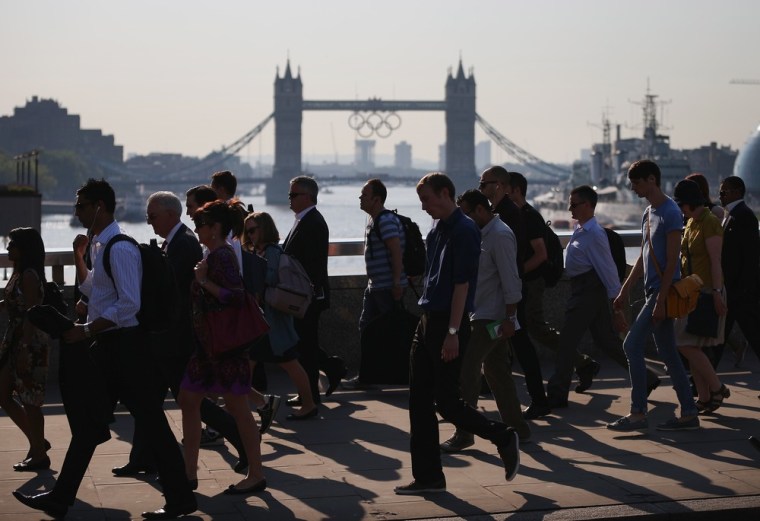 Dubbed "Zil" lanes after Soviet roads reserved for black limousines carrying senior Communist party members, the specially designated lanes were demanded by the International Olympic Committee after learning lessons from previous Games -- one of the worst being Atlanta in 1996, where bus drivers got lost and some athletes arrived moments before their events.
They are resented by many Londoners who already have to endure narrow, log-jammed streets.
Alex Grebnev, 32, who works in a bank in central London, said he faced the tricky choice of driving in a Games Lane or a bus lane -- both of which can carry a hefty fine.
"It was a bit confusing not knowing which one to drive in," he said. "Luckily it was 2 a.m. at the time," he said.
Planning ahead
The Games Lanes are part of a larger 109-mile Olympic Route Network that prohibits stopping or loading and some right-hand turns.
Some delivery van drivers have planned ahead, and worked out which side roads they can use for parking.
Some firms have also stocked up on supplies to avoid potential trouble, while traffic woes had been eased with schools being out for summer.
Van driver Perry Fletcher showed the inside of his van, which was virtually empty despite it being the middle of the morning.
A few black cabs have swapped the taxi drivers' Bible, the ubiquitous London A-Z guide, for the new Olympic route guide to help.
"You've got to keep your eyes open for the road markings," taxi driver Allan Williams, 68, said.
"The problem is they are all white. It's early days. I've said I would give myself two days from this Friday to see how it goes. If I get stuck I'll give up. It will be a waste of time -- nobody wants to sit in a cab that isn't moving," he said.
Peter Hendy, commissioner at the city's public transport authority Transport for London, denied motorists would be confused in an interview with Reuters earlier this month.
"It is quite clear to me already that from the markings we have put down without all the signage that people can very clearly see what's there and I don't think people will be confused," he said.
London Olympic organizers said traffic was moving and athletes had been getting to venues for training.
"Up until this morning it's been good," a spokeswoman told reporters at the daily briefing.
"The traffic is moving, the lanes are working well," she said.
In all, the British government has injected $10 billion to upgrade the transport network for the games. Whether that is enough is still an open question.

"It can't even cope in normal times, all it takes is one problem and the whole system gets paralyzed," said Tony Shelton, an accountant who was riding the Northern line. His journey was only slightly delayed but he said: "I'll probably avoid coming into town."
Officials are expecting up to 15 million subway trips a day during the Olympics.
More world stories from NBC News:
Follow World News on NBCNews.com on