Today, you can get a prepaid smartphone that easily competes with contract phones — even a prepaid iPhone. You'll pay more up front, but entry-level monthly plans are much less.
For instance, you'll pay $649.99 for a 16GB iPhone 4S and $30 per month for 2.5 GB data, unlimited texting and 300 minutes on Virgin Mobile. So for the first year, your out-of-pocket would be $1,010 before taxes and fees. On AT&T, you'll pay $199.99 for the 16GB iPhone 4S and $89.99 per month for 3GB of data, unlimited texting and 450 minutes. So your expenses the first year would be $1,279.87 before taxes and fees and you'd still have another year on your contract.
Before you get too excited, keep in mind that the latest and hottest new phones are still available to contract customers months before they trickle down to prepaid plans — and to the carriers that mainly offer them. And, like contract phones, prepaid phones are usually locked to the carrier you purchase them from. But there's no denying the savings.
So if you're going the prepaid route, these are our picks for the best prepaid smartphones:
iPhone 4S 16GB on ($499.99) and ($649.99)
The iPhone 4S as a prepaid phone? That's an automatic winner. You've got the unbeatable app store, great 8MP camera and a huge ecosystem of accessories and cases. And for some, the smaller 3.5-inch screen is a bonus for portability.
Other key specs include a 800MHz dual core processor and a 1430mAh battery rated at up to 8 hours talk time or up to 8.3 days standby. Like other iPhone 4S models, these run on the carriers' 3G networks.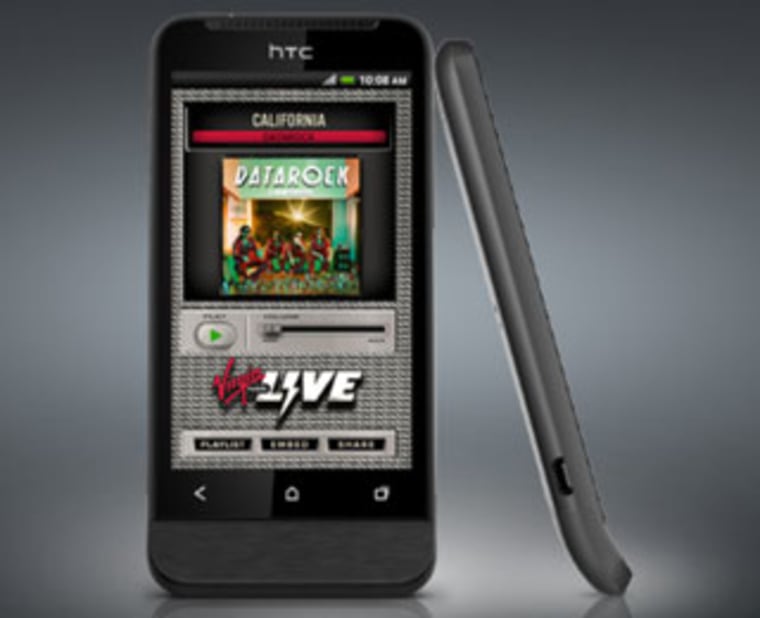 HTC One V on ($199.99)
While the One V doesn't have the dual-core processing power or 4G speeds of its big brothers, the HTC One X (AT&T) and One S (T-Mobile), it does share the same imaging processor and has a 5MP camera with a f/2.0 28mm wide-angle lens. That means fantastic low-light photos, instant camera start up, imperceptible shutter lag, continuous shooting and the ability to take photos while shooting HD video.
The One V runs Android 4.0 Ice Cream Sandwich and has a 3.7-inch display, a 1Ghz processor, 4GB onboard memory and a microSD card slot and a 1500mAh battery rated at up to 7.2 hours talk time or up to 10.5 days standby.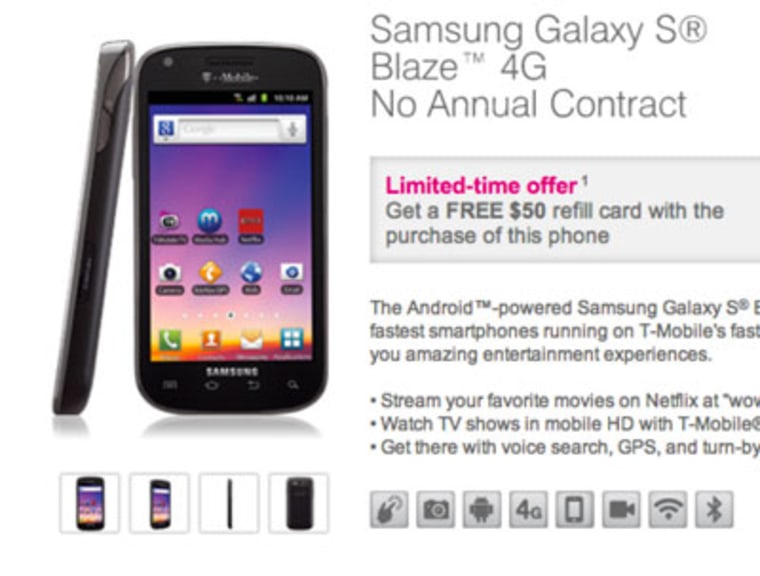 Samsung Galaxy S Blaze 4G on ($299.99)
The Samsung Galaxy S Blaze 4G earned our "Highly Recommended" rating when we reviewed it in April. It runs on T-Mobile's 4G network, has a speedy 1.5GHz dual core processor, a 3.97-inch AMOLED display and runs Android 2.3.6 Gingerbread (rather than Android 4.0 Ice Cream Sandwich, which most new phones run).
It packs a very good 5MP camera, 4GB microSD card and a 1750mAh battery rated at up to 7 hours talk time or up to 9.5 days standby.
AT&T and Verizon both also offer Android phones and unlimited text, voice and 3G data, but they don't provide the value found on T-Mobile and some of the prepaid carriers. For instance, Verizon has one 3G Android phone and the carrier charges $80 per month. AT&T has a wider selection and a $50 plan, but the phones are lackluster. And if you're an existing AT&T or Verizon customer, there are no pre-paid family options.
More stories on :
Cell Phone Carriers Provide More Parental Controls