/ Source: The Associated Press
Libyan leader Moammar Gadhafi, flanked by bodyguards on his first trip to Europe in 15 years, said Tuesday his country was open for business but cautioned the West against making him return to violence.
Gadhafi, once considered one of the world's most dangerous men for sponsoring terrorism, pulled up in a white limousine at the European Commission, the European Union' executive branch, accompanied by his foreign and trade ministers.
As he paused to shake hands with Commission President Romano Prodi for photographers, a man rushed forward, threw a letter at Gadhafi and was hustled away by a guard. The Libyan leader's trademark female bodyguards rushed to his side, but Gadhafi ignored the bedlam.
The landmark trip resulted from what the EU termed Libya's "remarkable progress" in shedding its rogue nation status, including abandoning its nuclear weapons program and settling the Pan Am and UTA airliner bombing cases by agreeing to pay relatives of the victims.
Warning mixed with Iraq, Palestine
"I hope that we shall not be prompted or obliged by any evil to go back, or to look backwards," Gadhafi told a news conference. "We do hope that we shall not be obliged or forced one day to go back to those days where we bomb our cars or put explosive belts around our beds and around our women so we will not be searched or harassed in our bedrooms and in our homes."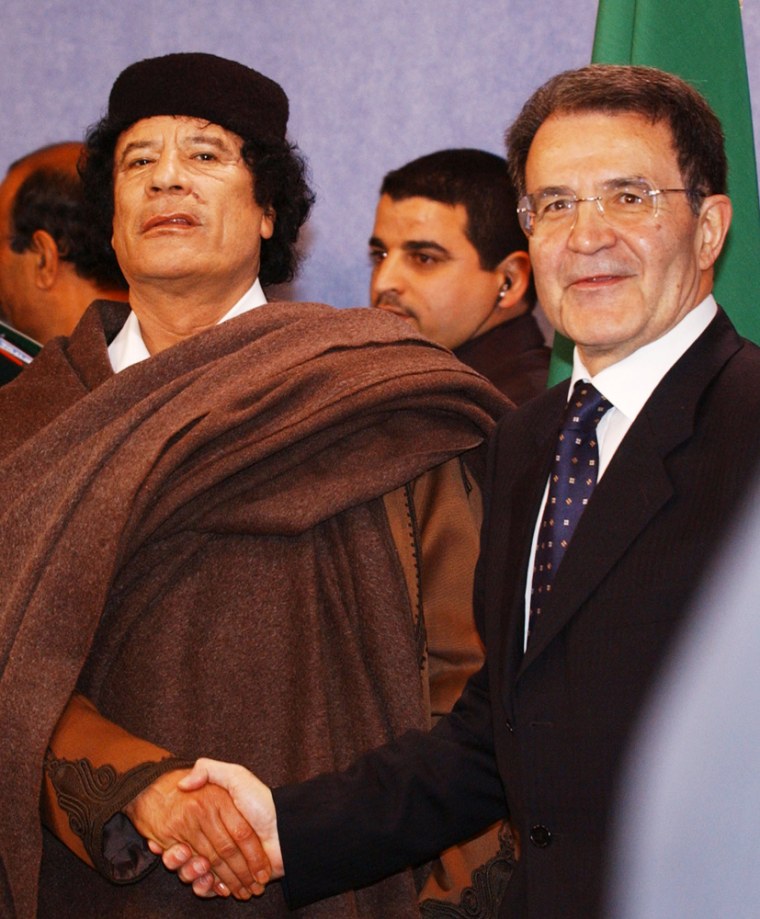 He did not explain what he meant, but referred to violence in Iraq and the Palestinian territories.
There, he said, "The victims are women and children and the battlefield has become the kitchen and bedroom and the lounge. We don't want to be forced to do that."
Gadhafi declared his readiness to work with the West peacefully after years of championing armed struggle against it.
"I would like to seize the opportunity today and declare before you ... that Libya is determined and committed to play a leading role in achieving world peace," he said in a rambling address to a room packed with reporters at the European Union headquarters.
Libya "did its duty" in the past by supporting and training violent liberation movements around the world and was "unjustly accused of terrorism" for it, he said.
"But now, the time has now come to reap the fruits of this armed struggle, namely peace, stability, development," he said through a translator. "Now we are facing different or new challenges which are common enemies to all of us."
Prodi, a former Italian premier who invited Gadhafi to Brussels, fidgeted at his side as Gadhafi lectured the room, veering from history lessons on colonialism to Europe's need for immigrants to replace an aging population in the labor market.
Three of Gadhafi's bodyguards, dressed in blue camouflage fatigues, stood at attention behind them as Gadhafi spoke for about half an hour, taking no questions afterward.
In introductory remarks, Prodi said he welcomed Gadhafi's "bold moves" in renouncing weapons of mass destruction and promised to help normalize relations.
"We need to work together on peace, stability, migration, security, economic reform, and cultural cooperation," Prodi said. In the 1980s, Libya was an international pariah for its role in international terrorism. The 1988 bombing of the Pan Am jumbo jet over Lockerbie, Scotland, killed 270 people; the French UTA airliner bombing over the Niger desert killed 170 people in 1989.
The United States last week lifted most of its commercial sanctions on Libya, but trade restrictions with Europe remain.
Outstanding obstacles
Gadhafi seeks "full normalization" of relations and entry to the aid and trade program the EU runs with countries around the Mediterranean, including Israel.
Germany, one of the most influential EU members, has welcomed Libya's rapprochement but noted "obstacles" remained, including his government's demand for compensation from Libya for victims of the 1986 bombing at a West Berlin disco known as a hangout for American troops.
Two U.S. soldiers and a Turkish woman were killed and 229 people injured in the attack allegedly ordered by Gadhafi.
Amnesty International, which in February made its first visit to Libya in 15 years, released a report Tuesday accusing Libya of a "pattern of ongoing human rights violations" and of fostering a "climate of fear" in which most Libyans are afraid to speak out.
About 50 anti-Gadhafi demonstrators protested peacefully blocks away from the commission building.
"Gadhafi's a criminal, Gadhafi's a terrorist, Gadhafi's an assassin," said Fathi Abdelsalam, a Libyan living in Switzerland. Gadhafi's last trip to Europe was in 1989, when he delivered a disjointed harangue against Jews and the U.S. dollar at a summit of non-aligned nations in Belgrade, Yugoslavia.