Syria said on Wednesday it would not tolerate terrorism after an armed group set off a bomb in the tightly controlled capital's diplomatic quarter and four people died in ensuing gunbattles.
Syrians were shocked by the unprecedented strike near the heart of an autocratic state which has long kept an iron grip on internal security and tolerates no political dissent.
After four men set off a car bomb outside an empty former U.N. building in the upmarket Mazze suburb on Tuesday evening, security forces gave chase and killed two attackers and wounded two, who were detained, state agency SANA said.
A policeman and a woman bystander were also killed in ensuing .
Calm returned to the well-guarded district on Wednesday. Cars near the charred four-story building were gutted. Glass shards were strewn outside shops near the Canadian embassy.
State media said the attack had crossed a red line.
"The whole region is living with terrorism...the most dangerous of which is Israeli state terrorism," said a front-page editorial in the state-run Al-Baath newspaper.
"But the more important fact is that security and stability in Syria is the reddest line of all."
Security forces stormed a building used by the gunmen and found arms and explosives, state television said, showing footage that included rocket-propelled grenades.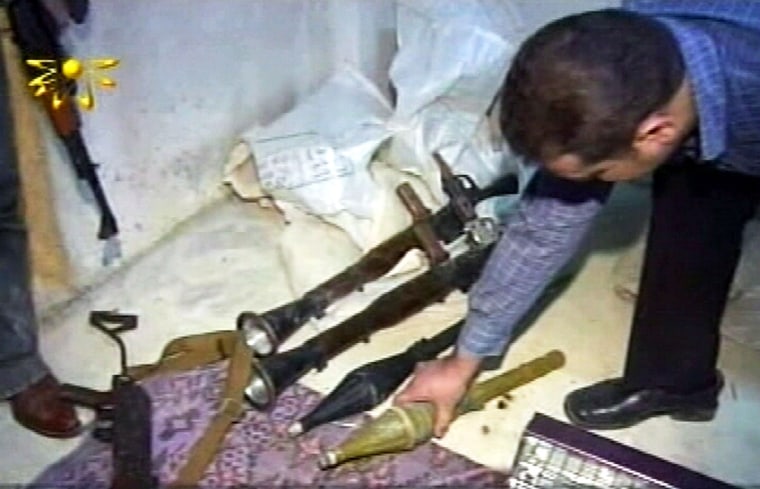 A Syrian government official told Dubai's Al Jazeera television the cache was small and the armed group "very limited in number" but bent on destabilizing Syria.
"They wanted to give the impression that there is no area or place safe from these acts, particularly since Syria has been enjoying a state of stability," said spokesman Ahmad al-Haj Ali.
The bomb was close to the Canadian and Iranian embassies and the British ambassador's residence. The U.S. embassy, in a different part of Damascus, said it would be closed on Wednesday and urged Americans to stay home.
Regional chaos fuels attacks
"The Syrian Arab Republic, which has confronted terrorism in all its forms for more than a quarter century, condemns this terrorist act," SANA quoted the Interior Ministry as saying.
"It reiterates its steady position in confronting any terrorist acts that aim to shake security and stability."
Syria, ruled by a rival faction of the Baath Party toppled in Iraq, cracked down ferociously on Islamist insurgents in the early 1980s, crushing an Islamist uprising in the city of Hama.
With the exception of unrest in remote Kurdish areas last month, it has seen little violence in the four years since Bashar al-Assad succeeded his late father Hafez, who ruled Syria with an iron fist for three decades.
The United States accuses Syria of sheltering "terrorists" and of failing to stop foreign fighters crossing into Iraq.
But Syria says it has done its utmost to control the border and has helped the United States in its "war against terror."
"It is difficult to maintain 100 percent security in a tense and inflamed region, amid occupation, state terror, war crimes and violations of people's freedom, rights and independence," al-Baath said. "But all Syrians intend for security to remain their priority and are ready to defend (it) to the death."
Heavy security was in place throughout the city and at the border with Lebanon overnight.
Dozens of Syrians gathered in the area soon after the clashes, holding up pictures of the president and hurling insults at the old foe, the United States.
In an interview taped before the attack and shown by Al Jazeera on Wednesday, Assad warned other countries about backing "terrorist groups."
"Arab and Western governments hosted these forces and supported them. We advised them that these forces would turn against them and they would pay the price later," he said.