The suborbital spaceship being tested by aircraft designer Burt Rutan and his team at Scaled Composites fired its rocket engine and went supersonic for the first time Wednesday, on the of the Wright brothers' historic first flight. Hours later, multibillionaire Paul Allen confirmed long-rumbling rumors that he was the financial backer of Rutan's space effort.
The day's developments brought the underpinnings of the program into the clearest focus yet — and added to a sense that the dawn of the age of private-enterprise spaceflight was just months away.
"Our flight this morning by SpaceShipOne demonstrated that supersonic flight is now the domain of a small company doing privately funded research, without government help," Scaled Composites, based in Mojave, Calif., said in a . "The flight also represents an important milestone in our efforts to demonstrate that truly low-cost space access is feasible."
Rutan's launch system is designed to take passengers to the edge of space — beyond 100 kilometers or 328,000 feet in altitude — and win the $10 million in the process. It involves a White Knight carrier jet as well as the SpaceShipOne rocket plane, which is attached to the White Knight at takeoff.
According to Scaled Composites' account of today's test, the White Knight brought  SpaceShipOne to 48,000 feet, then released it. Test pilot Brian Binnie fired the , accelerating to 3 G's and flying near Mach 1.2 (930 mph).
'Incredible sight'
Components of the rocket motor were supplied by SpaceDev, a company based in Poway, Calif. James Benson, SpaceDev's chairman and chief executive, provided a of Wednesday's test flight.
"It was an incredible sight!" he said. "We were watching as the White Knight dropped SpaceShipOne at about 10 miles up, and we waited breathlessly as the White Knight peeled off and SpaceShipOne fell for a few seconds. Then with a really visible flash of light and stream of smoke, our rocket motor lit, and SpaceShipOne seemed to blast straight up for about 15 seconds that seemed like minutes. Then the flame and smoke stopped, but you could still see little SpaceShipOne coasting up toward space at an incredible speed. What a sight! It was even more exciting than watching Apollo 17 lift off at night way back in 1972.  After working on this project for four years, space is now exciting again!"
Vertical flight topped out at 68,000 feet, and Binnie then went into a "feathered" glide that reproduced the near-weightless feeling of a suborbital space flight.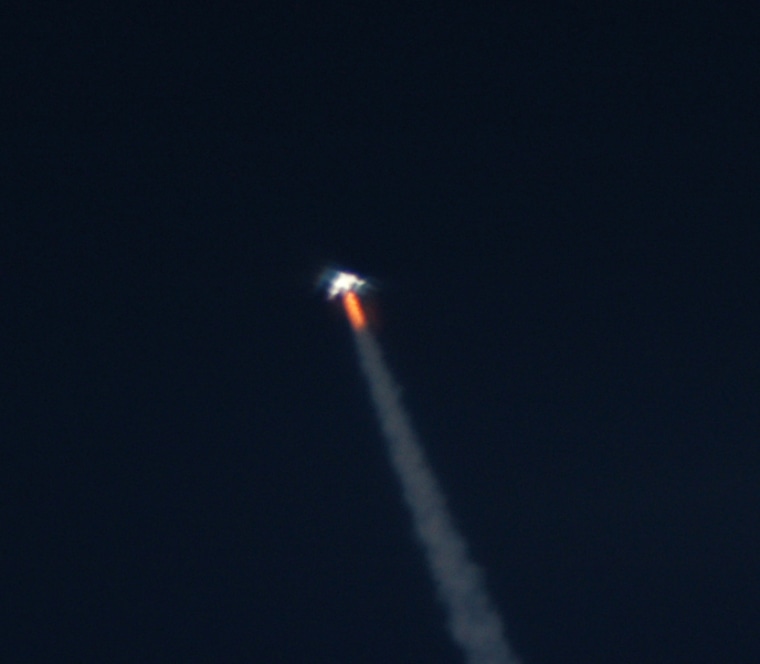 "After descending in feathered flight for about a minute, Brian reconfigured the ship to its conventional glider shape and flew a 12-minute glide to landing at Scaled's home airport of Mojave," Scaled Composites reported. "The landing was not without incident, as the left landing gear retracted at touchdown, causing the ship to veer to the left and leave the runway with its left wing down. Damage from the landing incident was minor and will easily be repaired. There were no injuries."
Traditionally, Scaled Composites has held the details of its flight testing program close to its chest. Weeks ago, some observers had speculated that Rutan's team might actually attempt a spaceflight on Wednesday's historic date. The supersonic flight didn't quite meet that standard, but it was still a history-making way to mark the Wright brothers centennial.
Allen spending 'tens of millions of dollars'
The centennial and SpaceShipOne's success emboldened Allen to declare Wednesday night that he has funded the SpaceShipOne project since March 2001. He told that he has put "tens of millions of dollars" into the effort.
Allen is a co-founder of Microsoft Corp. who currently owns a wide variety of ventures, ranging from Charter Communications, the nation's fourth-largest cable provider, to the Portland Trail Blazers in the NBA and the Seattle Seahawks in the NFL. His estimated net worth of $22 billion makes him No. 3 on Forbes magazine's , behind fellow Microsoft co-founder Bill Gates and mega-investor Warren Buffett. (MSNBC is a Microsoft-NBC joint venture.)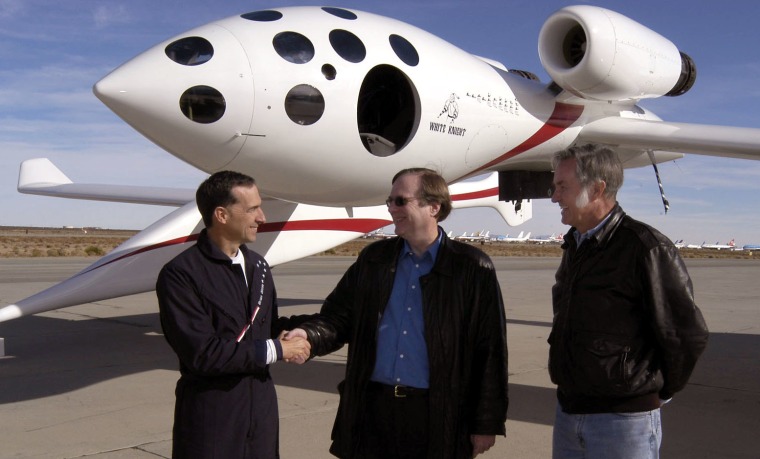 "Being able to watch today's successful test flight in person was really an overwhelming and awe-inspiring experience," Allen said in a statement released by Seattle-based , one of his primary companies. "I'm so proud to be able to support the work of Burt Rutan and his pioneering team at Scaled Composites."
Allen also referred to the fortuitous timing of the supersonic test.
"As we celebrate the centennial of flight, it's wonderful to be able to capture the spirit of innovation and exploration in aviation," he said. "SpaceShipOne is a tangible example of continuing humankind's efforts to travel into space, and effectively demonstrating that private, nongovernmental resources can make a big difference in this field of discovery and invention."
'One-of-a-kind research'
Rutan was quoted as saying that SpaceShipOne "would never have been possible" without Allen's support.
"Paul shares our energy and passion for not only supporting one-of-a-kind research, but also a vision of how this kind of space program can shape the future and inspire people around the world," Rutan said.
SpaceShipOne isn't the only serious competitor for the X Prize, but Wednesday's announcements solidified its position as the front-runner. The widely held expectation is that the prize could be won within the next few months.
This archived report is adapted from Alan Boyle's Cosmic Log for Dec. 17, 2003.