/ Source: The Associated Press
Uganda's only medal winner at the London Olympics cried tears of joy as hundreds of people welcomed him home on Wednesday with celebrations of music and dance in honor of the African country's first gold since the 1972 games in Munich.
Stephen Kiprotich's victory in the men's marathon race also was Uganda's first medal of any kind since the Atlanta Olympics 16 years ago and was deeply felt by the nation. Lawmakers want to declare him a national hero and Ugandans are hailing him as a role model for their children.
His boss has promised to promote him at work and $100,000 has been collected in a fundraising campaign whose goal is to collect half a million dollars for the runner's benefit.
Treatment reserved for visiting heads of state
Unknown to most Ugandans before he won in London, the 23-year-old Kiprotich returned home a star and was ushered in through the V.I.P. lounge of the Entebbe International Airport and shadowed by politicians.
The athlete was saluted by a guard of honor mounted by prisons officials, the kind of treatment usually reserved for the head of state. Within hours of arriving he was whisked away for a "state breakfast" with Uganda's president.
Those who came to honor Kiprotich at the airport in central Uganda say he deserves all the attention he is getting for beating the odds to win a medal that has galvanized national pride.
Kiprotich's elderly father and mother, as well as scores of villagers from his tribe, were there to greet him. Some wore yellow T-shirts declaring the athlete a savior.
"His win has united Ugandans," said David Satya, who is from the same village as Kiprotich. "He is a humble man who had humble beginnings. His parents are poor, as you can see, but he kept on fighting and today we are cheering his perseverance."
Joseph Byabasaija, Kiprotich's boss at the Uganda Prisons Service, said the athlete wept when he saw the crowd that had gathered to meet him.
"He cried tears," Byabasaija said. "I am too proud of him. He has been training very hard for the last five years. ... God is great."
'A hero called Kiprotich'
In a country that does not have too many obvious role models, some say that Kiprotich offers the gold standard.
"Our children will grow up knowing there is a hero called Kiprotich," said Robert Kabushenga, whose local media house launched the Kiprotich fundraiser. "We have a positive role model."
Kiprotich, who is married with two young children, worked as a prison warder, juggling his duties as a jailer with athletics. His closest relatives live deep in eastern Uganda, and those who know him well say his success came against all odds.
Kiprotich had competed in marathons before going to London, but success had eluded him. Uganda's hopes for any kind of medal at the Olympics had rested on the middle-distance runner Moses Kipsiro, but those hopes faded when he finished last in the finals.
Mark Namanya, a local sports journalist who has known Kiprotich since his early days as a runner, said the athlete "endured all sorts of ups and downs" before his victory in London.
Kiprotich had tried and failed at events such as steeplechase and middle-distance running before discovering he could do well at the marathon. Namanya said that the "world started noticing" Kiprotich after he came third in the Tokyo Marathon this year.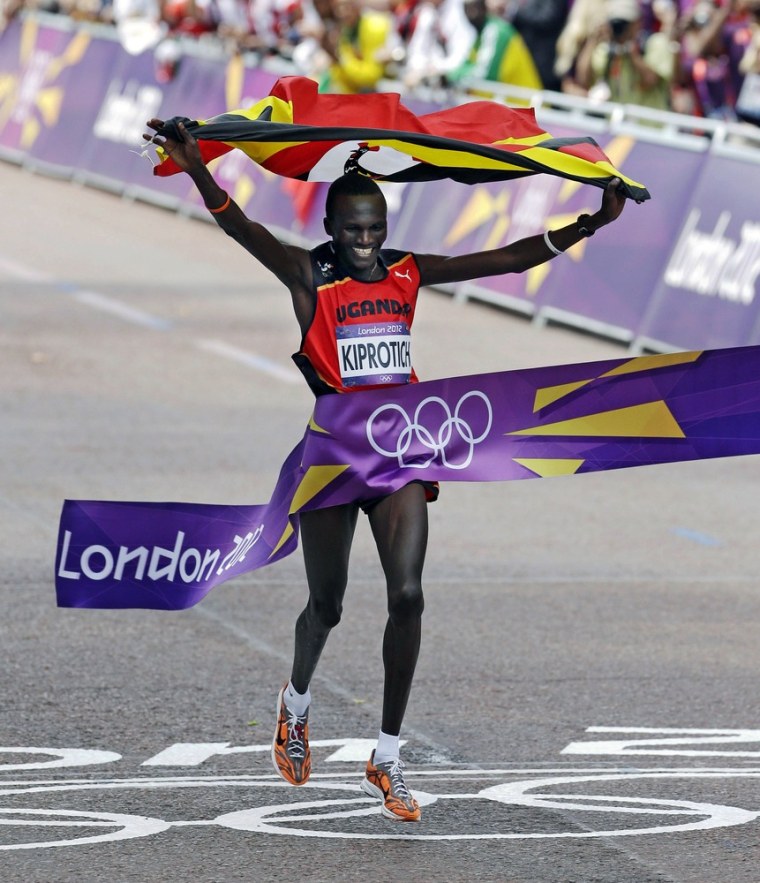 Kiprotich was not expected to beat the well-known Kenyans who in the end settled for silver and bronze.
A few meters from the finishing line, having suddenly accelerated his pace to leave the Kenyans behind, he spotted a man in the crowd holding Uganda's flag, which he grabbed and carried to glory.
Celebrating Uganda
Ugandan officials say they are still debating the best way to reward Kiprotich, whose win comes at a time when the East African country is celebrating 50 years of independence from the British, the reason some see Kiprotich's victory as timely for Golden Jubilee celebrations.
On Thursday Uganda's parliament will hold a special session in honor of the athlete, and parliamentarian Odonga Otto said he would bring a motion seeking to have the athlete declared a national hero.
"I watched the race with my mother-in-law and I almost jumped into the television," Otto said.
"I was so emotional and came close to breaking down. I was so happy that this happened in my lifetime. These are life moments," he said.