/ Source: NBC News and news services
U.S. flags flew at half-staff on Friday in memory of Neil Armstrong, the first man to walk on the moon, who was honored by fellow astronauts and other VIPs as a "brave, reluctant hero."
Armstrong passed away on Aug. 25 at the age of 82, due to complications that arose from heart surgery earlier in the month. President Barack Obama ordered that flags be flown at half-staff as a mark of respect for Armstrong, who landed on the moon on July 20, 1969, with Apollo 11 crewmate Buzz Aldrin.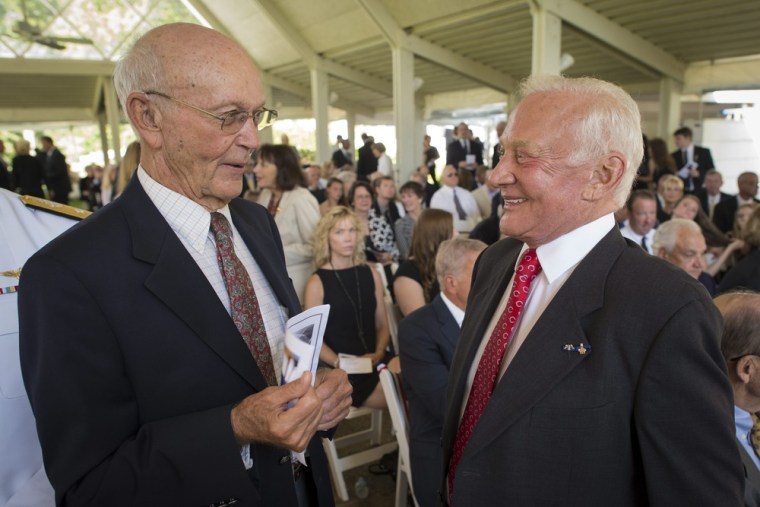 It was Armstrong, the mission commander, who first emerged from the lunar module and placed the first human footprint on a celestial body beyond Earth. "That's one small step for a man — one giant leap for mankind," he declared.
A national memorial service is due to take place in Washington on Sept. 13, but so far Armstrong has been honored at a series of smaller-scale ceremonies — including a memorial service that was conducted earlier this week in Wapakoneta, the Ohio town where he was born, and services on Friday at the U.S. Space and Rocket Center in Alabama and NASA's Kennedy Space Center in Florida.
The main focus of Friday's memorials was a private service conducted in suburban Cincinnati. Several of Armstrong's fellow Apollo astronauts were in attendance — including Aldrin as well as Michael Collins, who manned Apollo 11's command module while his two crewmates went down to the lunar surface.
The VIPs also included retired senator-astronaut John Glenn, 91, who became the first American to go into Earth orbit in 1962. Armstrong was a guest of honor earlier this year at a banquet at Ohio State University celebrating the 50th anniversary of Glenn's feat.
'Humble servant' saluted
NASA Administrator Charles Bolden called Armstrong "a pioneering American ... an explorer, a patriot and an individual who, with 'one small step,' achieved an impossible dream."
"His remarkable achievements will be forever remembered, and his grace and humility will always be admired," Bolden said in a statement keyed to the memorial service. "As we take the next giant leap forward in human exploration of our vast universe, we stand on the shoulders of this brave, reluctant hero. Neil Armstrong's first step on the moon paved the way for others to be the 'first' to step foot on another planet. We have an obligation to carry on this uniquely American legacy.

"A grateful nation offers praise and salutes a humble servant who answered the call and dared to dream," Bolden said.
After the service, Apollo 8 astronaut Bill Anders praised Armstrong for his wisdom and humility. "You'll never get a hero, in my view, like Neil Armstrong," Anders told The Associated Press. "It's going to be hard to top."
U.S. Sen. Rob Portman, an Ohio Republican and friend of the Armstrong family, picked up on the description of Armstrong as a "reluctant hero" in his eulogy. Afterward, he said the ceremony blended deep emotion and humor. "He touched the lives of so many," Portman said.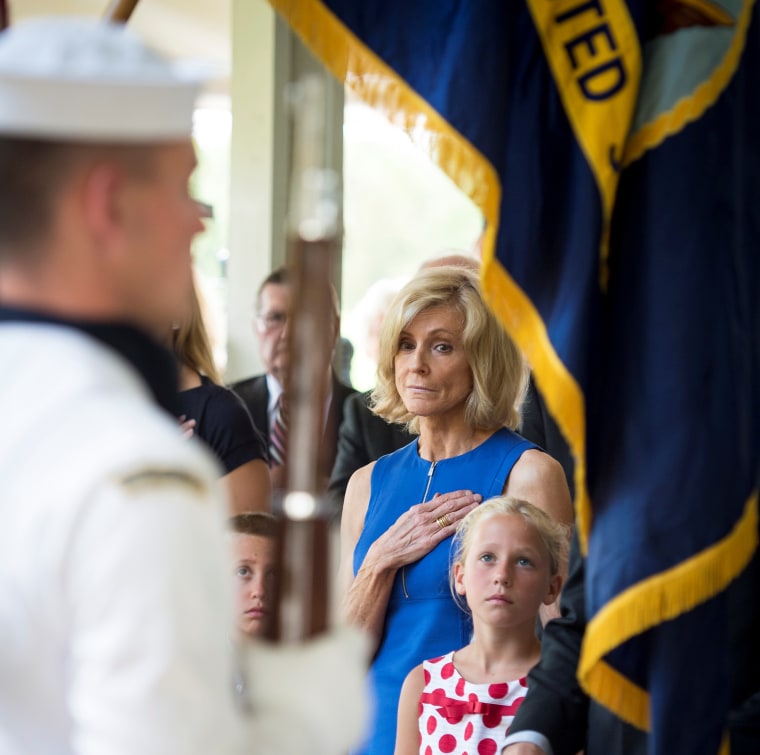 The service included remembrances from Armstrong's two sons, Rick and Mark; tunes from a bagpiper corps; and songs including "When the Saints Go Marching In." Four Navy fighter planes flew overhead at the end of the service, with one flying upward as a "missing man" tribute to Armstrong, a former Navy pilot who flew combat missions in Korea.
Astronauts remember Armstrong
Hours before the service, Apollo 17 commander Eugene Cernan and Apollo 13 commander James Lovell helped launch a health fund in Armstrong's honor at Cincinnati Children's Hospital Medical Center. "America has truly lost a legend," Cernan said at a gathering to kick off the hospital's Neil Armstrong New Frontiers Initiative. Armstrong's widow, Carol, is on the hospital's board.
Cernan said Armstrong was a hero who "came from the culture of our country," growing up on a western Ohio farm, flying combat missions and then joining the space program.
Cernan and Lovell recounted visiting U.S troops in Iraq and Afghanistan with Armstrong, saying he always had an inspirational impact when meeting troops, schoolchildren and other admirers around the world.
Lovell said Armstrong was "a great American" who never capitalized on his celebrity and just "wanted to be a team player." While Armstrong said any of the astronauts could have been the first to walk on the moon, Lovell and Cernan said Armstrong was the right choice for the way he handled suddenly becoming an icon.
"There's nobody that I know of that could have accepted the challenge and responsibility that came with being that with more dignity than Neil Armstrong," Cernan said.
Cernan was the last astronaut to walk on the moon. Lovell was commander of Apollo 13, where an oxygen tank in the spaceship exploded and the moon mission was aborted.
Lovell and Cernan said they had visited Armstrong two months ago in his suburban Indian Hill home, and he cooked breakfast for them — and burned the eggs, Cernan said. "Neil Armstrong was probably one of the most human guys I've ever known in my life," he said.
A life devoted to flight
Raised in Wapakoneta, Armstrong developed an early love for aviation. He flew 78 combat missions during the Korean War as a Navy pilot, then became a test pilot after finishing college. Accepted into NASA's second astronaut class in 1962, he commanded the Gemini 8 mission in 1966. That set the stage for the historic Apollo 11 mission in 1969, which was watched by hundreds of millions of people around the world.
After his space career, Armstrong returned to Ohio, teaching aerospace engineering at the University of Cincinnati and generally avoiding public view for most of the rest of his life.
Armstrong is survived by his wife and two sons as well as a stepson and stepdaughter, 10 grandchildren, a brother and a sister. After Armstrong's death, the family issued a statement calling him a "reluctant American hero who always believed he was just doing his job." The statement also asked well-wishers to take a look at the moon, "think of Neil Armstrong and give him a wink."
Memorial contributions may be made to the hospital fund or two scholarship funds that have been set up in the astronaut's name.
More about Neil Armstrong:
This report includes information from NBC News and The Associated Press.