/ Source: The Associated Press
A top U.S. commander expressed concern Monday about Pakistan's counter-terrorism strategy near the Afghan border and said a "significant" number of foreign militants holed up there must be eliminated.
"There are foreign fighters in those tribal areas who will have to be killed or captured," said Lt. Gen. David Barno, the commander of American forces in Afghanistan.
The Pakistani government has offered an amnesty to foreign militants in South Waziristan, a tribal region near the Afghan border where al-Qaida and Taliban rebels are believed to be living.
On Saturday, the government pushed back by one week an April 30 deadline for foreigners to surrender. Despite a threat of renewed military action, no foreign militants have yet taken up the amnesty offer.
"It's very important that the Pakistani military continue with their operations to go after the foreign fighters in particular, who in my view will not be reconciled," Barno said at a news conference.
"We have some concerns that could go in the wrong directions," he said of the Pakistani operations.
Pakistan Army spokesman Maj. Gen. Shaukat Sultan insisted there was no rift with the United States.
"Pakistan is saying nothing different from what the U.S. commander is saying. We also say that the foreign elements in our tribal areas must surrender, otherwise they will be killed," Sultan said.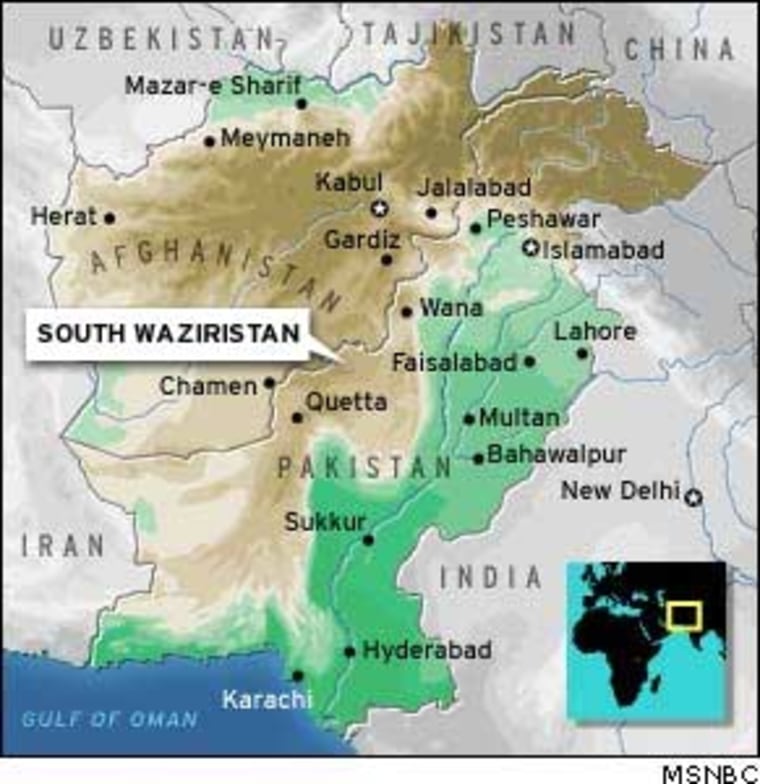 A two-week military operation in South Waziristan in March left more than 120 people dead, but failed to capture any top al-Qaida men.
Hundreds of militants escaped the operation, and officials say they have moved to caves near the border with Afghanistan with light and heavy weapons.
Negotiations instead of force
The bloodshed and limited success of the offensive have persuaded the Pakistani government to opt for negotiations instead of force.
Islamabad now says it will let foreign militants stay in the region if they eschew terrorism and agree to live peacefully.
But Barno said Pakistan was dealing with a terrorist network which was "very crafty and has great ability to ultimately not give anything up."
"We clearly still see significant elements of foreign fighters there — Arabs, Chechens, Uzbeks ... who are still using that area to advance their terrorist aims."
"That threat remains, it has not gone away, and the Pakistani government and military will have to address that," Barno said.
So far, Pakistani authorities have released 141 of the 163 Pakistani and foreign suspects captured in the March operation, saying investigations have proved them innocent. The latest batch of 78 were freed on Saturday.
Some of the foreigners in the Wana area are Afghan refugees. Others are Central Asian and Arab veterans of the anti-Soviet war in Afghanistan in the 1980s who settled in Pakistan, often marrying into local families.
The Pakistani interior minister has said that all but top al-Qaida and Taliban leaders can seek amnesty.
'Hammer-and-anvil' strategy
Barno has vowed to crush insurgents this year in a "hammer-and-anvil" strategy between Pakistani forces on one side of the border, and U.S.-led troops on the other.
The number of U.S. forces has risen to some 15,000, from about 11,000 late last year, and the Afghan government said Sunday that it had sanctioned the creation of a new 2,000 militia force to bolster that fight.
The military's efforts to win the trust of Afghans in border provinces with regular meetings and millions in reconstruction aid has helped uncover bomb plots and weapons caches, Barno said.
But he said it was "too early to tell" if it would yield intelligence on top fugitives including Osama bin Laden who may also have found refuge along the border.
Building relationships with community leaders and local officials "is hugely powerful and ultimately will be the key to our success," Barno said.