/ Source: Arthur Frommer's Budget Travel
Naked, stranded, listless and alone. Like a newborn baby with no one to look after it. Sad as it may be, that's how business travelers feel without their favorite gadgets. These essential high-tech business tools facilitate communication, manage information and maximize productivity on the go. We've assembled a blend of ten stylish, functional, cutting-edge devices to help mobile professionals stay mobile…and professional.
A (Real) Light Keyboard
Teenagers threaten to take over the world, unless we can minimize the number of sophisticated messaging products using tiny thumb-operated keyboards. Although the iBIZ Virtual Keyboard is a small device (about the size of a disposable lighter), it projects a full-size laser keyboard — including programmable function keys — onto any flat surface. Infrared technology senses what keys are being hit and each keystroke triggers an old-fashioned typewriter-like sound as feedback. Touch typing is tricky, but it's definitely possible to work up to a semi-normal speed. The Virtual Keyboard unit is smaller than any folding keyboard and has no moving parts. It retails for $99.99, connects to PCs and a wide variety of Palm Pilots and Pocket PCs (only one phone so far) and comes with a rechargeable battery, AC adapter, connectors and travel pouch.
A Card That Remembers
What's thin and has a lot of memory? Well it ain't an anorexic elephant! Freecom's USB Card is the size of a credit card, about four times as thick and stores up to 1GB of data. That's over 700 floppies' worth of documents, screenshots and presentations you can carry right in your wallet. Pop the connector out of the middle of the card and it quickly connects to a computer via USB (no external power necessary). Run media and applications right from the card or transfer them to the connected machine. Plus, password-protect certain files using the included security software. The suggested retail price for the 1GB version, set to ship later this spring, is $449.99.
More Than Just a Jacket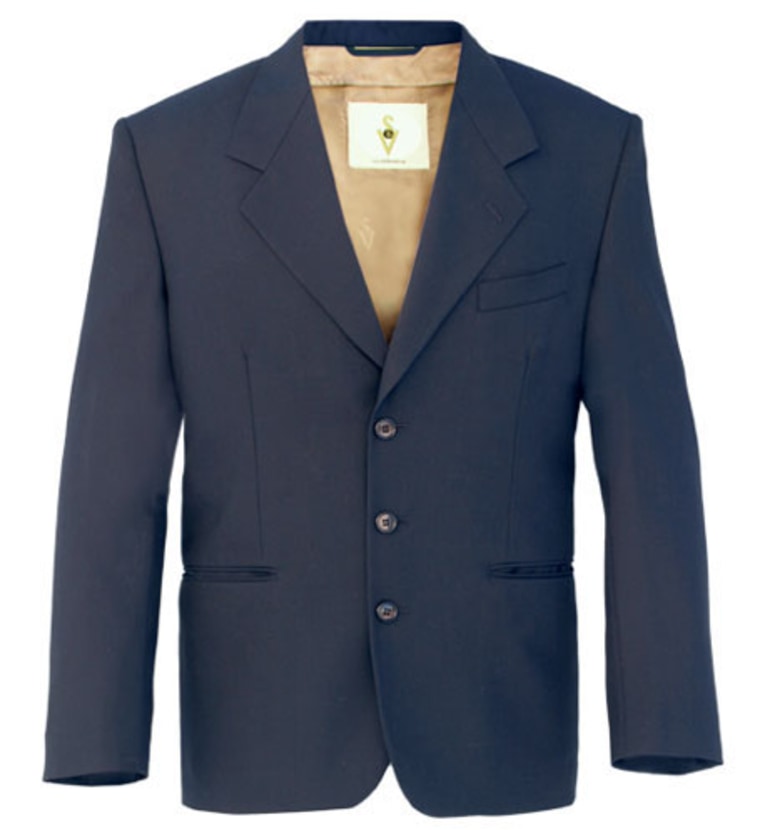 The classic blue blazer — almost everything goes with it…and now, in it. Within the ScotteVest TEC Sport Jacket's high-quality worsted wool exterior are literally dozens of pockets. Some are small enough for mints and others are big enough for a laptop! Some pockets even have their own pockets (each has a special function). There's plenty of space for gadgets galore — and the best part is that many of the inside pockets have hidden zippers, giving entree to the inside lining, stealthily enabling wire routing up to the collar for easy earbud access. And where would you be without the built-in eyeglass chamois, badge clip and key holder? When fully loaded this well-designed, unassuming-looking, super-functional garment—which sells at www.scottevest.com for $249.99—could actually double as an extra carry-on piece!
An Earpiece with All the Answers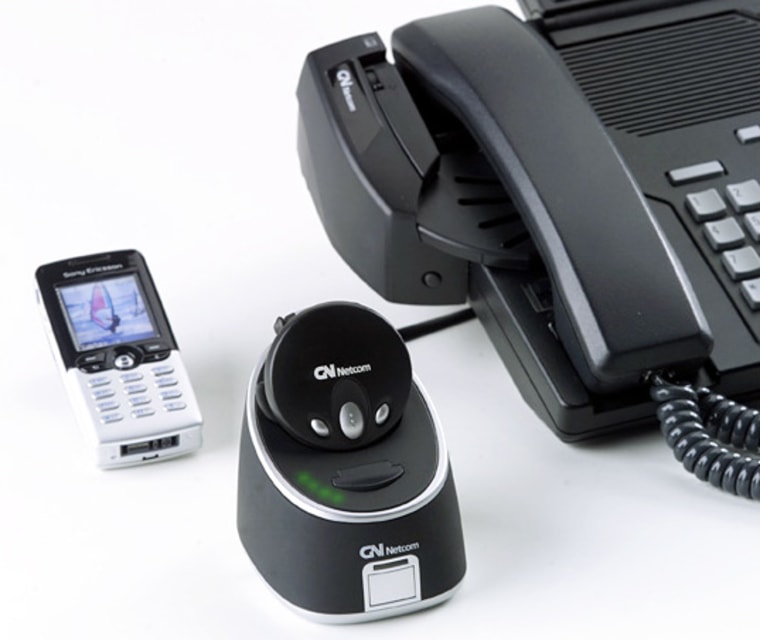 The greatest benefit of continuously wearing a wireless headset is being able to talk to yourself wherever you go and have people (at least initially) assume you're on the phone. Now crazy self-talkers (and self-disciplined regular talkers) can banter both on the road and in the office using the same double-duty device. The GN Netcom GN 6110 wireless earclip uses special technology to link concurrently to both your Bluetooth-enabled mobile and regular office phones—allowing you to answer either of them by pushing a button on the headset. Plus, using the optional RHL 1000 accessory, you can pick up your office phone without even touching the handset. When a call comes in, it rings through to the headset, you press its multifunction button and the Remote Handset Lifter's mechanical arm raises the handset off the base just enough to open the line! This provides mobile professionals fewer wires to tangle with on the go and all sorts of untethered flexibility in their personal workspace. The 6110 is lightweight, comfortable and lists for $299.
Getting into a Binder
Since the time of Adam in the Garden of Eden, we've fiddled around with various loose leaf systems. But now we're charged with transporting important presentations, reports, manuals and media kits. So UniKeep has devised a series of 100 percent polypropylene binders to organize and protect our most important materials during the trip. Like ordinary binders, they can integrate pockets and dividers. But these completely recyclable multifunctional marvels separate from the literally billions of other binders produced each year in how they stack nicely and snap completely closed. Speaking of which, the plastic snap-locking rings inside don't require excessive force and aren't likely to accidentally pinch like typical metal-ring binders. These durable dirt and water resistant keep-alls come in a variety of colors and thicknesses (1/2-inch to 5-inch). They range in price from $4.99 to $31.99 and are sold along with a variety of accessories online and in office supply stores.
Presenting Something for the Presenter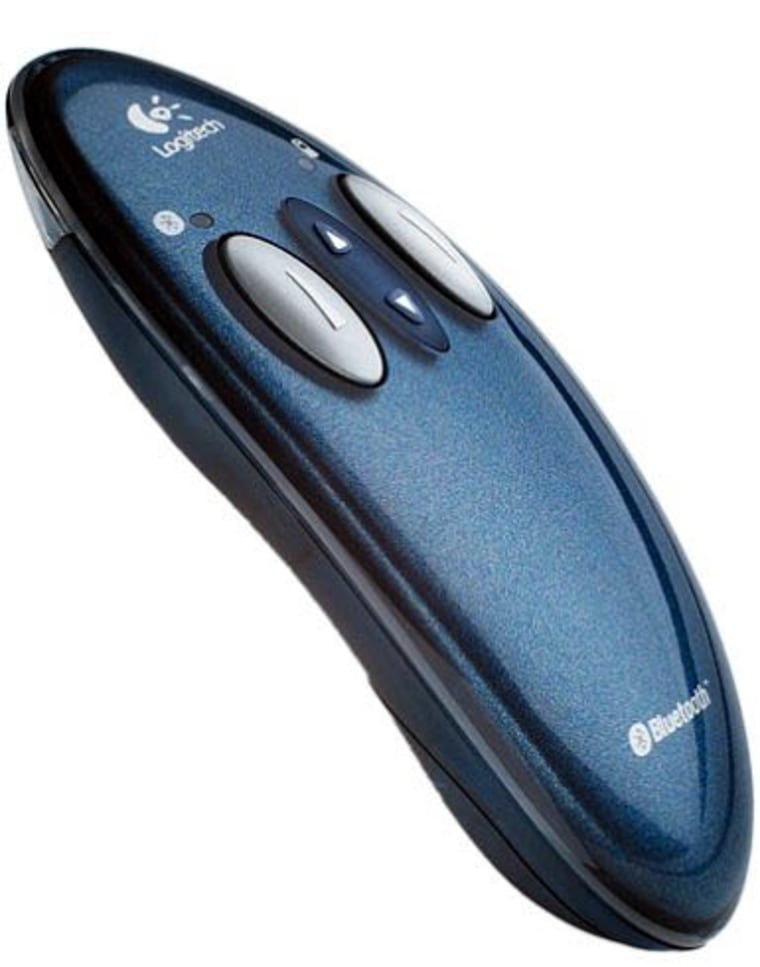 Finally, a way to avoid all those needless wrist-related injuries suffered during PowerPoint presentations. Too many presenters are forced to swivel, strain and wildly gesticulate to perfectly align their presentation remote controls through the air (even just inches away) in order for the finicky clickers to actually advance the slide. The Logitech Cordless Presenter smartly incorporates Bluetooth, a wireless technology platform that uses short-range radio waves. Thus, unlike regular infrared remotes (for presentations or TVs) it works up to 30 feet away from any direction, no matter what people or objects are in its path. Second, the device features a handy built-in laser pointer. And third, it's a fully functional wireless optical mouse for your notebook! This 3-in-1 unit runs on alkaline batteries (60 – 100 hours, depending on usage), retails for $199.95 and comes with a USB mini receiver, software and carrying case.
A Time, Information and Conversation Piece
What does Bill Gates have in common with a liquid-filled compass? Not much. But the Suunto company was started in Finland almost 70 years ago with the invention of the liquid-filled compass. And today Suunto, along with Fossil and Abacus — companies named after an old bone and an ancient calculator — design top-of-the-line high-tech digital watches using SPOT (Smart Personal Object Technology). These wrist-top wonders, which range in price from $129.99 to $299.99 and do all the normal stuff timepieces do, also receive MSN Direct service (that's where Mr. Gates comes in). For $9.95 per month or $59.95 per year, the news headlines and stories; detailed local, national and international weather; sports scores and standings; and specific stock quotes you want are delivered via one-way FM signal right to your watch. Plus you can change the watch face, receive messages and wirelessly synch your calendar from Outlook. Technologically, their biggest limitations are in not being able to send a signal or automatically determine their location. But it probably won't be too long…
Imaging Is Everything
At last, something to shorten the lines at the library's copy machine — and maybe even keep patrons from ripping pages out of the books! Planon's DocuPen looks a little like a windshield wiper blade, but it's actually the world's smallest, fastest full-page scanner. Press the button on top, glide it over a document and four seconds later you've captured all the text and graphics. Hook it up to your computer, transfer the scans and get right to work. The software allows you to adjust, annotate and even create editable documents in a variety of popular programs (such as Word, Excel, Photoshop and Acrobat). Once you get the hang of the scanning motion, you'll be able to store up to 100 pages of grayscale images with this ultra-portable device. No article, map, contract or sketch is safe! The DocuPen comes with the necessary batteries, leather carrying sleeve and retails for $199.99.
Send the Cradles to the Grave
Power may corrupt, but without it, business travelers are out of the game. Mobility Electronics offers a clever way to charge multiple devices. Their versatile iGo-branded Juice product (retails $119.99) can charge a notebook in the car, on the plane or back in the office. And when used in conjunction with the optional Peripheral Powering System (PPS; retails $29.99), it can also simultaneously power up a mobile phone and handheld. Together, the two products quickly and safely charge most of your gadgets, as long as you're near a power outlet of some kind. They save space not only as compared to carrying multiple cradles and adapters, but also with a handy carrying case.
It Doesn't Make Margaritas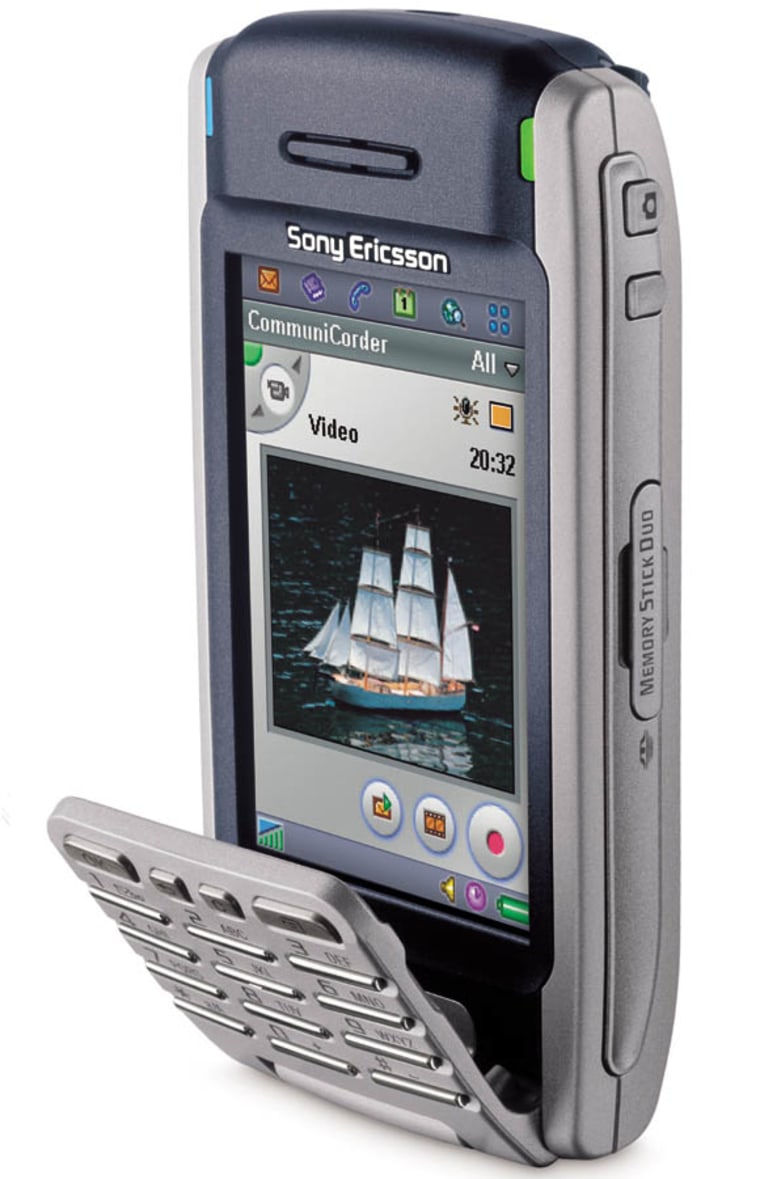 The fancier and more feature-rich cellphones get, the easier it is to describe what they don't do. Case in point, the sleek Sony Ericsson P900. A flip-down keypad reveals a big, bright, colorful touchscreen. Handy for reviewing the still shots and video you can take with it. It also does messaging (multimedia, naturally) and can view certain files downloaded as email attachments. The P900 can remotely synch up your calendar, phonebook and contacts with Outlook. It has Bluetooth technology, which means you can connect without wires to a headset accessory; and that if within 10 meters, it could dial into the Internet and act as a wireless modem for your laptop (if it were also Bluetooth-enabled). It plays both audio and video tracks, enhanced by the fact that it can store up to 128 MB of data using removable memory. And oh yeah, it's a tri-band phone, which means it's capable of operating internationally. But every device has its drawbacks, as indicated in the header!
These gadgets we've come to rely on take up a minimum of space but allow business travelers to maximize their time on the run. As time goes on and the gizmos become more sophisticated, the ultimate effect is a diminishing number of excuses for not being able to get the job done anytime, anywhere. Ain't technology grand!