/ Source: msnbc.com news services
Palestinian leader Yasser Arafat fortified his West Bank headquarters with old cars and barrels of concrete Thursday, fearing an Israeli invasion is imminent, Palestinian officials said.

Meanwhile, an Arabic newspaper reported that Syria has foiled an Israeli intelligence attempt to assassinate Khaled Meshaal, the political leader of the Palestinian militant group Hamas who lives there.
Israeli Prime Minister Ariel Sharon last month said he is no longer bound by a promise to the United States not to harm the Palestinian leader.
The United States immediately rebuked Sharon for his comments. But the veiled threat raised speculation that Israel might target Arafat, whom it accuses of backing Palestinian militant groups.
Earlier this week, Israeli troops briefly surrounded Arafat's compound during an overnight raid. The army said Arafat was not the target of the raid, but Palestinian officials said the veteran leader fears for his life.
"We expect an Israeli aggression," said a Palestinian security official, speaking on condition of anonymity. "They come every night and we worry that they will come and attack the president so we are taking security measures."
Dozens of old cars were placed in piles in the main courtyard outside Arafat's headquarters Wednesday. Hundreds of barrels of concrete were spread throughout the area, in a move to prevent tanks from moving in. Cement trucks were in the compound Thursday filling more barrels.
A senior Palestinian official, speaking on condition of anonymity, said Arafat knew the measures would not be enough to stop Israeli bulldozers and tanks.
"Arafat wants to confirm by these measures that he's ready for resistance and that he will not surrender to any Israeli invasion," the official said, speaking on condition of anonymity.
Israeli security officials, speaking on condition of anonymity, said there were no immediate plans to attack the Palestinian leader. But they said Israel has a standing plan on how to snatch Arafat from his headquarters and expel him.
Israel has confined Arafat to his Ramallah compound for more than two years. Israel has said he is free to leave but might not be allowed to return.
Last September, Israel's Cabinet decided Arafat should be "removed" after a pair of suicide bombings killed 15 Israelis. It has repeatedly threatened him since then, but never taken any action.
Israel's recent assassinations of two leaders of the militant group Hamas have added to Palestinian concerns about Arafat.
Syria reportedly foils bid to kill Hamas leader
Meanwhile, the London-based Asharq al-Awsat newspaper quoted an unidentified Syrian source as saying security forces arrested a cell of Israel's Mossad intelligence agents a few days ago who used fake passports to enter Syria, which is officially at war with Israel.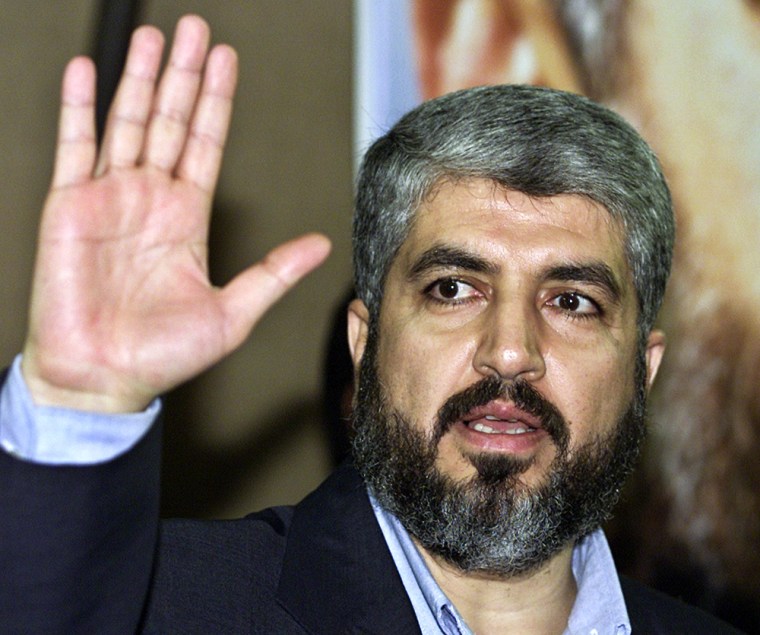 "The cell was discovered and its members arrested by Syrian security forces who prevented them from carrying out the mission assigned to them by Israeli intelligence. This prevented the assassination attempt from being implemented," the source said.
It said the cell members had claimed to be Muslims and that some of them were Yemenis, the newspaper reported without giving further details.
Israeli officials have vowed to kill leaders of guerrilla groups it accuses of responsibility for "terror acts." Meshaal survived an Israeli assassination attempt in Jordan in 1997.
Syrian President Bashar al-Assad has warned Israel that Damascus would consider any attempt to assassinate Syria-based leaders of militant Palestinian groups as aggression against the Arab state.
Hamas, which has played a leading role in the Palestinian uprising against Israel's occupation of the West Bank and Gaza Strip, is sworn to the destruction of Israel and has killed hundreds of Israelis in suicide attacks.
Syria regards militant Palestinian and Lebanese groups fighting Israeli occupation as freedom fighters. Israel and its U.S. ally call them terrorists.