More than 2,000 years ago, while Rome was laying waste to Carthage and the Hopewell people were building mounds in Ohio, a grand civilization flourished at a now little-known site in Guatemala called Cival.
"It's very interesting when we reverse some existing ideas. We thought the preclassic Maya were a relatively simple society ... and they were not," Francisco Estrada-Belli, who led the excavation work at the site, said Tuesday. "There was a whole civilization during the preclassic time we are just beginning to recover."
Cival was one of the largest cities of the Preclassic Maya, perhaps housing as many as 10,000 people at its peak, said Estrada-Belli.
Two monumental carved masks and elaborate jade ritual objects have been found in recent excavations of the city's central plaza, according to the Vanderbilt University archaeologist.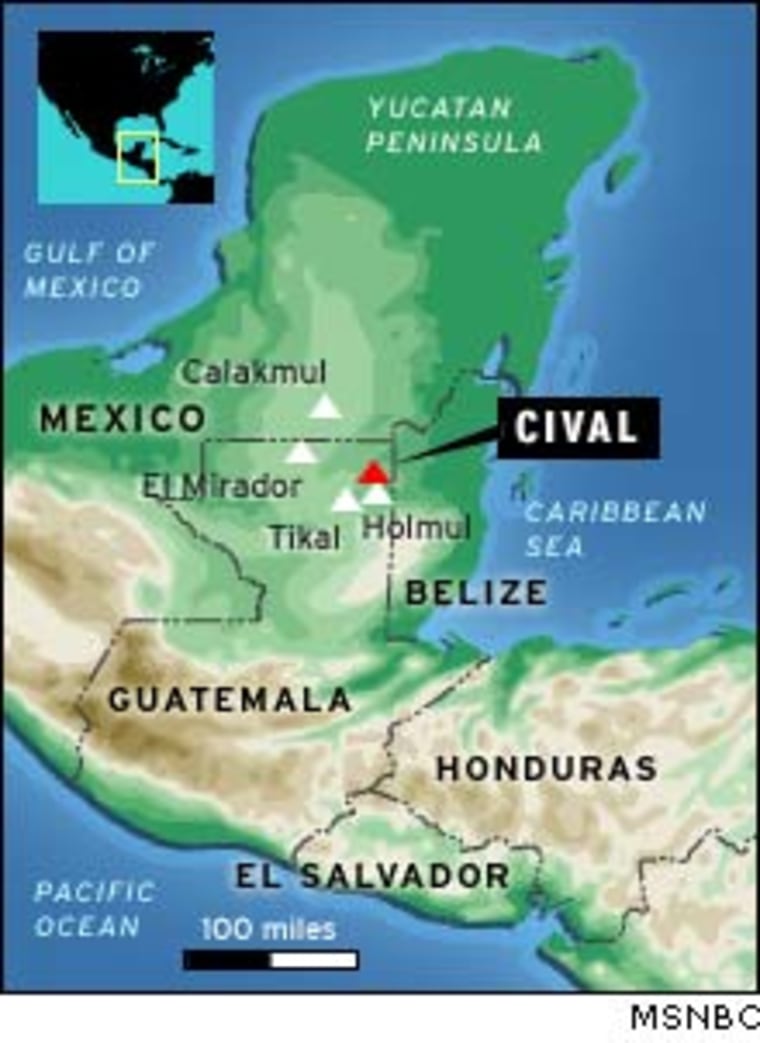 Estrada-Belli reported his finds in a news conference arranged by the National Geographic Society, which supported his work and plans to feature the finds in a television broadcast.
He believes Cival could have surpassed nearby Holmul, which rose to prominence nearly a thousand years later in the Classic Maya period.
Classic Maya civilization stems from around A.D. 300, while Cival flourished from about 500 B.C. to A.D. 100, he said. It was then "abandoned under mysterious circumstances, never to be occupied again."
According to Estrada-Belli, the central axis of the main buildings and plaza at Cival is oriented to sunrise at the equinox.
He said the most important find so far turned up in a dank tunnel dug by looters some time in the past.
While he was inspecting the tunnel he reached into a crack in the wall and felt a curved piece of stucco. Digging to it from the other side, he found a well-preserved, giant face of a Maya deity.
The 15- by 9-foot stucco mask had one eye visible and the mouth squared, with snake's fangs in its center.
"The mask's preservation is astounding," Estrada-Belli said. "It's almost as if someone made this yesterday."
Further diggings last month disclosed a second, apparently identical, mask on the other side of a set of stairs. Its eyes appear to be adorned with corn husks, suggesting the Maya maize deity. Ceramics associated with the mask date it to about 150 B.C.
After several seasons of digging, the researchers believe Cival was one of the largest Maya cities of the time.
It has pyramids and a large complex surrounding a central plaza. In front of a long building on the complex's eastern edge, the archaeologists discovered a stela, or inscribed stone slab, dating to 300 B.C., perhaps the earliest such carving ever found in the Maya lowlands.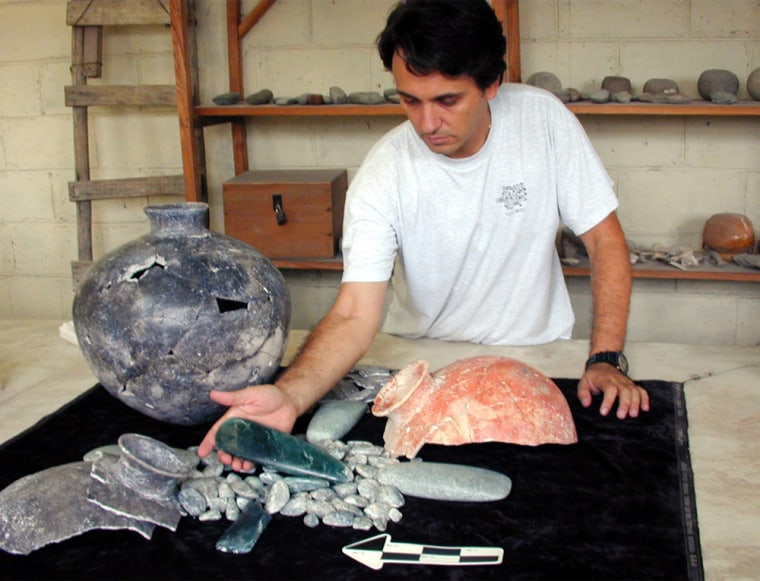 In a recess in the plaza the team found a red bowl, shells, a jade tube and a hematite fragment. Behind the recess was a cross-shaped depression containing five smashed jars, one on each arm of the cross and one in the center. Under the center jar were 120 pieces of jade, most of them round, polished green and blue jade pebbles. Five jade axes, placed with their blades pointing upward, lay nearby.
Looters had missed the artifacts by inches, he said.
According to Estrada-Belli, this type of offering was part of the ritual when a new king took power.
He said there were remains of a hastily built defensive wall around the city.
"Cival probably was abandoned after a violent attack, probably by a larger power such as Tikal," he said.