With gasoline prices at record levels, everyone loves to complain about them. But at what point will American drivers do something – like trade in their SUV for a more fuel efficient car? Or carpool to work? Or move closer to their job?
That day is a still apparently a long way off, according to a recent consumer survey -- even though prices have jumped more than 20 percent since January. U.S. retail prices for regular gasoline hit yet another all-time high last week, at $1.844 per gallon – up 33 cents from a year ago, the AAA said Wednesday.
But even after the recent run-up in pump prices, none of the motorists surveyed in March said they would consider trading in their cars for a higher-mileage model, and less than 5 percent said they would change their driving habits, according to CNW Marketing Research, which conducted the study.
"It takes $2.75 to $3.25 before those numbers are really big," said CNW president Art Spinella.
Even if gasoline prices were to hit $3.75 a gallon and stayed there for six months, the highest price included in the CNW survey, roughly two-thirds of those polled said they wouldn't drive less or trade in their cars for better mileage. Only 25 percent said that, at $3.75 a gallon, they'd consider buying a hybrid vehicle.
There's also no evidence that, even after the recent price spike, drivers are buying less gasoline. Despite howls of protest from consumers and saturation media coverage of price increases, gasoline consumption remains surprisingly steady.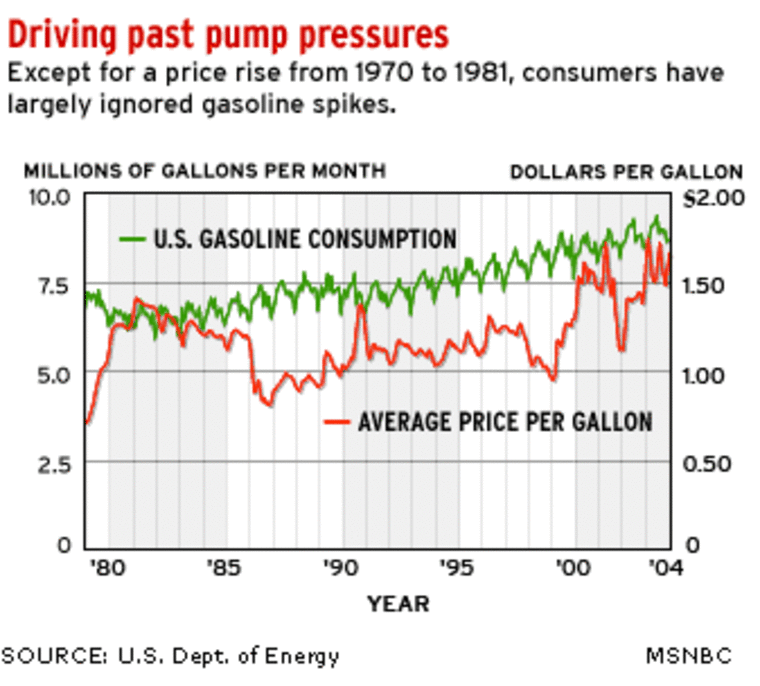 Except for the late 1970s –- when prices doubled in two years -– consumption has remained largely unaffected by price spikes. That may be due, in part, to the fact that, when adjusted for inflation, gasoline prices have actually fallen since the early 1980s.
Economists also say gasoline demand is "inelastic" for a simple reason: most drivers have no choice but to pay up to get to work or go shopping. Ironically, part of the reason for that heavy reliance is that gasoline has been so cheap for so long, according to John Kingston, director of oil at Platts, an energy research firm.
"The whole 'SUV revolution', if you want to call it that, could not possibly have happened if gasoline prices from 1981 had simply kept pace with inflation," he said. "The whole move to these 50-mile commutes, with people living way out in the middle of nowhere and driving from one suburban town to another suburban town couldn't have happened. The impact of this decline of gasoline prices -– that really went on for about 20 years –- has been enormous."
To be sure, there have been minor changes in spending patterns since the recent price spike began. Some consumers who are squeezed at the pump are trading down to a cheaper grade of gasoline. Others are spending less on convenience store snacks when they top off their tank, though with the economy rebounding those cutbacks have been limited, according to David  Portalatin, an industry analyst at NPD Group who tracks consumer spending for the automotive industry. And one shift in spending may even increase consumption: comparison shopping for the best price.
"Consumers are saying 'I'm not going to buy less fuel, but I am going to be a little more picky about where I buy it," said Portalatin.
That's helped boosted gasoline sales at big box retailers like Costco and Walmart that offer lower prices; those discounters now account for about 8 percent of all gasoline sold in the United States, up from virtually nothing five years ago, according to NPD.
While many consumers complain that higher gasoline prices are taking a big bite out of their budgets, motor fuel actually makes up a very small part of the average consumer's monthly outlays.
According to the government's , the average American household in 2002 (the latest year available with annual numbers rolled up) had income from all sources of $49,430. While overall transportation costs represent 18.8 percent of spending, only 2.9 percent -- or about $1,430 -- went to pay for gasoline and motor oil.
In contrast, the average household spent 5.6 percent on dining out, 5.1 percent on entertainment and 3.8 percent on household furnishings.
With gasoline prices up 20 percent since last year, the added burden to the average household budget comes to six-tenths of one percent. That's still less than what Americans spent on categories like alcohol (1.0 percent) or tobacco (0.8 percent.)