/ Source: The Associated Press
Before the Sept. 11 attacks, the Rev. Carl Keyes was a little-known pastor of a small New York City congregation searching for members and money.
When the twin towers fell, his fortunes changed.
Donors poured $2.5 million into the minister's charity to help 9/11 victims. More opportunities to raise relief money would come later, with at least another $2.3 million collected for efforts along the hurricane-ravaged Gulf Coast, in the poorest corners of West Virginia and Tennessee, and even in remote African villages.
Tens of millions more flowed through his fingers from the sale of church properties.
But Keyes, a one-time construction worker, did more than help the needy with the millions donated — he helped himself.
According to financial records, internal correspondence and interviews with former employees conducted by The Associated Press, Keyes blurred the lines between his charities, his ministry and his personal finances while promoting himself as an international humanitarian:
— Keyes diverted large sums donated for 9/11 and Hurricane Katrina into his cash-starved church, then used charity and church money to pay hundreds of thousands of dollars in personal credit card bills and other debts, documents show.
— He failed for years to file required federal and state reports showing how much money his charities received and spent.
— He used large church donations from a wealthy supporter to pay his sons' private college tuition.
— The minister used a big donation meant for one of his charities to clear a mortgage on his family's house, according to an accountant who told Keyes he was quitting, in part because of the transaction.
— And, when his congregation sold its 19th-century church in midtown Manhattan for $31 million, he and his friends benefited.
For example, $950,000 of the proceeds was used to buy his family a country home near the Delaware River in New Jersey. Another $1 million went to support one of his charities, which spent more on failed, lavish fundraisers than on promised programs in Africa.
After paying large debts and buying a building to convert into a new church, the congregation had $13.8 million in cash, according to a February 2008 financial document obtained by the AP. Three years later, it told a court it had to sell that building because only $180,486 remained in its bank account.
The AP first wrote about Keyes and his charities last year, and as the AP expanded its investigation into the minister's operation, the New York attorney general's office opened its own probe. In a recent legal filing, the attorney general's office said it was investigating how the church had used its assets, amid concerns about its "ability (to) properly ... oversee its financial affairs." The church, Glad Tidings Tabernacle, has agreed to cooperate with the state investigation triggered by AP's reporting.
Relatively few people know of Keyes' charities — Urban Life Ministries and Aid for the World. But his story offers a disturbing glimpse into how some nonprofits manage to largely avoid scrutiny and keep finances secret, even while raising substantial amounts of money in the name of tragedy. It's also a story about what can happen to the money of well-meaning donors eager to open their hearts and wallets in the wake of devastation.
Keyes and his lawyer say all payments by his church and charities were proper.
"Sorry that you don't have a real 'story' here, but the truth is actually quite boring since no one did anything wrong," his lawyer, Jennifer Polovetsky, said in an email to the AP on Aug. 22.
"It must be underscored that Carl Keyes is an internationally recognized humanitarian who has spent the past 30 years helping others in crisis," she wrote in an earlier letter. "He has worked with many presidents and prime ministers around the world to help ease the suffering of their people."
Raising dollars and doubts
There is no question that Keyes has thrown himself into relief work.
Yet in promoting himself as a globe-trotting Samaritan, Keyes embellished his exploits and took credit for others' labor, according to several people who worked on relief efforts in lower Manhattan.
After 9/11, his charity provided food, water and counseling for recovery workers. But a priest disputed Keyes' colorful stories about breaking into locked churches for shelter near ground zero.
And in response to AP's questions about a claim that his ground zero soup kitchen had attracted celebrity volunteers like Jerry Seinfeld and actress Susan Sarandon, Keyes acknowledged that they never worked with him.
When Hurricane Katrina struck four years later, Keyes did drive to Mississippi to set up a massive volunteer operation and to help distribute supplies.
But Keyes has yet to account for how his organization raised and spent money on the Gulf Coast — more than $800,000 by one estimate.
For a decade, Keyes operated his Urban Life Ministries charity without filing the required state and federal reports showing how much money it received and spent, an AP examination of official records found. The IRS last year stripped the charity of its tax-exempt status because Keyes failed to submit annual financial disclosures to verify that the money had been used for charitable purposes.
Keyes ran Aid for the World, which boasted of operating anti-poverty programs in the U.S. and on several continents, for more than three years without disclosing its finances as required. That meant there was no accounting of the charity's biggest event, a black-tie fundraiser featuring former U.S. Secretary of State Colin Powell. The charity only recently recorded more than a half-million dollars in fundraising expenses for 2009; a significant portion of the money was spent on the Powell event.
Only after the AP contacted Keyes was an accountant hired to review his charities' finances over the past decade and to file all the required tax disclosure forms.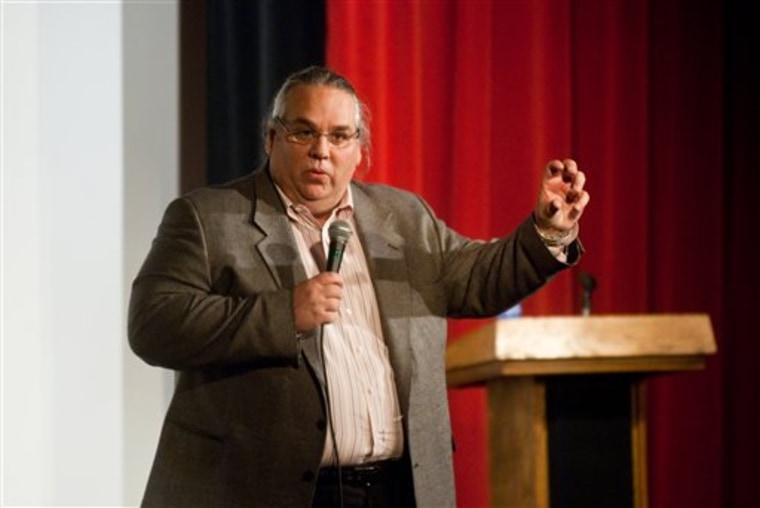 For Keyes, it's always been about the good works he can do through a selfless ministry, his supporters say.
"He was and remains a tremendous source of strength for those in need," Mike Martelli, a retired New York City police officer, wrote in a letter vouching for Keyes. Their 9/11 volunteer work was featured in a 2006 documentary, "The Cross and the Towers."
Good works aside, it is the way Keyes has handled millions of dollars entrusted to him and the benefits that he, his church and others received that has led his own accountants to accuse him of self-dealing and forgery — accusations that have followed him since his early days as an Assemblies of God minister.
Continuing the fight
Before he became known for disaster relief, Keyes says he endured a troubled youth, struggling with an abusive father and his own violent nature.
"I have been looking for a fight my whole life," Keyes, a stout man with longish, graying hair, said in a December 2007 sermon. "People would give me a dollar just to see me punch some guy, and I would do it."
Born in 1956, Keyes spent much of his life in New Jersey's middle-class neighborhoods. By the late 1970s, he was organizing Ultimate Frisbee and other youth sports in a part-time job in Ocean City, a family-friendly Jersey beach town. That's where Keyes met Donna Jones, another recreation department employee who would marry him and later serve as his co-pastor.
Keyes also describes a dark side — drug use when he was still in Little League and a life of crime by his early 20s. Jesus came later, he says, after the threat of prison time.
In one essay, he wrote that he abruptly quit drugs in 1982 after a religious conversion during a trip to Maine. He says his brother was less fortunate, dying of a suspected drug overdose in Atlantic City.
Keyes left that life in 1989, he says, when he moved his wife and two infant sons to work for a church in Brooklyn's impoverished Bushwick neighborhood.
But when he split from that ministry in 1997, its leaders accused him in a lawsuit of trying to loot assets on the way out, including a house in Pennsylvania's Poconos that the church had purchased two years earlier for $89,500. Records show that Keyes transferred ownership of the house to himself, then used the property as collateral for a $70,343 personal loan. He later argued in court filings that the money covered expenses for his new ministry. He claimed he was entitled to the house because the church bought it for his family and he had been making monthly reimbursement payments.
The church said in a lawsuit that Keyes stole the house, and a Brooklyn judge gave it back to the church in October 1998.
That same year, Keyes was hired as pastor of Glad Tidings Tabernacle, a nearly century-old congregation housed in an even older brick church wedged between Manhattan high-rises.
Keyes' brought part of his old flock from Brooklyn with him, but the newly merged congregation struggled financially. In mid-2001, church leaders had to borrow $543,500 for repairs and renovations.
Then came 9/11 — and money would no longer be an issue. In just over a year, more than $2.5 million gushed into Keyes' church and a nonprofit organization he controlled, Urban Life Ministries.
After the terrorist attacks, Keyes applied for tax-exempt status for the charity, listing "relief programs in times of crises" as one of its purposes.
Urban Life Ministries spent much of its windfall on things like bottled water, food and a counseling center for ground zero workers, according to financial records obtained by the AP. The charity staged two concerts, including one honoring U.S. troops at the Yankees minor league ballpark on Staten Island. The nonprofit also provided apartments near ground zero for its workers, including Keyes and his family.
Financial records show that Keyes also spent money donated for 9/11 relief on expenses that had nothing to do with the tragedy — a series of monthly payments of $734.99 on the personal loan he owed on the Poconos house; $5,000 for a church organ; and nearly $33,000 for an architect working on church renovations that would include a new living space for his family.
Urban Life Ministries said in recently filed audited financial statements that it also paid as much as $235,600 in "rent" to the church in late 2001 and 2002. It also donated $70,000 to the church and lent it at least another $26,953, according to Urban Life Ministries accounting ledgers, obtained by the AP.
Charities generally must use donations for the purpose stated when the money is raised. And charity operators must avoid using money to help themselves or causes that are not related to their mission.
Keyes, through his lawyer, said the rent and other payments were proper.
Stories of success abound
Keyes tells compelling stories about his charity's work, even if others say some of them are not true.
During a 2010 speech to the New Canaan Society, Keyes told how he had jumped into action after the 9/11 attacks: breaking into a closed Navy port on Staten Island to set up a site for relief supplies; obtaining phony security badges for volunteers so they could slip into the disaster zone with ease; and going door to door to rescue 600 pets stranded in Battery Park City apartments.
He described taking control of two Roman Catholic churches in lower Manhattan needed for shelters after the towers collapsed. "I couldn't find a Catholic anywhere. The churches were closed. So the doors miraculously opened after we prayed and hit it with a hammer," Keyes said.
Yet St. Peter's Church, one of the two Keyes cited, was open that day, made famous as the place where firefighters carried the body of the Rev. Mychal Judge, a Fire Department Catholic chaplain killed in the lobby of the north tower.
"I don't think it's true, this whole story," the Rev. Kevin Madigan, the church's senior priest, said of Keyes' version.
There was no break-in on Staten Island, either, said retired New York police Capt. Edward Reuss, who helped oversee staging of relief services there.
And 1,000 pets were rescued in Battery Park City, but that was handled by the city's parks department, according to representatives of several animal rescue groups involved. They said they never heard of Keyes.
Keyes also had said he set up a respite center in "The Green Tarp," a canteen that fed thousands of ground zero workers. But the Green Tarp was set up and run by celebrity chef David Bouley.
Questioned about those claims, Keyes told the AP he had only used the spot as a staging area for deliveries months after Bouley left, and that his workers had slipped in and out through an unlocked back door. He acknowledged that he hadn't been involved in any break-in on Staten Island, but said he once suggested the idea in a telephone conversation.
As for breaking into Catholic churches, Keyes said he stands by his statement. But he added that the chaos of 9/11 makes it "impossible for any individual to accurately remember what happened at what time on what day and by whom."
While promoting his charitable work, Keyes also has claimed support from presidents and other dignitaries. Keyes' lawyer told the AP that before Colin Powell agreed to speak at a 2009 fundraiser, the retired four-star general researched Keyes' background going back 30 years.
"General Powell and his staff found Mr. Keyes to be an upstanding individual with an exemplary record of service to the citizens of the world," Polovetsky wrote to AP.
That came as a surprise to Powell, who said he had never looked into Keyes' background. "I don't know how they spend their money or manage their finances."
Accountant's complaint
Some of the most serious complaints about Keyes' financial practices come from his former accountants. Several who used to work for Keyes said that as donors poured money into Keyes' Urban Life Ministries, he raided its accounts to help himself and his church.
One accountant filed complaints in 2008 with New York state tax officials and the New York attorney general accusing Keyes of misusing Hurricane Katrina donations.
"Not only was this (nonprofit) plundered to fund the operating deficits of the church, the amounts were spent on personal items of the pastor's family, and thus were items of taxable income," wrote Bruce Kowal, an accountant who worked for Keyes between 2003 and 2006.
Kowal attached bank records to the complaint, obtained by the AP, that he said showed Urban Life Ministries paid some of Keyes' personal expenses, including his American Express bills; a $349.23 monthly lease on a car his sons used while attending a private college in Florida; a $130 monthly payment on a storage unit near their school; and payments toward the personal loan Keyes owed on the Poconos property.
Urban Life Ministries gave more money to Glad Tidings Tabernacle, including $12,000 to pay overdue employment taxes for church staff and $40,000 for other costs.
Kowal said in the complaint that Glad Tidings church money was used to pay more than $73,000 in 2004 and 2005 for other personal credit card bills on Keyes' behalf without providing the required proof that they were legitimate church expenses for him and his wife.
"I had repeatedly admonished the pastors that these actions were possibly illegal, and that the remedy was the repayment of all amounts diverted from (the charity), as well as amending the personal income tax returns of the pastors to reflect the personal items paid for," he wrote.
Kowal accused Keyes of forging a former church employee's name on Urban Life Ministries' checks. He said the worker, Adam Babcock, had left seven months earlier.
Babcock reviewed the signature on one check for the AP, and said it wasn't his. He also said he never signed checks while working for Keyes.
The state Department of Taxation and Finance would have referred Kowal's complaint to the state attorney general's office, said finance spokesman Edward Harris. The attorney general's office declined to comment specifically on what happened to it.
Keyes referred questions to his lawyer, Polovetsky, who declined to discuss the check signatures. She said the storage unit, the leased car and other expenditures were legitimate expenses of Urban Life Ministries. She said the storage unit was "used to store equipment and supplies connected to ULM relief efforts."
Michael Messner, who had served as a business manager for the church, also questioned payments to Keyes' credit card in 2008. Messner asked in an email to David Cushworth, another accountant, if Keyes had provided receipts showing that his credit card charges were for church purposes. A church financial statement at the time showed $205,767 in credit card expenses.
"The ugly fact remains that Carl never did an accounting for his expenditures," Cushworth wrote.
Polovetsky said in a written response to the AP that "all church financial transactions were approved by the executive board." She said a newly hired accountant, John Shall, had reviewed the transactions after the AP contacted Keyes.
Without specifying whether Shall's review had uncovered financial problems, Polovetsky wrote, "Any required taxes were paid."
Kowal's complaint also accused Keyes of getting a wealthy supporter to help pay his sons' college tuitions with large church donations that could be claimed as tax deductions, which is not allowed. One $15,000 donation to the church was made in December 2005, and paid in two $7,500 checks a month later to the private college, according to the complaint.
Keyes acknowledged subsequent tuition payments in an email on May 31, 2007, in which he told another accountant to send church money to one of his sons for tuition because the donor "just gave me the money on Sunday and their tuition is late."
Polovetsky declined to discuss the donor's contributions and the tuition payments.
Missing tax filings
After the AP began investigating, Keyes filed eight years of tax forms for Urban Life Ministries and three years for Aid for the World.
But the records raise more questions.
Urban Life Ministries has taken credit for working on hundreds of storm-damaged homes on Mississippi's Gulf Coast, providing food and housing for thousands of volunteers, and setting up a massive relief depot. Yet the organization's tax filings claim it received only $266,000 in donations from 2005 to 2008.
"That doesn't sound right to me at all. Not even close," said Keyes' brother-in-law, Mark Jones, who managed most of the charity's work in Biloxi.
Jones said he had provided Keyes with bank statements and other financial records last year showing that the group spent at least $800,000 from 2006 through part of 2009.
Polovetsky said Urban Life Ministry's tax filings do not show financial activity from the Gulf Coast relief work because money went through ULM Relief, a separate corporate entity set up by Keyes and Jones.
There is a Mississippi corporation with that name, but Jones said it never obtained tax-exempt status from the IRS. The organization relied on Urban Life Ministries to handle donations so contributors could claim tax deductions, he said.
"The only tax ID I've ever used was for Urban Life Ministries," Jones said.
Urban Life Ministries' newly filed IRS forms also contain no trace of a $135,000 donation made by real estate agent Karen Dome, who helped Keyes sell Glad Tidings' church for $31 million on Dec. 31, 2007. Court documents and financial records indicate that Dome received a $1.39 million commission; she told the AP she regularly gives 10 percent of her commission to charity.
On Feb. 19, 2008, Cushworth, then Urban Life Ministries' accountant, emailed Keyes a resignation letter in which he accused the minister of using the Dome donation to pay off a second mortgage on a house Keyes owned in Manasquan, N.J., on the Jersey Shore.
"If the New York attorney general were to ever find out, then goodness knows the kind of trouble you and the church could be in, never mind the IRS or the feds," Cushworth wrote.
Dome told the AP she had given the money to the charity, not to Keyes, because she was impressed with its relief work.
The AP confirmed through public property records that the mortgage, which had a balance of $131,973, was discharged in early January 2008, but could not independently obtain records verifying Cushworth's claim that Urban Life Ministries' money was used to make that payment.
Polovetsky refused to answer questions about whether the charity had paid off Keyes' mortgage, other than to say that all transactions were approved by its executive board. She added that Cushworth "was subsequently fired for incompetence and should not be deemed credible."
Cashing out
When the dwindling congregation at Glad Tidings Tabernacle sold its big, crumbling Manhattan home in 2007, church leaders spent some of the $31 million on Keyes and a few of his supporters, according to real estate and other financial records.
The church gave Keyes $200,000 in back pay and distributed $670,000 in "tithes," according to a financial statement recently provided to the attorney general's office by the church. It didn't disclose the recipients, but other records obtained by the AP show that Abraham Fenton, a pastor who served on the Urban Life Ministries board, received $100,000. Don Barnett, another longtime Keyes friend who has served on boards of Keyes' two charities, had $35,965 paid to seven personal credit card accounts. "Thank you for lifting me up out of this pit," Barnett wrote in a note of gratitude.
Fenton said he later returned the money. Barnett did not return phone and email messages.
The Keyes family also bought a house. In December 2008, the church lent Keyes' wife $950,000 to buy an 18th century stone-and-clapboard house on seven wooded acres in Stockton, N.J., a Delaware River community about 70 miles southwest of New York City, property records show.
Seven months later, the loan was declared "paid or otherwise satisfied" and Donna Keyes owned the house outright, the records show. Three months after that, the Keyes couple used the house as collateral to borrow $520,000.
It isn't clear from public documents whether the Keyes family paid off the Glad Tidings loan, or if the church forgave the debt. Polovetsky declined to say.
She said the transaction had been approved by the church board, and that by living outside the city, the Keyes family had saved the church "a significant amount of money." One longtime Glad Tidings board member, Louis Delgado, confirmed that the board had wanted the Keyes family to enjoy a nice house, but said he understood the church would own the property, and that it would be available to future pastors.
After selling off its original church home in midtown, Glad Tidings paid $11.5 million for a town house in the chic Tribeca neighborhood of Manhattan and began converting it into a place of worship, transaction records show. Glad Tidings began 2008 with $13.8 million in savings.
Three years later, the church told a court it owed contractors and others nearly $2 million, had only $180,484 left in cash, and needed to sell the Tribeca building.
Under New York law, church property sales require court approval.
In its recent disclosures to the attorney general's office, the church said it spent $8.7 million on the never-completed renovation, more than double the amount it had initially told a court it planned to spend.
The church sold the Tribeca building last year for $9 million, $2.5 million less than what it had paid.
In exchange for the church's Aug. 14 agreement to cooperate in the ongoing investigation, the attorney general's office agreed not to block release of $4.5 million in proceeds remaining from the Tribeca sale so the church could buy a new home in Harlem.
Done with disaster work
Keyes says disaster and devastation have taken their toll. He's no longer a full-time pastor of Glad Tidings. His wife leads the church.
He and some volunteers recently helped build a home in Pennsylvania for victims of sex trafficking.
On his website, Keyes said he is "working with struggling towns and cities to write a screenplay and shoot a film in order to lift them out of poverty." He wrote that movie stars would be involved, and that the "lofty venture" would "result in the actual turnaround" of the yet-to-be-selected town.
Also, within the last year, Keyes has been on eBay selling a special coffee from Africa named after his Aid for the World charity. In its most recent financial disclosure report, that charity stated it owed $1 million to Glad Tidings and $300,000 to Keyes.
Keyes insists he's done with disasters, mostly because he says 9/11 and Katrina cost him, physically and emotionally. He was once lean and athletic. Now he struggles with his weight, at one point last year topping 400 pounds.
"I would never go back to relief work again, even if you pay me," he says. "It was a circus."